Top News

VA Secretary Eric Shinseki succumbs to calls for his resignation (and Washington's need for a high-profile scapegoat) amidst ongoing investigation into the VA's "widespread" attempt to cover up long wait times that have contributed to the deaths of veterans. A White House audit of VA facilities across the country found that wait times have likely been manipulated in more than 60 percent of the reports from the 216 sites investigated.

In light of the fact that Shinseki's ouster will do nothing to fix the VA's well-documented and systemic wait problems, Sen. Bernie Sanders (I-Vt.) introduces a bill that will potentially give the department long overdue authority to fire poor-performing executives, and allow veterans facing long delays to seek care outside of the VA network, among other provisions. It is this out-of-network idea that might have the greatest impact on veteran care. An entirely new category of physician business model might arise should the bill pass and physicians decide to cater exclusively to veterans.
A HIStalk reader shares an internal memo from National Coordinator for Health IT Karen DeSalvo, MD, which announces that the following will serve as ONC's leadership team along with Deputy National Coordinator Jacob Reider, MD:
Office of Care Transformation: Kelly Cronin
Office of the Chief Privacy Officer: Joy Pritts
Office of the Chief Operating Officer: Lisa Lewis
Office of the Chief Scientist: Doug Fridsma, MD, PhD
Office of Clinical Quality and Safety: Judy Murphy, RN
Office of Planning, Evaluation, and Analysis: Seth Pazinski
Office of Policy: Jodi Daniel
Office of Programs: Kim Lynch
Office of Public Affairs and Communications: Nora Super
Office of Standards and Technology: Steve Posnack
While "Anonymous Tipster" calls the reorganization news "[r]earranging deck chairs on the Titanic," it's more likely the efforts of DeSalvo to place her stamp on the office and position it for new projects once the Meaningful Use program runs its course.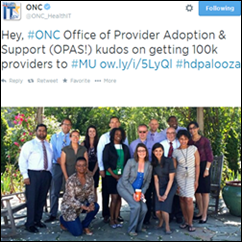 ONC team members (like the OPAS, above) are likely discussing the reorganization during Healthdatapalooza, taking place this week in D.C. The usual ONC suspects are participating and tweeting, with keynotes scheduled from Atul Gawande, Jonathan Bush, and Kathleen Sebelius, among others. You have to wonder what tone the Sebelius keynote will take, and if the absence of Farzad Mostashari, MD has left attendees just a little less enthusiastic than in years past.
---
HIStalk Practice Requests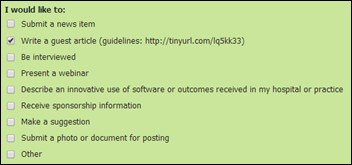 HIStalk Practice is looking for physicians, vendors, and industry insiders to jumpstart a regular series of guest articles that cater to physician practices. If interested, view our guidelines and then fill out the Contact Us form.
---
Announcements and Implementations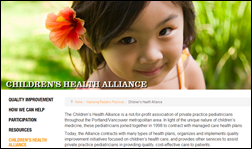 The Children's Health Alliance (OR) selects Wellcentive's population health management solution and services to support its pediatric quality improvement and medical home programs in Oregon and Washington. The solution will aggregate clinical data from outside providers, specialists, and other services, as well as payer claims data, to give CHA's 105 primary care pediatricians a comprehensive view of patient care.

The Center for Discovery (NY) announces it will receive an $85,000 HHS grant to develop a telemedicine home network program for patients with severe disabilities living in rural areas. The center will use the funds to perform a cost analysis and needs assessment, provide education and training to fund research, and hire qualified health professionals.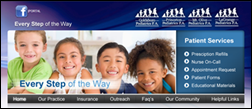 Goldsboro Pediatrics (NC) implements triage software from Keona Health in an effort to improve response time, reduce cost, and increases patient and staff satisfaction. "Eighty percent of phone calls into our practice are low acuity," says Goldsboro pediatrician Joseph Ponzi, MD. "Keona's automation facilitates these encounters and allows our staff to focus our attention on the high-acuity cases."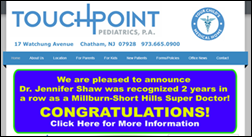 The National Committee for Quality Assurance recognizes Touchpoint Pediatrics (NJ) as an organization operating at the highest level in its Patient-Centered Medical Home program. Touchpoint physicians emphasized the use of NCQA's 2011 PCMH standards including systematic, patient-centered, coordinated care that supports access, communication, and patient involvement.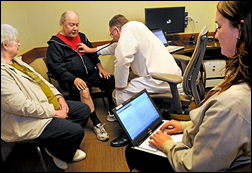 The local paper highlights the mixed feelings many physicians have about medical scribes, especially when it comes to productivity, cost and return on investment. Donald Gehrig, MD notes physicians are willing to accept scribes due to the increased documentation demands created by EHRs. "It's a perverse adaptation of electronic record keeping required for billable, code-able healthcare, which is not medical care,"  he says. "Doctors like it better than having to go home and type notes until 10 p.m."
---
Acquisitions, Funding, Business and Stock

Ambulatory surgery center operator Amsurg Corp. announces it will purchase physician outsourcing service provider Sheridan Healthcare Inc. for $2.35 billion. The acquisition will give Amsurg a leading position in radiology, emergency medicine services, children's services, and anesthesia providers to medical facilities and hospitals on an outsourced basis.

ChartLogic incorporates Kareo's revenue cycle management solution into its EHR to better enable private-practice physicians to manage the claims continuum. Kareo will provide ChartLogic customers with financial data and graphical dashboards showing key metrics, as well as coach practice administrators on areas for improvement.

Amida unveils its first product just in time for Healthdatapalooza, where ONC's Blue Button initiative is being highlighted. Amida's Data Reconciliation Engine is a Blue Button software component that the company claims is the "first production-ready, format-agnostic open source health record interface in the health IT market." Amida CEO Peter Levin helped lead the Blue Button initiative at the VA during his tenure as chief technology officer.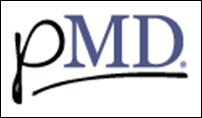 PMD releases pMD Messaging and a message notification system in Version 8.0 of its charge capture software. The new HIPAA-compliant notification system ensures messages are received and read by users, and utilizes different types of escalating notifications to alert physicians to unread messages.

Physicians Interactive launches an automated voucher and coupon distribution solution within the latest version of Greenway's PrimeSUITE EHR. The eCoupon solution is designed to improve medication adherence by providing discounts to patients within e-prescribing workflows.
---
People

Justin Barnes (Greenway) joins the Georgia Institute of Technology's Advanced Technology Development Center as an Entrepreneur-in-Residence.
---
Government and Politics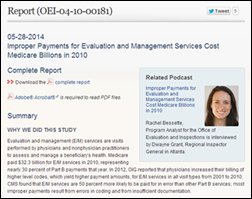 A new report from the HHS Office of the Inspector General finds that Medicare spent $6.7 billion too much for office visits and other patient evaluations in 2010, prompting it to suggest that CMS go after upcoders.  CMS has disagreed, saying it is not cost effective to undertake such a review. One of its contractors recently reviewed 5,200 medical claims of high-coding physicians, and the process cost more than it caught in overpayments. It's an odd accounting practice, to be sure.
---
Innovation and Research

A new report highlights the ICD-10 coding and reimbursement challenges faced by pediatric practices who accept Medicaid in Illinois. Twenty-six percent of pediatric diagnosis codes were found to be "convoluted," representing 21 percent of Illinois Medicaid pediatric patient encounters and 16 percent of reimbursement. The report's authors ultimately conclude that the "potential for financial disruption and administrative errors from …  reimbursement diagnosis codes necessitates special attention to these codes in preparing for the transition to ICD-10-CM for pediatric practices."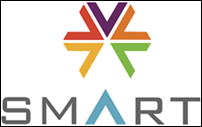 An app store for EHRs continues to evolve. A Forbes article details the nascent SMART platform, an open-source technology funded by a $15 million ONC grant that will allow developers to create "substitutable" apps that physicians can easily add to or delete from an EHR. "SMART fits the pattern of a successful business idea because the architecture is closed, proprietary, and independent," says Clayton Christensen,  a member of the SMART advisory committee. Recently announced committee members also include representatives from CMS, Surescripts, NHS, AARP, Eli Lilly, Hospital Corp. of America, BMJ, and Canadian Institutes for Health Research.
---
Other
A Kansas urologist who is also the president-elect of the Kansas Medical Society says his practice's biggest problem is electronic medical records. "Now, we're basically key-punch operators, transcriptionists having to input the data ourselves.  Voice-recognition software and some of those things help, but it has essentially tripled the time to complete a medical record. How do you accomplish that when we are already working 12 to 14 hours a day?" He says EMRs will shake out within 10 years, but doctors are quitting over them now.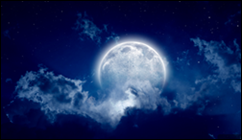 Physicians experiencing slow Internet speeds can now take comfort that at least their connectivity is more reliable than Wi-Fi on the moon. Researchers at MIT and NASA have figured out how to beam wireless connectivity to the lunar orb from a New Mexico ground base at a speed comparable to slower Wi-Fi speeds on Earth.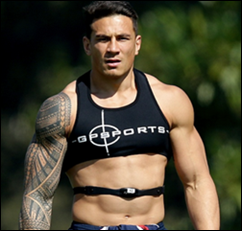 Have wearables finally jumped the shark? You be the judge: GPSports now offers a compression vest to hold athlete monitoring devices in place. Data culled from the devices is used to benchmark training and recovery protocols. As this article points out, wearables may be beneficial when it comes to tracking health and wellness, but the "ridicule factor" still remains high.
---
Sponsor Updates
Michael Simon, principal data scientist at Arcadia Healthcare Solutions, provides a recap of eHealth Initiative National Forum on Data and Analytics.
DrFirst, Forward Advantage, and Imprivata partner to provide e-prescribing of controlled substances for Meditech and MAGIC/OSAL platforms.
HIStalk Practice sponsors named on the HCI 100 for 2014 include 3M, ADP AdvancedMD, Allscripts, Capario, eClinicalWorks, Emdeon, ESD, Greenway, McKesson, Nordic Consulting, and Optum.