Top News
The White House creates the US Digital Service, a new program that will recruit the "country's brightest digital talent" to provide strategic guidance on major IT projects like Healthcare.gov and iEHR. Mikey Dickerson, an ex-Google engineer credited with saving Healthcare.gov, has been tapped to run the service. As a deputy federal CIO, he will work with similarly titled Lisa Schlosser in her role of policy, agency oversight, and accountability. The new service will ultimately consist of 25 experts brought in on two- to four-year term appointments to help agencies plan, improve, and fix IT programs. It will be financed with existing funds in 2014, and scale in 2015 as outlined in the President's FY 2015 budget.
---
Acquisitions, Funding, Business, and Stock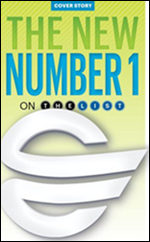 Cerner jumps to the top spot of the Kansas City Business Journal's Top Private-Sector Employers List due in large part to the addition of 1,550 local employees in the past year. That's not counting the 16,000 it will need to hire to fill its planned $4.5 billion Three Trails Campus, or the unknown number it may create in the coming years as a result of the Siemens acquisition.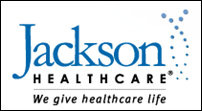 National staffing company Jackson Healthcare acquires Sullivan Healthcare Consulting, which focuses on improving the performance of the hospital perioperative suite through surgery benchmarking, scheduling, staffing, sterile processing, and surgery IT implementation. SHC will serve as a complementary service line to Jackson Healthcare operating companies Premier Anesthesia and Jackson Surgical Assistants.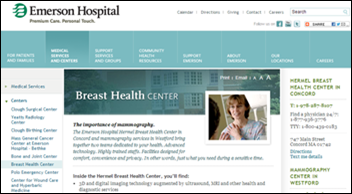 Hospital administrators at Emerson Hospital (MA) attribute the facility's operation-margin gains and service-line upticks to an increase in outpatient services. Though IT upgrades in the mammography department have led to the need for fewer patient visits, referrals from other places for Emerson's new, higher-quality mammographies have made up for the decline.

Healthcare IT firm Priority Consult acquires business intelligence and analytics software developer Balanced Insights to form Cordata Healthcare Innovations. The new company will use Balanced Insight's technology as a starting point for a new generation of patient navigation and tracking applications. Priority Consult president and CEO Gary Winzenread will serve as Cordata's president and CEO, while Balanced Insight founder and CEO Tom Hammergren will serve as CTO.

Population health and workflow technology company Acupera secures $4 million in financing from Lightspeed Venture Partners. It will use the Series A funding to scale its product development team and add to its customer implementation group.
---
People

Travis Crenshaw (United Surgical Partners International) joins Foundation Healthcare Inc. (OK) as CIO.
---
Announcements and Implementations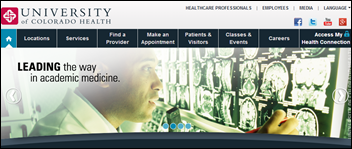 University of Colorado Health selects Zix Email Encryption to provide consolidated, secure email to 18,000 users across its system, which includes University of Colorado Hospital, Memorial Health System, and Poudre Valley Health System.

Allegheny Valley Hospital (PA) becomes the first in the state to equip its paramedic team with iPads. The pilot project has so far enabled AVH ER physicians to observe 12 patients on their way to the hospital. The hospital paramedic team will present the results of the project to the Pennsylvania Department of Health, which is considering rolling out similar programs across the state.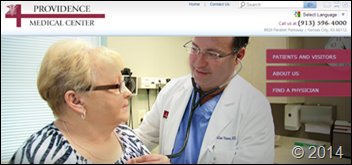 Providence Medical Center (KS) selects the GroupOne Health Source One Rate platform of medical billing and EHR implementation services for 40 of its providers. PMC will use the OneRate platform to facilitate integration of physician practices into its multi-specialty network across the greater Kansas City area.
UnityPoint-Allen Hospital and Black Hawk-Grundy Mental Health Center in Iowa announce they will begin electronically sharing patient records early next year.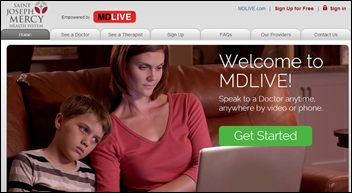 St. Joseph Mercy Health System launches a telemedicine service from MDLive that provides real-time physician appointments 24 hours a day, seven days a week via video, phone, or app. Patients are connected with a SJMHS or MDLive physician who can offer treatment evaluation and advice, and e-prescriptions.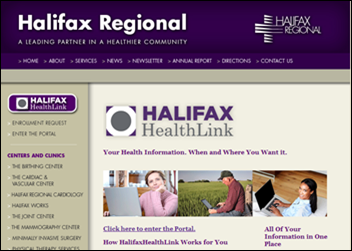 Halifax Regional (NC) launches the HalifaxHealthLink patient portal, which follows the successful rollout of the FollowMyHealth portal for patients of Roanoke Clinic, Roanoke Valley Internal Medicine, and Halifax Regional Cardiology.

The Willis-Knighton Physician Network (LA) selects InteliChart's Enterprise Patient Portal to serve as a single portal solution for its system of network clinics. Physician Network Administrator Greg Gavin noted that "[a] vendor-neutral patient portal that provides a single source solution for our patients as well as a consistent brand across the entire Willis-Knighton System were top priorities in selecting a solution" to improve communication, coordinate care, and facilitate patient healthcare goals.
---
Government and Politics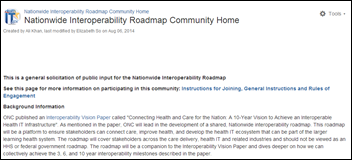 ONC launches a website designed to collect feedback on its proposed interoperability roadmap. Stakeholders have until September 12 to provide their thoughts and comments, after which ONC will present aggregated feedback to the Federal Advisory Committee for its input and recommendations. An updated version of the roadmap will be posted for public comment early next year.
---
Research and Innovation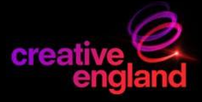 Creative England announces a £1m fund for small and medium enterprises in the North, Midlands, and Southwest regions designed to stimulate creative and digital innovation in UK healthcare. Four new programs will open as part of the fund. The first is the West Midlands Interactive Healthcare Fund, which will offer five £50,000 investments to support projects that focus on improving quality of care, caring for people with dementia, supporting people with long-term conditions, and data visualization. Applications will be assessed on a rolling basis and the fund will close on Oct. 31, 2014.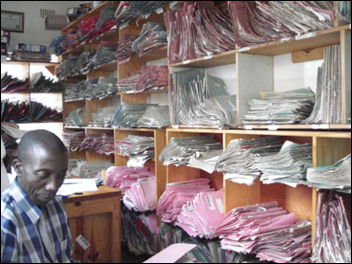 A new report finds that using a touchscreen EHR to support and monitor a national antiretroviral therapy program in Malawi faced challenges similar to that of EHR adoption in the U.S.:
Implementing a point-of-care EHR has been more challenging than initially anticipated.
The success of a POC system ultimately depends as much on a commitment from system users as on the technologies employed.
Poor adherence to system use will result in incomplete data.
Health workers will not adopt a system if they do not find sufficient value in it. Consequently, the primary challenge is to identify and address the value proposition for the user. This is an iterative process that requires a commitment to regular and ongoing dialog with the users if this paradigm shift to POC system use is to be sustainable.
---
Technology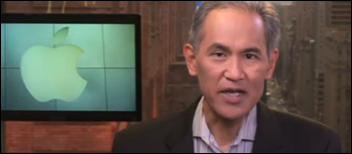 Reports surface that Apple is in HealthKit development talks with providers at Mount Sinai, Johns Hopkins, and the Cleveland Clinic, as well as with Allscripts. Cleveland Clinic CIO William Morris says the clinical solutions team is experimenting with HealthKit's beta and is providing feedback to Apple. Representatives from the other three organizations have not yet chimed in.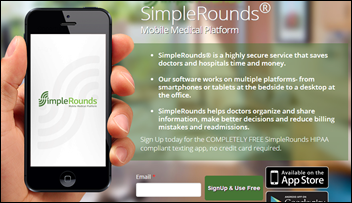 Simple Medical Software Inc. releases the SimpleRounds app to help providers better communicate and collaborate on patient care. Developed by SMS founder Rubén Zamorano and Manuel Martinez, MD the app features secure text messaging, billing manager, physician directory, rounds manager, patient census, and sign-out manager.
---
Other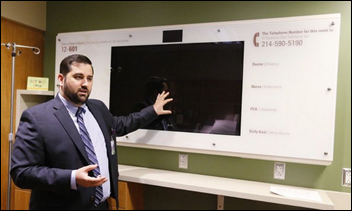 The local paper highlights the new $1.3 billion Parkland Memorial Hospital, one of the first "digital hospitals" in the U.S. The hospital, set to open in May 2015, will feature $80 million worth of digital technology including touch-screen way finding kiosks, smart beds, baby tracking devices, and hand-held communication devices for nurses, as well as an integrated digital system controlling nearly every aspect of its operations. CIO Fernando Martinez points out the hospital will be similar to a smart home: "All the digital devices in a smart home can talk to each other because they're connected to a common hub. That's not unlike what we do, only we're much bigger."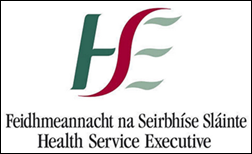 Irish health service officials find that the number of patients waiting more than a year for hospital treatment surged 600 percent between December 2013 and May 2014. They have not formally addressed the spike, but have noted they are addressing the issue "in the face of significant financial challenges."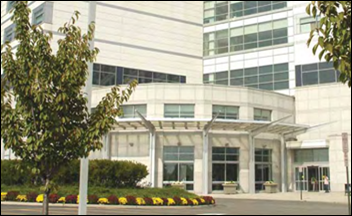 Jersey City Medical Center (NJ) reveals that a computer disk containing 2011 Medicaid patient information was lost in June when a package sent via UPS failed to arrive. The unencrypted disk contained an undisclosed number of patients' names, and many of their Social Security numbers and birth dates.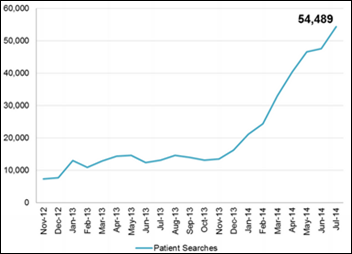 This article highlights the success of the Maryland Chesapeake Regional Information System for our Patients (CRISP) HIE, which has seen patient searches by providers jump from under 10,000 in late 2012 to nearly 55,000 as of last month.
---
Sponsor Updates
---
Contacts

Mr. H, Lorre, Jennifer, Dr. Jayne, Dr. Gregg, Lt. Dan, Dr. Travis.
More news: HIStalk Practice, HIStalk Connect.
Get HIStalk updates.
Contact us online.