Top News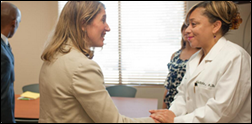 HHS Secretary Sylvia Burwell announces the availability of $100 million from the Affordable Care Act to support 150 new health center sites across the country in 2015. The funds will likely add to the 550-plus health centers that have sprung up in the last three years thanks to ACA funding. Today, over 1,200 health centers provide care to over 21 million patients across 9,200 delivery sites. Community-based organizations that deliver primary care have until August 20 to complete the first part of the application process.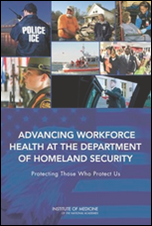 A new report from the National Academy of Sciences and the Institute of Medicine finds that the Department of Homeland Security is struggling to implement an enterprise-wide electronic health management system capable of collecting and analyzing the health data of its 200,000 employees. The 380-page document notes that, "Although DHS is moving toward an enterprise approach to HIT, the committee did not find evidence that the department is fully aware of the informatics capability required to maximize the potential of an integrated health information management system." The department is apparently in the process of acquiring  such a system, but funding has not yet been approved. No doubt its HIT needs have been put on hold while the DoD and VA get their respective problems sorted out.
---
Announcements and Implementations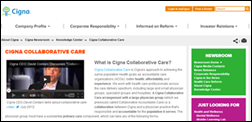 Cigna announces it has achieved its 2014 goal of creating 100 Cigna Collaborative Care arrangements with large physician groups that reach 1 million customers. While the announcement doesn't specifically note technology's role in the success of the programs, I can only assume it played an important one given several of Cigna's noted keys to success: sharing claims data; predictive modeling; communication and collaboration; and clinical integration.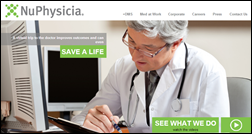 NuPhysicia Inc. (TX) launches a telemedicine-based tobacco cessation program for Caterpillar sales and service company Mustang CAT, already a customer of NuPhysicia's telemedicine on-site clinic service. Clinic medical staff will deliver live, face-to-face counseling via videophone to employees enrolled in the program.
---
Acquisitions, Funding, Business, and Stock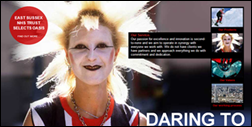 Allscripts acquires Oasis Medical Solutions Ltd., a privately held, London-based provider of patient administration systems and health informatics solutions. Allscripts will combine the Oasis PAS technology with its Sunrise clinical platform to offer a single-source electronic patient record solution throughout the U.K.

Following a disappointing second quarter, Royal Philips announces it will implement a new management structure within its healthcare sector, with all healthcare business groups reporting directly to Philips CEO Frans van Houten. Philips Healthcare CEO Deborah DiSanzo has decided to leave the company.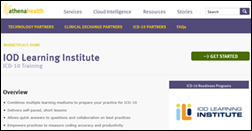 IOD Inc. and athenahealth partner to offer IOD's ICD-10 readiness program to athenahealth customers via its More Disruption Please program. The ICD-10 program includes terminology training for coding and billing staff, online education for physicians, documentation training for clinicians, and an interactive platform to share ongoing best practices.
---
Government and Politics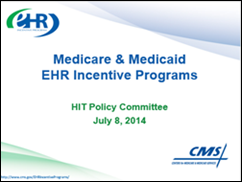 The ONC Health IT Policy Committee meeting presents data that show that, as of July 1, over 2,800 eligible professionals have attested for Meaningful Use for the 2014 reporting year, with 443 new participants, and 972 eligible professionals attesting for Stage 2. Eight EHR vendors are used by those who have attested for Stage 2, with 61 percent using athenahealth and 20 percent Epic. This reporting period marks the first time CMS has conducted them based on calendar quarters rather than 90-day timeframes.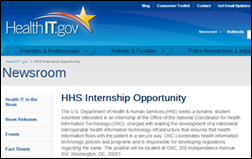 Students have just one day left to apply for an unpaid ONC internship in Washington, D.C. The chosen one will assist with such projects as high quality research memos, the preparation of background memos for the National Coordinator in advance of meetings, assisting with the legislative affairs portfolio and the execution of large meetings, and performing some administrative duties, among other tasks.
---
Research and Innovation

A new study examines characteristics associated with enrollment in and utilization of portals by patients with diabetes. Barriers to enrollment included a lack of patient capacity, desire, and awareness of portal functions. Barriers to utilization included patient capacity, lack of provider and patient buy-in, and negative usage experience.  It seems to me that diabetic patient utilization faces many of the same challenges that non-diabetic patient utilization does, all of which likely stem from provider buy-in and patient education.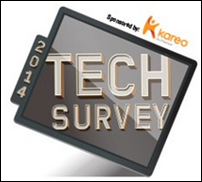 Survey results find that EHR adoption and implementation issues rank as the number-one IT problem of physicians for the second year in a row. A lack of interoperability between EHRs, and implementation and utilization costs follow closely behind, though costs are not of as much concern as they were last year.
---
People
HealthTrust appoints Kent Petty (Wellmont Health System) as CIO.
---
Other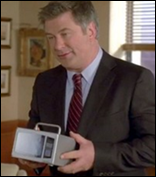 Researchers at GE develop a prototype device that will one day determine the calories in a plate of food, and deliver that data to consumers via smartphone. The device, which uses microwaves to measure fat content, water content, and weight, right now only works on blended foods. The company is already thinking ahead to incorporating the technology into microwave ovens and other kitchen appliances. Those of us that have abandoned tedious calorie-counting apps after just a week or two may also find this sort of "baked in" technology better able to deter us from unhealthy choices. I'd like to think this is the sort of innovation Jack Donaghy would be proud of.
---
Sponsor Updates
---
Contacts
Mr. H, Lorre, Jennifer, Dr. Jayne, Dr. Gregg, Lt. Dan, Dr. Travis
More news: HIStalk, HIStalk Connect.
Get HIStalk Practice  updates.
Contact us online.