Top News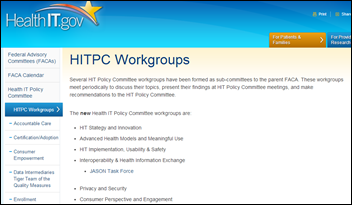 National Coordinator Karen DeSalvo, MD reorganizes the Health IT Policy Committee, cutting six working groups and consolidating several others. The working groups now include Strategy and Innovation; Advanced Health Models and Meaningful Use; Implementation, Usability & Safety; Interoperability & HIE; Privacy and Security; and Consumer Perspective and Engagement. While some say the reshuffle and recent spate of staff members leaving for new endeavors signals the beginning of ONC's end, I'll play devil's advocate and suggest these changes are the result of goals met and a job well done. HITECH Act funding has been meted out, EHR adoption seems to have finally reached a level of mass critical enough for analytics, and Meaningful Use attestations (despite physician grumblings) continue to increase, albeit slowly. I'm hoping Micky Tripathi, a  HIStalk Practice contributor and co-chair of the Interoperability and HIE group, will provide his two cents on on the committee's progress.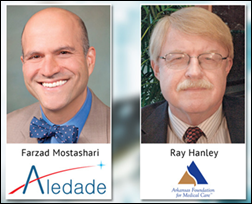 Aledade, the new physician ACO venture led by former ONC head Farzad Mostashari, MD teams again with nonprofit Arkansas Foundation for Medical Care to apply for ACO status. To qualify, Aledade and AFMC are working to sign up between 30 and 50 Arkansas physicians who have at least 5,000 combined Medicare patients. Aledade Arkansas will be set up as a LLC with a 12-member board that includes nine physicians, a physical therapist, and two Aledade managers. Mostashari's company previously worked with AFMC to help 1,600 Arkansas doctors implement EHRs.
---
HIStalk Practice Announcements and Requests
Don't miss the next HIStalk webinar, "Enterprise Data – an Untapped Asset for Succeeding as Healthcare Changes," taking place Wednesday, July 30 at 1pm ET. Presenters Jonathan Velez, MD CMIO at Hartford Healthcare Corp., and Randy Thomas, Associate Partner at Encore, a Quintiles Company,  will cover:
Why the transition from fee-for-service to fee-for-value requires integrated data
Why it is critical to "begin with the end in mind" in creating your analytics solutions
How a data strategy helps healthcare providers
Why data governance is critical in healthcare
The role enterprise data warehouses and HIEs play in health analytics and
Where your organization fits in the health analytics maturity model
Thanks to the following sponsors, new and renewing, that recently supported HIStalk Practice, HIStalk, and HIStalk Connect. Click a logo for more information.
Watching: The Institute, one of the most bizarre documentaries I've ever seen. The film, which has a faint Twin Peaks vibe, chronicles the mysterious rise and short-lived popularity of a secret underground community of life gamers in San Francisco.
---
Acquisitions, Funding, Business, and Stock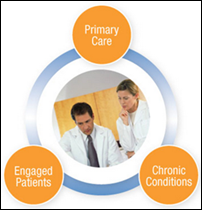 Patient Engagement Systems launches Care Manager Web Portal for the care of patients with chronic conditions such as diabetes and kidney disease. The new portal is targeted to healthcare organizations participating in ACOs or other value-based reimbursement programs.

Lumin Medical purchases patient-tracking solutions and sign-in kiosk developer PatientTrak, and announces it will move its headquarters from Illinois to Franklin, WI. It seems likely Lumin will also take on the PatientTrak brand, as a quick Google search turned up zero results for the acquiring company.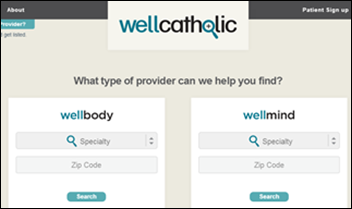 Greg Bottaro, PsyD launches WellCatholic, a website that aims to link Catholic patients with physicians of all medical disciplines who maintain Catholic values in their practices. It's an interesting concept given today's political climate. Bottaro notes that "[T]here's definitely a huge demand for healthcare" that respects a patient's beliefs, as well as those of their health provider.
---
Announcements and Implementations

MSC Cruises becomes the first cruise line to offer a multilingual pediatric telemedicine service thanks to a partnership with specialists at the Giannina Gaslini Paediatric Institute in Italy and technology from Carestream. The cruise line already offers adult teleradiology and teleconsultation services.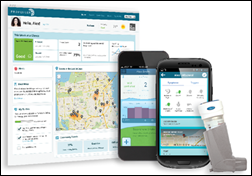 The Arizona Care Network becomes the first ACO to offers its members the Propeller Health (fka Asthmapolis) digital solution for chronic respiratory disease. The COPD solution is a combination of sensors, mobile apps, analytics, and personalized feedback that promotes maintenance therapy adherence. It also remotely monitors use of rescue medications to predict exacerbations and facilitate early intervention by care teams.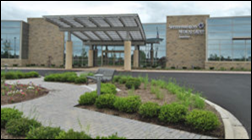 The local paper profiles the opening of the SwedishAmerican Medical Group Stateline Clinic (IL), which features an interesting design change related to HIT: Computer screens can now easily face the patient and doctor. While the article suggests it is a "simple solution that wouldn't normally be looked at," it is probably high on the list of changes many physicians would like to see with regard to tethered computer placement in the exam room. Our family pediatrician, who has been known to call EHRs "meaningfully useless," does appreciate the analytics and population health management tools they afford, but bemoans the lack of eye contact they cause with his young patients.
---
Government and Politics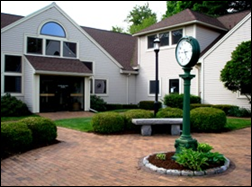 The local paper details the state of Connecticut's proposed Guide Path program that would assist practices in becoming patient-centered medical homes. While physicians already participating in the Medicaid model have seen a 2-percent cut in per-person costs and a 32-percent increase in the number of participants, many struggle with adopting the model due to the high costs of EHR implementation. "We take pride in the high-quality care that our patients receive, but that doesn't help pay for raises," says David Howlett, MD, who operates a PCMH at East Granby Family Practice.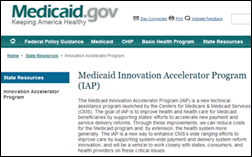 HHS seems to be on a bit of a spending spree lately. After announcing the availability last week of $100 million to support 150 new health centers, the department invests $100 million in technical support for Medicaid programs. The new Medicaid Innovation Accelerator Program aims to develop resources to support state-based healthcare reform efforts that will improve service delivery and bring down costs.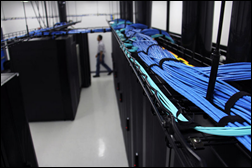 The state of Vermont may be filling out its Medicaid IAP application right now, as it looks for a technology firm to overhaul its Medicaid management information system to the tune of $70 million. The RFP in circulation is part of a larger $400 million IT overhaul that will include the state's health insurance exchange.
---
Research and Innovation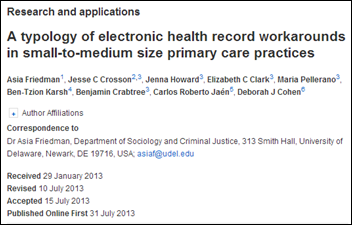 A comparative study of EHR use in seven independent primary care practices finds workarounds for a number of problems including user interface issues, barriers to electronic health information exchange with outside organizations, and struggles to incorporate new technologies into existing office space. Researchers spent one month in each practice to observe EHR use, interview clinicians and staff, and conduct patient pathways.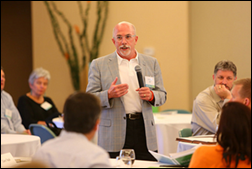 Arizona State University's Center for Sustainable Health launches Project Honeybee to bring ASU's network of partners and resources together to respond to healthcare issues. The project will first focus on harnessing the growth in wearable biosensors for clinical applications through a data-validation approach. "Within 10 years, every patient will be monitored by devices," said Leland "Lee" Hartwell, the center's chief scientist, at a forum introducing the project. "While there are lots of new discoveries, the translation into the clinic for utility is nearly zero. We need to create a process to make this technology reliable and useful, with new capabilities, to find out the best application that will have the greatest impact on medicine, and give patients control of their own health."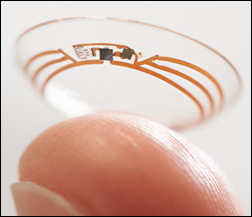 Google and the Alcon eyewear division of Novartis announce they will create a smart contact lens that can measure a diabetic's blood sugar level directly from tear fluid on the surface of the eye. The lens, which will contain a low-power microchip and nearly invisible electronic circuit, will send that data to the wearer via mobile device. Novartis also hopes to develop lens technology that will enable long-sighted people to autofocus on what they are looking at, preventing the need for glasses.
---
People


GE Healthcare promotes Eric Stahre to the head of its molecular imaging and computed tomography unit. Stahre takes over from Steve Gray, who has been named president and CEO of the detection and guidance solutions unit.

Mark Scruggs returns to Zotec Partners as a partner of corporate strategy.
---
Other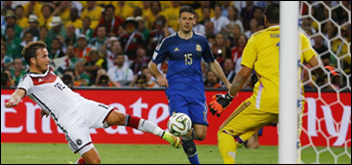 Microsoft accurately predicts the winner of the World Cup. Its prediction engine – put into play as a marketing stunt for the company's Bing search engine – also accurately predicted every stage of the event's knockout rounds. Some (i.e. people with too much time on their hands) have compared the prediction to the success of Paul the octopus in predicting Germany's 2010 World Cup games.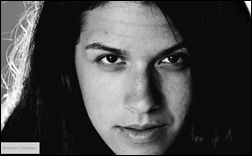 Speaking of search results, Elle magazine profiles top Google white hat hacker Parisa Tabriz, who leads a team of engineers to discover weaknesses in Google Chrome. I love that Tabriz opted for the official title of Security Princess, rather than Information Security Engineer, which she tells the magazine is "just completely dry and boring and horrible."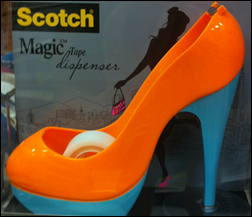 I couldn't resist snapping a pic of this fashionable tape dispenser during a leisurely stroll through my favorite big box store. While I don't have quite the shoe fetish that my fabulous predecessor did, I do appreciate a pair of fashionable yet practical pumps.
---
Contacts
Mr. H, Lorre, Jennifer, Dr. Jayne, Dr. Gregg, Lt. Dan, Dr. Travis
More news: HIStalk, HIStalk Connect.
Get HIStalk Practice  updates.
Contact us online.