Top News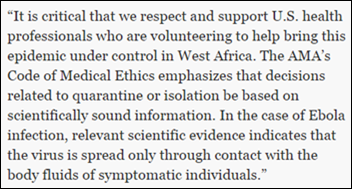 Leading health groups decry the mandatory quarantine imposed by New York and New Jersey on health workers returning from the Ebola epidemic in West Africa. Representatives from the AMA; Medecins sans Frontiers; Infectious Diseases Society of America; Association for Professionals in Infection Control and Epidemiology; and AIDS activists, researchers, and doctors have all issued statements taking politicians in both states to task for not basing their quarantine decision on solid, scientific evidence. Johns Hopkins School of Public Health Dean Michael J. Klag, MD, MPH has added his voice to the outcry via a letter to NJ Governor Chris Christie criticizing the quarantine.
---
HIStalk Practice Announcements and Requests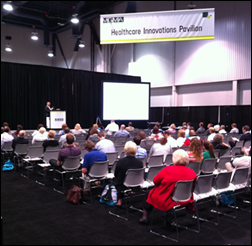 Today's post is a bit briefer than usual, given that I'm in Las Vegas covering MGMA 2014. Catch up with what's happening at the show via my 10/26 and 10/27 updates. You'll find lots of show-floor pictures, attendee insight, and exhibit hall trends. I'll post the third and final installment on 10/28.
---
Webinars
November 5 (Wednesday) 1:00 pm ET. Keeping it Clean: How Data Profiling Leads to Trusted Data. Sponsored by Encore, A Quintiles Company. Presenters: Lori Yackanicz, administrator of clinical informatics, Lehigh Valley Health Network; Randy L. Thomas, associate partner of performance analytics, Encore, A Quintiles Company; Joy Ales, MHA, BSN, RN, senior consultant, Encore, A Quintiles Company. Data dictionaries, organizational standards, and pick lists for data entry fields may describe the intent of a particular data field, but don't guarantee that the data captured in the source system actually reflects that intent. Data profiling is the statistical analysis and assessment of the data values in source systems for consistency, uniqueness, and logic to ensure that the data landing in a data warehouse or analytic application is as expected. Attendees will learn which projects benefit from data profiling and the resources needed to accomplish it.
If you weren't able to participate in last week's webinar, this  YouTube video contains the complete 49-minute, Imprivata-sponsored webinar, including the Q&A. The presenters cover the DEA rule, which requires EMRs to be certified and providers to use two-factor authentication (along with other technical requirements). New Yorkers should be especially interested since the I-STOP act requires EPCS starting in March 2015. HIStalk webinar questions can be directed to Lorre.
---
Announcements and Implementations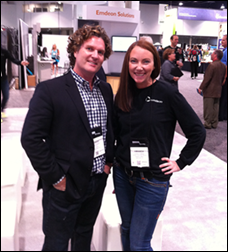 Emdeon announces the completion of the transition from CaparioOne to the Emdeon One brand, and the addition of a new Advanced Denials Management service to be integrated within the Emdeon One portal. Emdeon acquired Capario earlier this year, and according to show-floor conversations with Emdeon reps at MGMA, the two teams are integrating quite nicely.

CareCloud launches Advanced CareCloud Analytics to provide visibility into a medical group's financial, operational, and clinical performance. The company has also partnered with Precyse and HealthStream to offer their ICD-10 education program for physicians to its clients.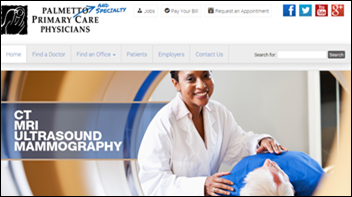 Palmetto Primary Care Physicians selects the eClinicalWorks EHR, and Care Coordination Medical Record for population health management.
---
Acquisitions, Funding, Business, and Stock

RCM and analytics services vendor MediGain LLC closes a $38 million investment transaction with Prudential Capital Group. MediGain Chairman Dinesh Bhutani notes the investment will likely spill over into helping grow the company's business in India.

Limeade, a Washington-based startup specializing in employee health and wellness engagement platforms, secures a $25 million investment led by led by Oak HC/FT Partners of New York. The Washington state Health Care Authority signed a five-year, $15 million contract with Limeade to use its engagement platform to help HCA employees get healthier.
---
Government and Politics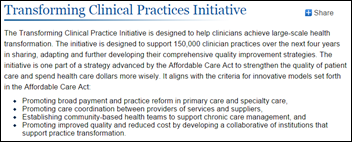 HHS announces the four-year, $840 million "Transforming Clinical Practice Initiative" incentive grant program to move providers to value-based, patient-centered, coordinated health services, saying that healthcare IT will be a key component.
AMA President Robert Wah, MD, expresses AMA's displeasure at the departure of Karen DeSalvo and Jacob Reider from ONC, citing the personnel shuffle as one more nail in Meaningful Use's coffin, leaving "a significant leadership gap which could jeopardize the growing momentum around interoperability."  
---
Research and Innovation

The Center for Connected Health and pharmaceutical company Daiichi Sankyo Inc. will create a mobile app that will help improve treatment adherence and medication compliance for patients living with atrial fibrillation. It will also foster feedback loops that connect physicians to the patient.
---
People

David Kobrinetz (Teladoc) joins U.S. Healthworks as director of telemedicine.
---
Other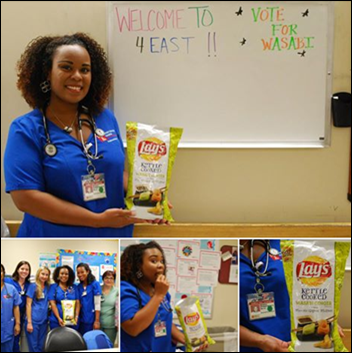 Meneko Spigner Mcbeth, RN, wins $1 million for coming up with the winning flavor – wasabi ginger – in the Frito-Lay "Do Us a Flavor" potato chips contest. Finalist flavors included cappuccino, mango salsa, and cheddar bacon mac and cheese.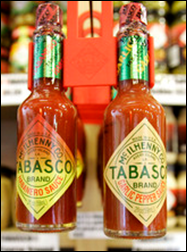 And speaking of spicy foods, Tabasco hot sauce proves to be a successful training aid for healthcare workers learning how to avoid contamination when taking care of Ebola-infected patients. As part of their training, University of Texas Southwestern Medical Center trainees rub their eyes and touch their lips after they finish removing their protective gear. If they receive no tingling or stinging sensation, they know they have safely removed their gear and avoided contamination. I don't think I'll ever look at Tabasco the same way again.
---
Contacts
Mr. H, Lorre, Jennifer, Dr. Jayne, Dr. Gregg, Lt. Dan, Dr. Travis
More news: HIStalk, HIStalk Connect.
Get HIStalk Practice  updates.
Contact us online.