Top News
Talk about multitasking: An ONC blog post says that National Coordinator Karen DeSalvo, MD will continue to lead ONC while under reassignment as Acting Assistant Secretary of Health, explaining that she will continue to chair the Health IT Policy Committee and work on ONC's Interoperability Roadmap. I hope DeSalvo doesn't find herself caught in the classic multitasking trap of doing too many things at once, and none of them very well. At a time when the public is ridiculing the White House's choice of an "Ebola Czar" and wondering when a permanent Surgeon General will be named, the ONC's move is none-too reassuring.
---
HIStalk Practice Announcements and Requests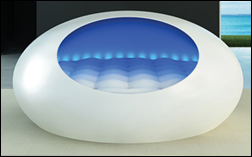 I felt like crawling into the Serenity Pod bed once I finally made it back home from MGMA last night. I didn't quite win enough in Las Vegas to cover the $10,000 Skymall price tag, so my usual bed had to suffice. After a good night's sleep, I had time to further ruminate on my MGMA experience. Not once did I hear any discussion of ONC's personnel shuffle, leading me to believe that physicians in the trenches have better things to worry about than who's winning at musical chairs in Washington.
I did see one exhibitor prepared to give away an Apple Watch once it's released early next year, but FitBits, iPads, and various gift cards were the trendy giveaways. If you're a FitBit fan, check out Lt. Dan's write up on the company's next generation of activity trackers. Unless you're an Apple junkie, the FitBit Surge might be the better deal if you're looking for Apple Watch-like features at a lower price point.
---
Webinars
November 5 (Wednesday) 1:00 ET. Keeping it Clean: How Data Profiling Leads to Trusted Data. Sponsored by Encore, A Quintiles Company. Presenters: Lori Yackanicz, administrator of clinical informatics, Lehigh Valley Health Network; Randy L. Thomas, associate partner of performance analytics, Encore, A Quintiles Company; Joy Ales, MHA, BSN, RN, senior consultant, Encore, A Quintiles Company. Data dictionaries, organizational standards, and pick lists for data entry fields may describe the intent of a particular data field, but don't guarantee that the data captured in the source system actually reflects that intent. Data profiling is the statistical analysis and assessment of the data values in source systems for consistency, uniqueness, and logic to ensure that the data landing in a data warehouse or analytic application is as expected. Attendees will learn which projects benefit from data profiling and the resources needed to accomplish it.
November 12 (Wednesday) 1:00 ET. Three Ways to Improve Care Transitions Using an HIE Encounter Notification System. Sponsored by Audacious Inquiry. Presenters: Steven Kravet, MD, MBA, FACP, president, Johns Hopkins Community Physicians; Jennifer Bailey, senior director of quality and transformation, Johns Hopkins Community Physicians; Robert Horst, principal, Audacious Inquiry. Johns Hopkins Community Physicians reduced readmissions and improved quality by implementing a real-time, ADT-based encounter notification system (ENS) to keep the member's healthcare team informed during transitions in care. Johns Hopkins presenters will describe the clinical, operational, and financial value of the ENS for care coordination along with its technology underpinnings.
---
Acquisitions, Funding, Business, and Stock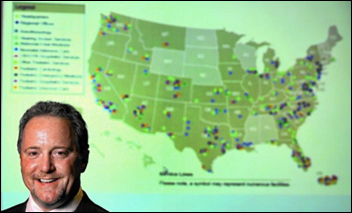 Mednax acquires NEXus Medical Group (GA) and its Meridian Anesthesia Consultants subsidiary. Terms of the deal were not disclosed. The transaction marks the ninth for Mednax this year.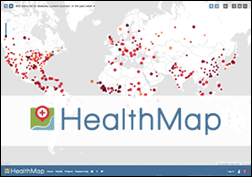 Booz Allen Hamilton acquires population health informatics company Epidemico to further develop analytics offerings in population health. I won't go so far as to surmise that BAH is jumping on the Ebola-outbreak bandwagon, but it is worth noting that Epidemico's HealthMap software tool is designed to track more than 200 infectious diseases globally. Do they know something we don't?
---
Announcements and Implementations

Diagnotes joins the Allscripts Developer Program to integrate its mobile communication system for medical groups with existing Allscripts products.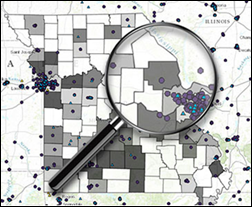 AMA introduces the Health Workforce Mapper, an interactive tool that illustrates the locations of the healthcare workforce in each state, including professional shortage areas, hospital locations, and other related workforce trends. This seems like it will be a useful tool at the med school level in combatting the physician shortage that was much discussed at MGMA. I'd like to see AMA (or some other industry organization) take this one step further and overlay healthcare IT workforce data on top of physician information. This could potentially give vendors a good idea of where to find job candidates with clinical experience.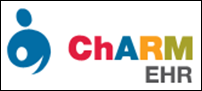 MedicalMine Inc. partners with Bluefin Payment Systems to offer an integrated payment and security solution through its ChARM EHR, PM, and billing solution.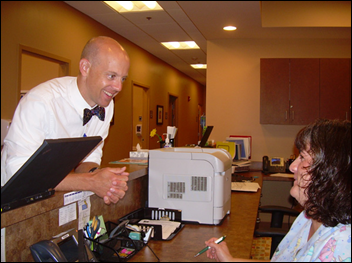 Spring Creek Family Medicine (VA), part of the Martha Jefferson Hospital network, goes live on the My Martha Jefferson Clinic Record patient portal from eClinicalWorks. SCFM's Andrew Hawkins, MD doesn't seem too thrilled: "It's just another layer and unfortunately, for better or for worse, nowadays, we're on the computers a lot and so that allows people that use the computers in that way to be able to better access their system."
ADP AdvancedMD launches a patient portal, financial dashboard, and mobile e-prescribing capabilities.
Truven Health Analytics announces an agreement with Cerner that enables it to resell the Micromedex CareNotes product. The patient education resources in CareNotes will be accessible from Cerner's EHR by clinicians in acute care and ambulatory facilities.
---
Research and Innovation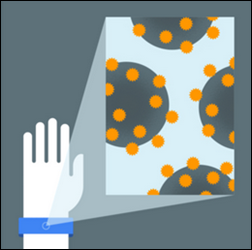 Google is developing a pill containing miniscule nanoparticles capable of searching the body for disease with a goal of providing patients with early warnings leading to proactive treatment strategies. The company is also working to develop an accompanying small, wearable device capable of attracting and counting the particles, and alerting the user if something is found. The lead molecular biologist on the project has high hopes for its outcome: "Every test you ever go to the doctor for will be done through this system. That's our dream."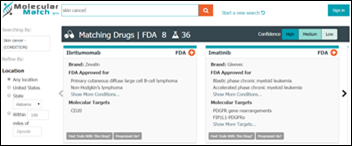 MolecularMatch Inc. launches a beta software system for oncologists to help them connect cancer patients with appropriate FDA-approved treatments and clinical trials based on the molecular make-up of the patient's disease. The software uses technology licensed from MD Anderson Cancer Center (TX).
An MGMA survey of 1,000 medical practices finds that around 85 percent of them think Medicare's quality reporting programs detract from patient care and reduce physician productivity. More than three-quarters of respondents say the programs are too complicated, irrelevant to specialty care, expensive to implement, and include unachievable thresholds.
---
Government and Politics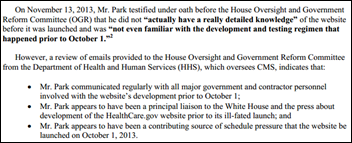 The House Science, Space, and Technology Committee subpoenas former US CTO Todd Park to testify on November 19 about security lapses on Healthcare.gov. Park has refused to testify before the committee on five previous occasions. The subpoena was issued on the same day the committee released a 59-page report contrasting HHS emails to what Park has said he knew about security flaws before the website's launch.
---
Other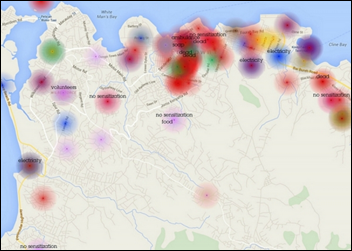 IBM donates communications technology in Nigeria and Sierra Leone to create a public platform for sharing certain Ebola data. The company has helped create phone lines that people can call or text to ask for supplies, request an ambulance or burial services, and even to report power outages. Researchers at IBM's Africa Lab in Kenya are using the data to create a map showing where relief efforts are most needed.
---
Sponsor Updates
Allscripts partners with ScriptSave to deploy innovative capabilities that can promote patient adherence
EClinicalWorks selects Exostar's ProviderPass to expand its EHR product line to include electronic prescribing of controlled substances.
Allscripts launches Sunrise Mobile Care for its Sunrise EHR to deliver medication, order, and result data to the mobile devices of clinicians.
---
Contacts
Mr. H, Lorre, Jennifer, Dr. Jayne, Dr. Gregg, Lt. Dan, Dr. Travis
More news: HIStalk, HIStalk Connect.
Get HIStalk Practice  updates.
Contact us online.