Top News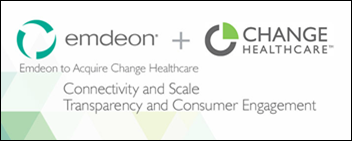 Nashville-based Emdeon announces it will acquire Change Healthcare for $135 million. Founded in 2007, Change, also based in Nashville, offers cost transparency and consumer engagement tools for employers and health plans. The deal is expected to close later this month, after which Change will continue to operate in its same office with its same employees.
---
HIStalk Practice Announcements and Requests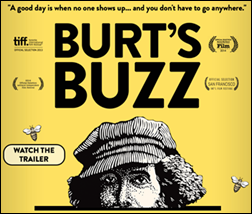 Watching: Burt's Buzz, an amusing yet almost sad tale of the completely unique "Burt" behind the Burt's Bees brand. The movie poster tag line just happens to be my favorite from the documentary: "A good day is when no one shows up … and you don't have to go anywhere."
---
Webinars
Check out the great presentation long-time HIStalk contributors Vince Ciotti and Frank Poggio gave on Tuesday, all in an effort to help prepare end users for the big transition from Siemens to Cerner or some other competing product. Though geared to hospitals, the tips they gave on vendor/product selection and contract negotiations will help just about anyone looking to purchase new IT.
---
Announcements and Implementations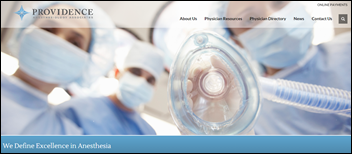 Providence Anesthesiology Associates (NC) selects TigerText's secure messaging solution for its 60 anesthesiologists working at 19 locations throughout the state.

CommonWell Health Alliance offers its 14 members the option to enter into nationwide service agreements, moving beyond the borders of its initial agreements in four geographies at 10 provider sites. Athenahealth, Cerner, CPSI, Greenway, and McKesson have already signed agreements with CommonWell to offer their clients these interoperability services across the nation, including Florida, Massachusetts, and Washington. The expansion stems from CommonWell's recent cementing of its relationship with RelayHealth, which serves as the conduit through which its services are leveraged. I'd be interested in hearing from physicians who are using the CommonWell service via their EHR vendor as to how the technology is improving their information exchange and daily workflows.

On a related note, Aprima Medical Software announces its CommonWell membership. President and CEO Michael Nissenbaum shared this statement with me: "We're pleased to join CommonWell Health Alliance's efforts to enable providers to seamlessly and more securely share patient information. Increasingly, physicians want to leverage information technology to more easily and cost-effectively treat their patients and manage their practice. Aprima is dedicated to easing the transition to this environment for healthcare providers."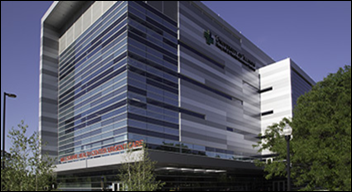 FQHC Mile Square Health Center (IL) chooses Forward Health Group's PopulationManager and The Guideline Advantage.
Rio Grande Valley HIE and University of Texas Health Science Center choose Wellcentive's population health management solutions to help manage the care of people with diabetes.
Oakland Physician Network Services (MI) and Citrus Valley Health Partners (CA) sign on to Practice Fusion's EHR. CVHP physicians note they are looking forward to using the new EHR to integrate with the Citrus Health Information Exchange.
---
Acquisitions, Funding, Business, and Stock

Greenway Health will create 150 jobs in Atlanta when it opens a new technology development center early next year. The company plans to add 200 to 300 positions by the end of its current fiscal year next September 30.

In other Georgia news, consulting firm Quirk Healthcare Solutions announces it will relocate its headquarters from Miami to Savannah, adding 150 jobs over the next three years. The company expects to open the flagship office, as well as a second smaller facility, by June 2015.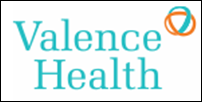 Value-based care management company Valence Health receives a $15 million growth equity investment led by Heritage Group, with assistance from Foundation Medical Partners, GE Ventures, and North Bridge Growth Equity. The company received it's last round of funding to the tune of $30 million in 2012.

CVS Health will open a 100-employee technology development center in Boston for "building customer-centric experiences in healthcare" and to connect with health-related startups. The company will also open three drugstores that will be used for live testing of new digital technologies. Its Digital Health group is headquartered in Woonsocket, RI, where it recently opened a Digital Experience Center.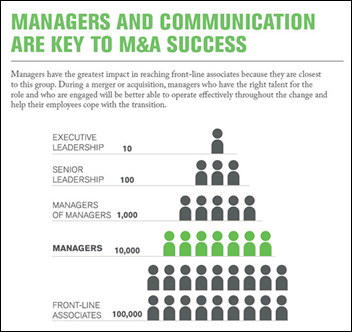 Gallup offers three "prescriptions" for successful healthcare mergers, which nicely complement the many bon mots Vince and Frank shared during the recent Cerner/Siemens HIStalk webinar.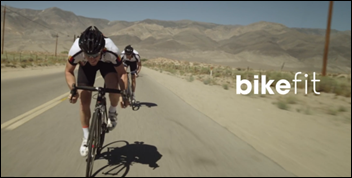 FitBit launches a global media campaign – the first in its seven-year history – in direct response to Apple Watch and the increasingly crowded wearables marketplace. "We're actually excited they're entering," says Tim Rosa, VP of global marketing. "All ships rise in a high tide, and they're going to bring a lot of education to the category." The eight-figure media buy will highlight the new FitBit Charge, Charge HR, and Surge.
---
Research and Innovation

A survey finds that emerging roles in healthcare include telehealth-trained clinicians, care coordinator, navigator, clinical documentation specialist, health coach, medical scribe, and ICD-10 coder. Emerging executive roles include chief population health officer, chief experience officer, chief clinical transformation officer, and chief strategy officer. Survey respondents included over 300 HR and clinical management leaders from hospitals and health systems across the country.
This article highlights the work engineers are doing to develop microscopic robots that may eventually be able to travel through the large arteries and small veins of living bodies to perform a wide range of medical feats that would otherwise require invasive surgery. One researcher envisions "a generation of biological machines that could aid in drug delivery, surgical robotics, 'smart' implants, or mobile environmental analyzers, among countless other applications."
Walgreens will offer inexpensive, minimally painful blood tests from startup Theranos, with the service already launched in the Phoenix area.
---
Government and Politics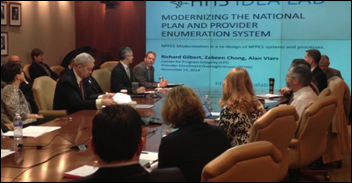 The HHS Idea Lab announces a new cohort for its Entrepreneurs-In-Residence program, which pairs private-sector entrepreneurs with HHS employees to innovate on "high risk high reward projects" crowdsourced from within the agency. The entrepreneurs include Danny Boice (Speek), Paula Braun (Elder Research Inc.), David Portnoy (Symbiosis Health), and Mark Scrimshire (HealthCa.mp).

Ex-CMS COO Michelle Snyder releases an email sent to former US CTO Todd Park that portrays CMS Administrator Marilynn Tavenner as a demanding official who threatened to have Snyder's job if Healthcare.gov didn't launch on time. "I appreciate you (sic) belief in the goodness of others," she writes, "but at this point I am too tired to pretend that there is a decision to be made – it is just how much crap my team will have to take if it isn't sufficiently successful – you haven't lived through the temper tantrums and threats of the last 9 months." Snyder retired last December as fall-out from the botched launch continued to heat up.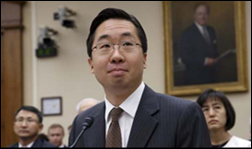 The House Science and Technology Committee finally  succeeds in putting Todd Park in the hot seat of its ACA inquisition, but only after issuing him a subpoena. Park was put through the committee's wringer, which didn't end up with much to show for their questioning efforts. Rep. Eddie Bernice Johnson (D-Texas), ranking member of the full committee, hit the nail on the head when she told Park, "This hearing is largely an excuse for the majority to again express their dislike for the Affordable Care Act."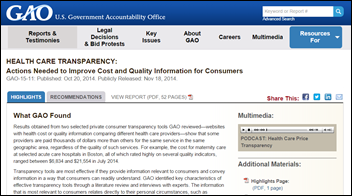 The GAO reports that five CMS transparency tools – Physician Compare, Hospital Compare, Home Health Compare, Dialysis Facility Compare, and Nursing Home Compare – "lack relevant information on cost and provide limited information on key differences in quality of care, which hinders [the ability of consumers] to make meaningful distinctions among providers based on their performance." It also points out  limitations such as "not using clear language and symbols, not summarizing and organizing information to highlight patterns, and not enabling consumers to customize how information is presented." In what is probably no surprise to anyone, the cost transparency tools seem to be heavily influenced by the concerns of providers rather than consumers.
---
People
AMC Health hires Bruce Matter (GE Healthcare) as SVP of sales and client development.

Niall Brennan joins CMS as its first chief data officer in the agency's new Office of Enterprise Data and Analytics.
ONC welcomes Chartése Day (Ketchum) as director of the Office of Public Affairs and Communications (OPAC), and Amanda Woodhead (Emdeon) as the senior stakeholder engagement lead in OPAC.
---
Other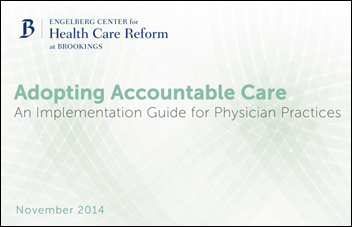 The Brookings Institution offers a 67-page ACO Physician Toolkit, authored by Aledade CEO Farzad Mostashari, MD Summit Medical Group CMO Robert Brenner, and ONC Entrepreneur in Residence Mark Montarastelli, as well as several Brookings insiders.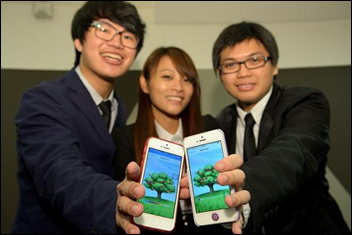 Students in Singapore win funding to develop an app that encourages people to stop using their smartphones. The Apple Tree app immobilizes phones when two or more users put their handsets together. If a phone remains untouched, an apple tree begins to grow on the screen, furnishing the user with digital fruit that can be "harvested" and exchanged for rewards. The app will be released for free in March 2015 as part of Singapore's 50th birthday celebrations.
---
Contacts
Mr. H, Lorre, Jennifer, Dr. Jayne, Dr. Gregg, Lt. Dan, Dr. Travis
More news: HIStalk, HIStalk Connect.
Get HIStalk Practice  updates.
Contact us online.
Become a sponsor.