Top News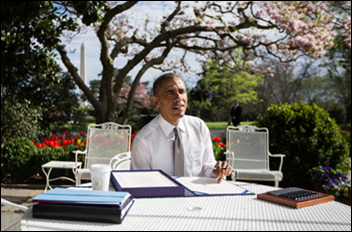 President Obama signs a bill that ends the use of social security numbers on Medicare cards, an action no doubt motivated by the proliferation of EHRs and spate of recent cyber attacks. Medicare officials have up to four years to start issuing cards with new identifiers, and another four after that to issue new cards to current beneficiaries. Socials will be replaced by a randomly generated identifier, the details of which have yet to be figured out. (Is it just me or is that an abacus on the table next to the documents he's signing above?)
On a side note, the Wall Street Journal wins a Pulitzer for "Medicare Unmasked: Behind the Numbers," its investigative series exposing abuses in the Medicare system. "Our reporting has sparked congressional inquiries and criminal charges, and changed public attitudes towards Medicare," explains Editor in Chief Gerard Baker.
---
HIStalk Practice Announcements and Requests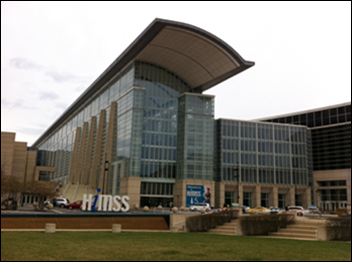 I took last week off from my typical coverage to focus solely on my experience at HIMSS15. You can catch up on my recaps, as well as those from Mr. H and Dr. Jayne, below.
Monday, April 13
Jenn
Mr. H
Dr. Jayne
Wednesday, April 15
Jenn
Mr. H
Dr. Jayne
Thursday, April 16
Mr. H
Dr. Jayne
This week will likely be spent playing a bit of catch up on the usual news coverage. I plan on venturing into new editorial territory next week, possibly increasing in frequency and dedicating one post a week to population health management news. Your thoughts and suggestions are welcome.
---
Webinars

April 22 (Wednesday) 1:00 ET. "Microsoft: The Waking Giant in Healthcare Analytics and Big Data." Sponsored by Health Catalyst. Presenter: Dale Sanders, SVP of strategy, Health Catalyst. Microsoft has been quietly reengineering its culture and products to offer the best value and most visionary platform for cloud services, big data, and analytics in healthcare. This webinar will cover the Healthcare Analytics Adoption Model, the ongoing transition from relational databases, the role of new Microsoft products such as Azure and Analytic Platform System, the PowerX product line, and geospatial and machine learning visualization tools. Attendees will learn how to incorporate cloud-based analytics services into their healthcare analytics strategies.
---
Acquisitions, Funding, Business, and Stock

Population health and PM company Continuum Health Alliance announces it will lay off 88 workers, mainly in RCM services, at its N.J. headquarters.

Integrated Document Solutions plans to add 25 to 50 jobs over the next two years to support its cloud-based services. The Florida-based company also plans to add telemedicine to its AbbaDox HIS platform in the coming months.

Texas-based AMPM rebrands as Puredi and launches a cloud-based software platform for practice financial management.

UnitedHealth Group subsidiary Optum acquires the MedExpress chain of urgent care clinics for an undisclosed price. MedExpress operates 141 clinics in 11 states, and plans to open an additional 25 to 30 later this year.

Ambulatory  EHR data aggregation and analytics company Arcadia Healthcare Solutions receives $13 million in investment funds from Zaffre Investments, Peloton Equity, and existing investors.
---
Announcements and Implementations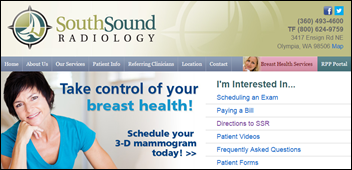 South Sound Radiology (WA) selects RCM technology from Zotec Partners for its 29 radiologists.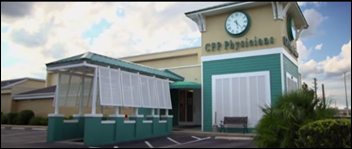 CFP Physicians Group (FL) selects the Allscripts Chronic Care Management Program to better support patients with two or more chronic conditions.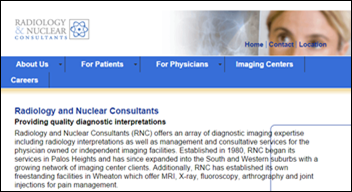 Radiology & Nuclear Consultants and Community Imaging (IL) selects RCM solutions from McKesson Business Performance Services.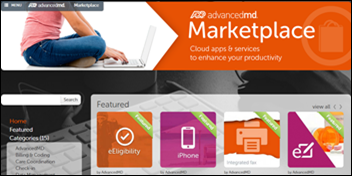 ADP AdvancedMD launches the AdvancedMD Marketplace to offer clients a resource for practice solutions from a variety of partners, including Alleon Healthcare Capital.
Amazing Charts introduces Amazing Reminders, an automated appointment reminder system powered by consulting and development firm Across Healthcare.
Point and Click Solutions incorporates ProviderPass identity proofing and second-factor credential authentication from Exostar into the EPCS functionality of its EHR for college campus physicians.
Talksoft launches its Survey+ patient survey app that allows medical practices to benchmark their patient experience and practice performance.
Relay Health Financial introduces the ConnectCenter RCM portal.
Mobile care management company PingMD joins the Greenway Health Marketplace to provide certified API solutions to Greenway's PrimeSuite customers.
---
Government and Politics
ONC issues a 62-page guide to "Privacy and Security of Electronic Health Information."
Xerox's $565 million contract to build and run New York's new Medicaid computer system wins approval from the state, despite protests from competing bidders HP and CSC over the company's performance delays in other states. Xerox will have 18 months to finish the job.
---
Telemedicine
Ernst and Young announces development of its Telemedicine Adoption Model. Lt. Dan breaks down the seven stages of adoption here.
Washington State Governor Jay Inslee signs off on telemedicine reimbursement legislation that "flew" through the State House and Senate.

Azalea Health integrates telemedicine functionality into its EHR, taking advantage of an increasingly reimbursement-friendly regulatory environment and the desire of physicians to cash in on CMS Chronic Care Management program incentives.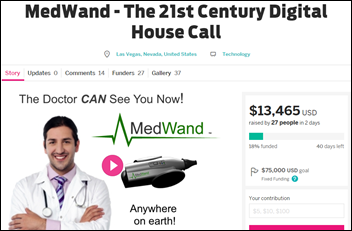 MedWand solutions launches a new telemedicine examination device at Indiegogo.com. The crowdfunding campaign offers pre-orders for prototypes and limited editions, as well as a ruggedized version that can be used with satellite links in remote locations.
---
Research and Innovation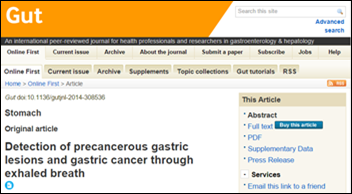 Researchers at Russell Berrie Nanotechnology Institute in Israel develop a breath-test technology that can be used to diagnose stomach cancer. Researchers believe the new and highly accurate nanoarray analysis will help to avoid unnecessary endoscopies, and improve monitoring after initial diagnosis.
Ball State University's School of Physical Education, Sport, and Exercise Science is collecting health data to create a national fitness database to assist in the prevention of heart disease. The Fitness Registry and the Importance of Exercise: a National Database (FRIEND) will provide a representative sample of the nation's population that can be used to accurately interpret cardiorespiratory fitness.
---
Other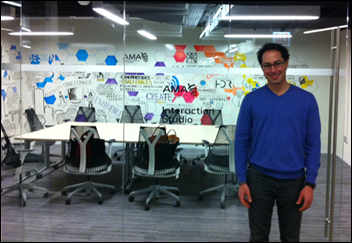 I took the opportunity while in Chicago last week to meet Steven Collens, CEO of the new Matter healthcare technology startup center and self-described community hub. He kindly showed me around the organization's office space in the historic Merchandise Mart (the largest building in America, according to my cabbie), pointing out the space that will soon be styled as the physician's office of the future thanks to Matter's partnership with the AMA. Collens explained that Matter is currently home to 80-plus startups in the software, med device, and pharma sectors; and boasts relationships with over 30 industry partners and 11 universities and health systems. The organization's business model is a unique one, offering startups varying membership levels from $150 to $450 a month for scaling benefits, all in the name of bringing Chicago's ecosystem of healthcare technology stakeholders together to advance the triple aim.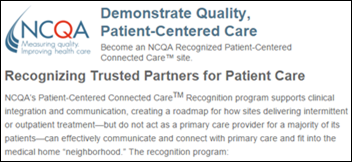 NCQA launches the Patient-Centered Connected Care Recognition Program to evaluate ambulatory care providers that interact with traditional primary care practices. Providers must agree to meet a number of criteria, including using electronic systems to collect data and execute tasks.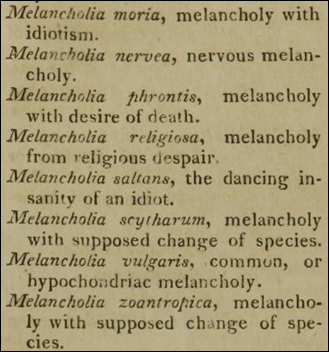 Slate's history blog offers snippets from the 1817 Philadelphia Medical Dictionary, paying particular attention to mania and melancholy. I wonder how, were he alive today, author John Redman Coxe, MD would  describe melancholia due to lack of interoperability.
---
Contacts
Jennifer,  Mr. H, Lorre, Dr. Jayne, Dr. Gregg, Lt. Dan
More news: HIStalk, HIStalk Connect.
Get HIStalk Practice  updates.
Contact us online.
Become a sponsor.