Top News
BlackBerry launches the BlackBerry Center for High Assurance Computing Excellence to develop tools and techniques that deliver a higher level of security protection than currently available. CHACE will collaborate with the healthcare community, including the Diabetes Technology Society, to address security and privacy concerns for next-generation wireless medical devices and applications.
---
Reader Comments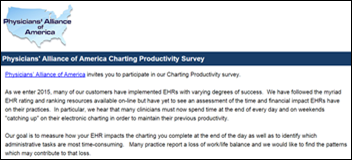 From Survey King: "A large immunization-based GPO, Physicians' Alliance, is doing an interesting EHR survey, different from any I've seen so far. They are trying to get real data about the effect on productivity and time (the skeleton in the closet of EHRs) from practicing clinicians.  The way the survey is constructed, they'll be able to break it down by specialty and EHR. Their results will largely come from primary care docs, which makes it additionally interesting.  I have spoken with PhysAll and they plan to publish the results." The survey is just 10 questions, and you have the added bonus of potentially winning a $50 Amazon gift card for giving them five minutes of your time.
---
HIStalk Practice Announcements and Requests
I enjoyed tuning in to the Health Catalyst webinar on "Microsoft: the Waking Giant in Healthcare Analytics & Big Data" featuring SVP Dale Sanders. Check out my tweet recap above.
---
Announcements and Implementations
Kareo announces a new version of its outsourced billing solution.
SuperCoder launches BoneCoder10 ICD-10 coding and compliance workflow software.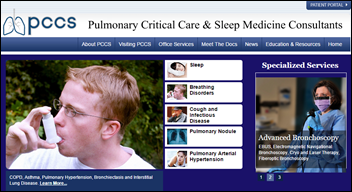 Pulmonary Critical Care and Sleep Medicine Consultants (TX) implements the MD Coder 10 Charge Capture solution from Medical Design Technologies.
---
Government and Politics
GAO Director of Information Security Issues Gregory Wilshusen tells House Oversight Committee members that the office will release a report on security incidents at Healthcare.gov later this year, alluding to the fact that hackers may have breached the site's defenses more than once.
---
People
Ahmed Haque, ONC's director of the office of programs and engagement, will join former National Coordinator Farzad Mostashari's Aledade. (Funny, he didn't give any hints he was leaving during the ONC press conference at HIMSS last week.)
LocumTenens.com names Elizabeth Drum, MD and Kris Johnson, MD MedicalMissions.org Physicians of the Year for international and domestic service, respectively.
Chicago-based healthcare technology incubator Matter adds 10 new board members from organizations including the AMA, University of Chicago, JP Morgan Chase, and Takeda Pharmaceuticals.
---
Telemedicine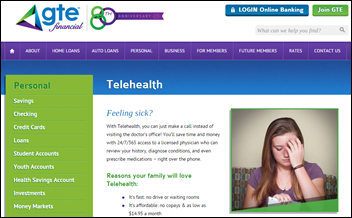 Florida-based credit union GTE Financial offers its members and employees telemedicine services via MDLive. Individuals will pay $15 a month for unlimited calls, while families of up to six will pay $20. That's a nice discount from the typical MDLive consumer rate of $49 per visit. MDLive made news last week when it announced a partnership with Microsoft, making it the first telemedicine business to offer remote consultations via Skype.
Telemedicine has its day in court, with stakeholders touting its benefits and calling for expanded use during a Senate subcommittee hearing. Subcommittee Chair Sen. Roger Wicker (R-Miss.) also announced plans to reintroduce a bill that would extend Medicare coverage for telemedicine services provided in underserved areas.
---
Research and Innovation
Color Genomics announces a $249 saliva test kit that detects 19 genetic markers for breast and ovarian cancer. Lt. Dan provides a breakdown here.
A study of over 28,000 online physician reviews comparing patient satisfaction scores among 23 specialties finds that patient satisfaction decreases as a physician's level of education and training increases. Researchers noted that "patients complain online four times as often about a medical practice's customer service – such as receptionists' cordiality and doctors' bedside manners – as they do about a doctor's ability to heal."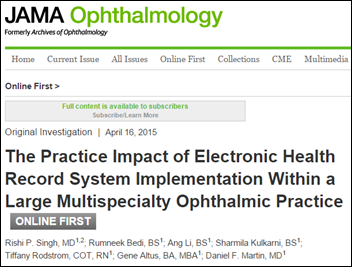 A study finds that Epic EHR implementation at Cleveland Clinic's Cole Eye Institute, a large multispecialty ophthalmic practice, made little difference to productivity or revenue compared with the pre-EHR era. Not surprisingly, the Meaningful Use incentive payments did not offset costs of implementation.
Another JAMA study finds that digital clinical decision support for pediatric healthcare providers can help reduce body mass index in children. Families and clinicians experienced better results the more thy adhered to coaching from the CDS tools, including decision support on obesity management and interventions for self-guided behavior change.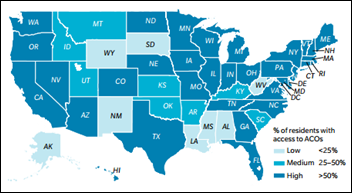 New research finds that 70 percent of the U.S. population now lives in areas served by ACOs, with between 15 and 17 percent receiving care via the business model. While the research notes ACO growth has slowed, it points out that the new Next Generation ACO model will likely help kick start new interest – no doubt good news for companies like Aledade.
---
Other
The local paper covers the work physicians in Idaho are doing to move to value-based care, highlighting the State Healthcare Innovation Plan, which launches this spring. SHIP goals include improving care coordination through EHRs and health data connections; and a statewide data analytics system to track, analyze, and report key health metrics back to physicians.
Cory Franklin, MD sums up the pros and cons of EHRs in light of a recent JAMA study that found 29 million medical records were hacked, stolen, or compromised between 2009 and 2013: "Welcome to the brave new world of health care. Computerized medical records have given your health care providers better access to your medical information than ever before, even while your medical history will never again be as secure as that of your grandparents. Most people in health care consider this progress. But as George Orwell once observed, progress is invariably disappointing." Fun fact: Franklin was Harrison Ford's technical adviser and one of the role models for the character Ford played in The Fugitive.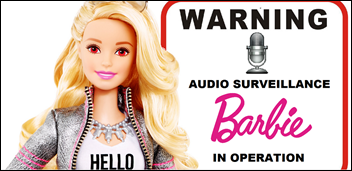 Amazon and Barbie win big in Germany's annual "Big Brother Awards" for privacy abuses. Non-profit Digitalcourage honored two local Amazon subsidiaries for violating Germany's privacy laws, while Hello Barbie got a nod for its ability to record users' conversations so that parents can review them later. 
---
Sponsor Updates
ADP AdvancedMD offers "Recent enhancements to the EHR charge slip."
Culbert Healthcare Solutions offers "A Consultant's Perspective: Teach 'Em How to Fish."
---
Contacts
Jennifer,  Mr. H, Lorre, Dr. Jayne, Dr. Gregg, Lt. Dan
More news: HIStalk, HIStalk Connect.
Get HIStalk Practice  updates.
Contact us online.
Become a sponsor.