Top News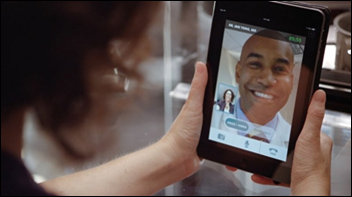 UnitedHealthcare partners with American Well, Doctor On Demand, and Optum's NowClinic to provide video-based virtual visits to its members in 47 states and Washington, D.C. United now covers virtual visits at a cost equal to or lower than in-office visits, putting one more nail in the coffin of the aging primary care business model.
---
Acquisitions, Funding, Business, and Stock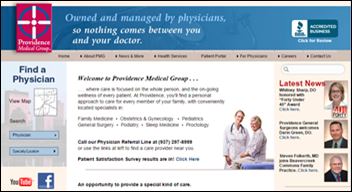 Providence Medical Group builds out its Dayton, OH headquarters with an eye to potentially adding up to 50 jobs this year. Twenty of those may be ICD-10-credentialed IT staff who will help the growing group better manage its Athenahealth EHR.
---
Announcements and Implementations

University Physician Associates of New Jersey implements Premium Analytics as part of its MedAptus Charge Capture suite. UPA, which serves the Rutgers Biomedical and Health Sciences and New Jersey Medical School, will use the new tool to assess the impact of the ACA on the setting of care for visits.
Ideal Life integrates the Nonin 3230 Smart wireless finger pulse oximeter into its remote-monitoring platform for chronically ill patients.
Athenahealth and Liaison Technologies develop a HL7 interface and interoperability guide, enabling rapid deployment of new lab, imaging, and other HL7 messages. Data will be exchanged between Liaison's EMR-Link lab hub and the athenaNet platform.
Surescripts leverages PDR's extensive library of electronic prior authorization forms to expand coverage of its CompletEPA electronic prior authorization solution. Through the collaboration, CompletEPA will be available to nearly 300,000 physicians, and capable of processing benefit data for nearly all patients in the U.S.
---
Research and Innovation
A Family Medicine for America's Health survey of people suffering from chronic conditions reveals that 72 percent are not receiving the tools and support necessary to live healthy lifestyles. Between 35 and 44 percent note they do not receive information on managing their conditions, or support and advice about their medications. The survey results don't dive into the role healthcare technology could play in ameliorating these statistics. It would be interesting to see how many respondents actively promote use of their portals to this same patient demographic.
Health Affairs outlines three themes related to eliminating waste in physician practices – the result of 10 focus group discussions with 62 primary care and specialty physicians in the northern Midwest:
Nudge choices, but preserve and promote clinical judgment.
Promote relationships and communication.
Encourage low-tech, high-touch care.
---
Telemedicine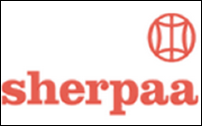 Wired dives into the ambitions of Sherpaa, a telemedicine startup that wants to bypass remote video consults in favor of text messaging. The company, which counts Etsy and Tumblr among its 100-plus clients, claims it can serve 70 percent of its patient queries with text and picture messages.
---
Other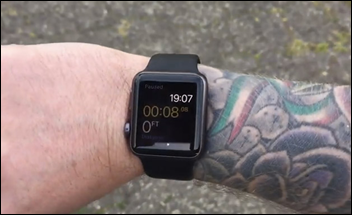 Tattooed Apple fan boys (and girls) may want to think twice about purchasing an Apple Watch. Users with dark ink on their arms have noted the watch's inability to detect direct contact with the skin, and the subsequent inability of heart rate sensors to read their pulse.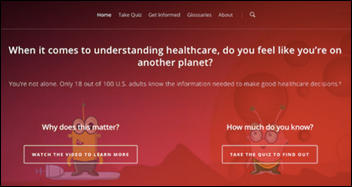 ITriage offers HealthAtHand.com to help consumers test their knowledge about how the U.S. healthcare system works, including how to read a pill bottle. I earned two out of four stars, scoring 26 out of a possible 42 points. I blame my mediocre performance on the questions related to deductibles and insurance networks!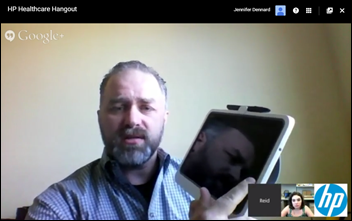 The folks at HP were kind enough to invite me to sit in on a Google Hangout demo of the company's new ElitePad Healthcare Tablet. Reid Oakes, HP's senior director of worldwide healthcare, highlighted the "relevant interaction" the tablet can bring to the physician/patient encounter. The handheld device, which includes full dictation capabilities, literally increases engagement time since the physician's eyeballs are are free to gaze at the patient rather than at a desktop for data entry. Oakes also mentioned the durability of the device, suggesting a game of tablet Frisbee is not outside the realm of possibility.

GE Healthcare's Keith Boone tweets from the Centricity Live event, where I can only assume Mark Segal's question to the audience garnered less than a handful (get it?) of responses.
---
Contacts
Jennifer,  Mr. H, Lorre, Dr. Jayne, Dr. Gregg, Lt. Dan
More news: HIStalk, HIStalk Connect.
Get HIStalk Practice  updates.
Contact us online.
Become a sponsor.