Top News
Crystal Run Healthcare (NY), a multispecialty physician group with 300 doctors, gets into the health insurance game by launching small- and large-group health plans. Over 100 doctors in the CRH network invested $13 million of the required start-up capital. The company anticipates membership of up to 30,000 within three years, with a focus on customer service as its main selling point.
---
Webinars


June 9 (Tuesday) 11:30 ET. "Successful HIEs DO Exist: Best Practices for Care Coordination." Sponsored by Medicity. Presenters: Dan Paoletti, CEO, Ohio Health Information Partnership; Brian Ahier, director of standards and government affairs, Medicity. Not all HIEs are dead – some, like Ohio's CliniSync HIE, are evolving and forging a new path to successful care coordination. Brian Ahier will explain how HIEs can help providers move to value-based care models, emphasizing Meaningful Use Stage 3 and FHIR. Dan Paoletti will provide best practices in describing CliniSync's journey to success in serving 6,000 primary care physicians, 141 hospitals, and and 290 long-term and post-acute care facilities. Attendees will learn how to use a phased approach, establish client champions, help providers meet MU Stage 2, create a provider email directory, deliver care coordination tools, and drive continued ROI.
---
Tweet Chat
Crohn's patient and advocate Carly Medosch (@CarlyRM) will host the next #HIStalking tweet chat Thursday, June 11 at 1pm ET. You can brush up on her background here. Stay tuned for chat topics.
---
Acquisitions, Funding, Business, and Stock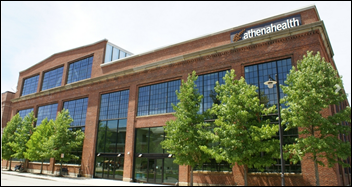 In an effort to attract new recruits, Athenahealth submits a zoning request to accommodate its plans to introduce retail, increase height for construction, and build a parking garage at its main Watertown, MA campus. The plans are in keeping with the company's pattern over the past several years of seeking out up-and-coming mixed-use developments in which to install new offices.
---
Announcements and Implementations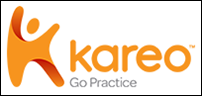 Kareo completes its product integration with DoctorBase, a practice marketing and patient engagement solution acquired by Kareo earlier this year. The announcement is in keeping with the two companies' plans to launch a "lightly integrated release" of services in early Q2 and a deeper integration in the second half of 2015.
---
Government and Politics

Rep. Fred Upton (R-MI), frontman for the headline-grabbing 21st Century Cures Act, takes to Time to outline the many benefits the act will bring once passed. It's expected to hit the House floor later this month.
"The 21st century has seen enormous advances in mobile medical apps and other technological tools, but our regulatory system was built before any of these technologies were even a thought. This bill would provide a regulatory framework to unleash these innovations and offer new pathways for health monitoring, treatment, and communication. And at a time when stories of partisan gridlock and political bickering leave Americans with a feeling that we cannot accomplish big things as a country, this could help signal that no matter the political party, there are leaders who can put aside their differences in order to take a big step forward in helping patients."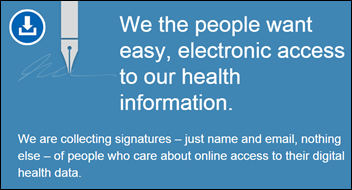 Farzad Mostashari MD's attempts at Health Datapalooza to launch Getmyhealthdata.org have not gathered much steam. Just over 500 signatures have been submitted to the petition, part of a campaign to force CMS to maintain a significant patient view, download, and transmit requirement in the Meaningful Use program. The website doesn't mention how many signatures it wants to accrue, nor to where it will send the petition, though it does stress that it won't "sell, leak, or lose your information."
---
People

Gary Kolbeck (Sonifi Health) joins TeleHealth Services as vice president of business development.

Jonathan Krasner (BEI Networks) joins HIPAA Secure Now! as director of business development.
---
Telemedicine

The Georgia Partnership for Telehealth joins the Georgia Health Information Network, the state's HIE. School clinics that use GPT's telehealth services now have access to GaHIN's connections to 3,600 Georgia healthcare providers, including Children's Healthcare of Atlanta.
---
Research and Innovation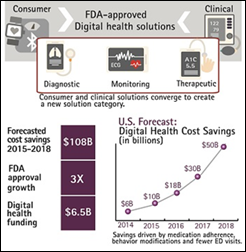 An Accenture report finds that FDA-approved digital health solutions will save the U.S. healthcare system $100 billion over the next four years, primarily driven by a reduction in ER visits, as well as increased behavior modifications and medication adherence. It also predicts that FDA approvals of such solutions will triple by the end of 2018.
---
Other
It's easy to lose sight of the fact that there are other healthcare stakeholders going through the ICD-10 transition experience: The Texas Division of Workers' Compensation has put together this training video (just under seven minutes) to prepare the organizations that participate in its program for the switch.
---
Contacts
Jennifer,  Mr. H, Lorre, Dr. Jayne, Dr. Gregg, Lt. Dan
More news: HIStalk, HIStalk Connect.
Get HIStalk Practice  updates.
Contact us online.