Top News
Aledade raises a $30 million Series B funding round led by Arch Venture Partners with additional investment from Series A investor Venrock. The company, which made the announcement on its first anniversary, will use the hefty infusion of cash to continue building software for partner practices, create new ACOs and expand existing ones, develop value-based arrangements with commercial payers, and expand its workforce. Given that the company is just a year old, I wonder how it will avoid falling into the typical startup trap of growing too big, too fast. CEO Farzad Mostashari, MD offers this explanation: 
"Both our rate of growth and the amount of this funding round were driven by the demand we've seen across the country for our unique ACO model – and for the expertise our team is bringing to the table. But we're extremely conscious of growing in a way that maintains the concierge medicine-level of engagement we want with our partner practices, and their patient populations. We're putting in place structured customer feedback mechanisms, and taking full advantage of the scaling power of cloud-based analytics and technology tools. But at the end of the day it comes down to talent. We've built an all-star team of health care policy, technology, and regulatory experts at Aledade – and that team has been foundational to our success so far.  We'll be doing a lot of hiring over the next several months – data scientists, engineers, and business and operations staff.  But for every new team member we bring on, we'll be asking ourselves the same questions we have since day one: Does this person share our North Star? Do they want to help primary care doctors lead the biggest transformation in healthcare we've seen in this country in generations? If we stay true to that mission, and bring on individuals who share it, we're confident that we'll maintain the same – or better – level of service and success for our partners."
---
HIStalk Practice Announcements and Requests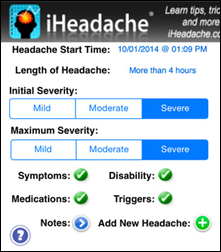 Did you know June is National Migraine Awareness Month? I didn't until an intrepid PR staffer sent me an email alert about it and the iHeadache app developed by neurologist Brian Loftus, MD. Given that I suffer from them maybe a half dozen times a year, I don't know how much I'd benefit from using it, though I know of one close family member – and chronic sufferer – whose interest might be piqued.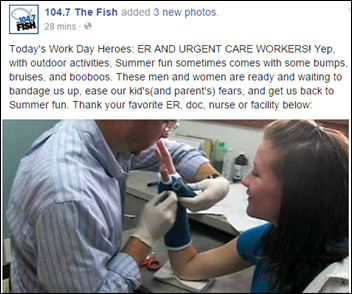 One of my favorite radio stations honors ER and urgent care workers as Work Day Heroes. It's a nice idea, given that these types of clinicians don't have the opportunity to establish long-term rapport with their patients and probably aren't the recipients of hand-drawn thank you notes and new baby photos from grateful patients and parents.
---
Webinars
June 30 (Tuesday) 11:00 ET. "Value Based Reimbursement – Leveraging Data to Build a Successful Risk-based Strategy." Sponsored by McKesson. Presenters: Michael Udwin, MD, executive director of physician engagement, McKesson; Jeb Dunkelberger, executive director of corporate partnerships, McKesson. Healthcare organizations are using empowered physician leadership and credible performance analysis to identify populations, stratify risk, drive physician engagement, and expose opportunities for optimized care. Attendees will learn best practices in laying a foundation for developing a successful risk-based strategy.
---
Acquisitions, Funding, Business, and Stock

CVS acquires Target's retail clinic and pharmacy business for $1.9 billion. CVS will rebrand the Target operations under its MinuteClinic and CVS/pharmacy names, and anticipates opening an additional 20 Target-based MinuteClinics within the next three years. The companies will also develop up to 10 smaller TargetExpress stores, each including a CVS pharmacy.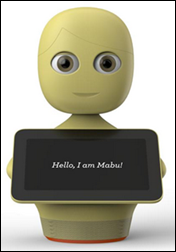 Catalia Health secures $1.25 million in seed funding from Khosla Ventures and other investors. The personal robotics and chronic-disease management company will use the funding to scale up development of its Mabu Personal Healthcare Companion, including putting its first robots on the market by the end of 2015.
---
Announcements and Implementations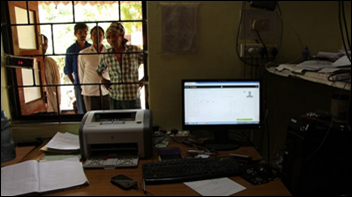 Software company ThoughtWorks partners with nonprofit Save the Children to develop an open-source EHR for use in highly infectious medical outbreaks such as Ebola. The EHR features an adaptable user interface, catering to healthcare workers in constraining protective gear or those working in less restrictive environments.
---
People
Nordic Consulting promotes Abby Polich to VP of affiliate solutions.

Alfred Hamilton (George Washington University) joins CTG as vice president and general manager of its healthcare and life sciences practice.
---
Government and Politics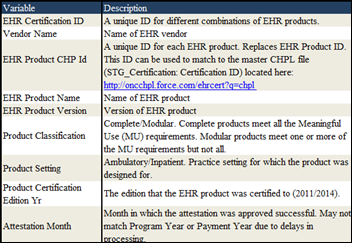 ONC releases detailed information on every healthcare professional who attested to the Medicare Meaningful Use program since its inception through April 2015. The massive file includes national provider identifier numbers, details related to when and what stage of MU attesters achieved, and the EHR vendor and product (including certification year) used to attest.

And speaking of MU … EPs have until midnight tonight to comment on the proposed rule from CMS that would modify MU standards for the next several years, including the hot-button issue of eliminating nearly all patient engagement measures. MGMA is a big fan of the proposed rule, which it believes will "decrease the administrative burden for EPs already participating in the program and increase the number the EPs joining the program for the first time."
This article highlights the shady privacy practices of the government data warehouse used to store information indefinitely on consumers who have registered at Healthcare.gov, even those that didn't sign up for coverage.
---
Research and Innovation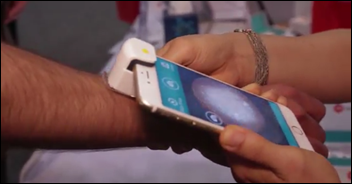 MetaOptima debuts the MoleScope at the World Congress of Dermatology in Vancouver, offering physicians and consumers a microscope attachment for smartphones that allows them to take, store, and share images of moles and other suspicious skin lesions.
PatientsLikeMe and the FDA agree to collaborate on research that will determine how patient-reported data can offer new insights into drug safety. The FDA will now be able to access and analyze data from the 350,000 PatientsLikeMe member network, including 110,000 adverse event reports on 1,000 medications.
---
Telemedicine
Iowa passes legislation allowing a first-time patient visit over telemedicine if the standard of care doesn't demand an in-person visit.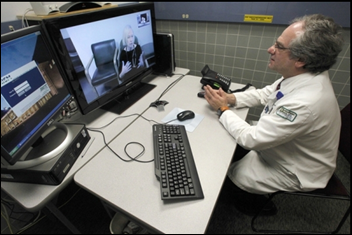 The local paper profiles John Shufeldt, MD and his Scottsdale, AZ-based MeMD telemedicine company. The state of Indiana recently joined the roster of MeMD's service locations as part of a pilot project to test the telemedicine waters. State officials will decide this fall after the pilot concludes whether or not to allow virtual appointments between physicians and patients with no previous in-person relationship.
---
Other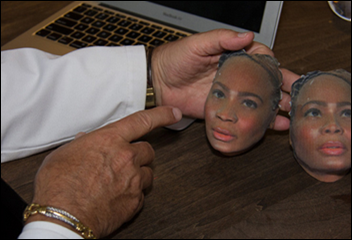 I can't decide whether this is creepy or useful: Plastic surgeon Carrie Stern launches MirrorMe3D to offer prospective clients 3-D renderings of how surgery could impact their features. Printouts range from $60 to $300 for a full-sized head. 
The American Medical Association passes a proposal that calls for the AMA to create ethical and professional guidelines for media doctors such as Dr. Oz, whose evidence-lacking claims reach millions of TV viewers who aren't aware of his paid endorser status and his off-center positions on scientific topics. The AMA will also issue guidelines disciplining unethical media doctors through existing channels such as state licensing boards and medical societies.
---
Sponsor Updates
---
Contacts
Jennifer,  Mr. H, Lorre, Dr. Jayne, Dr. Gregg, Lt. Dan
More news: HIStalk, HIStalk Connect.
Get HIStalk Practice  updates.
Contact us online.