Top News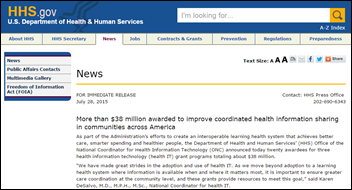 HHS awards $38 million to 20 organizations involved in three health IT grant programs. The Advance Interoperable HIT Services to Support HIE program will receive the bulk of the funding – $29.6 million – which it will dole out to 12 states to help them expand HIE technology and adoption, and overall interoperability. The Community Health Peer Learning Program will give health services and policy research organization AcademyHealth $2.2 million to work with over a dozen communities on population health strategies, and the Workforce Training Program will spread $6.7 million in between seven organizations to update training materials from the original Workforce Curriculum Development program funded under HITECH.
---
HIStalk Practice Announcements and Requests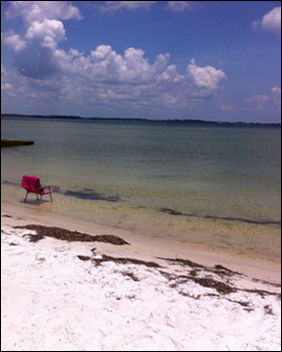 Dedicated readers may have noticed HIStalk Practice has been a bit light on news over the last several weeks, due to my decision to take a working vacation in more tropical climes. As Dr. Jayne attested to earlier this summer, it is hard to completely unplug even when cool ocean breezes and calm waters beckon just outside the door. WiFi at my beach bungalow was contentiously predictable in going down for at least 12 hours every time a significant afternoon storm rolled in. Luckily, I had the foresight to drop by my favorite used bookstore on the way into town. Rainy day beach reads included The Queen's Fool by Philippa Gregory, and the Memoirs of Cleopatra by Margaret George. I am a sucker for weighty (literally) works of historical fiction.
For those of you who may also have been out of the office last week, don't miss the great interviews and guest contributions that kept HIStalk Practice going:
Today finds me back at the home office with reliable connectivity, thankful that the healthcare IT news cycle is slowly picking up as everyone trickles back into the office from their summer holidays. I'm also thankful for the following sponsors, new and renewing, that recently supported HIStalk Practice. Click a logo for more information. Email me if you're interested in joining their ranks.
---
Webinars
None scheduled in the next two weeks. Previous webinars are on the YouTube channel. Contact Lorre for webinar services including discounts for signing up by Labor Day.
---
Acquisitions, Funding, Business, and Stock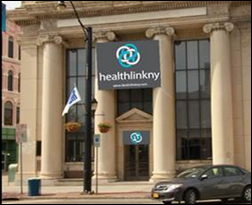 HealthlinkNY – a RHIO serving an 11-county area of southern New York – expands operations with the opening of a new 9,500 square-foot office space in Binghamton. The nonprofit has grown to 21 employees since it was founded in 2005 as Southern Tier HealthLink.
---
Announcements and Implementations
Allscripts adds OptimizeRx's SampleMD technology to its Touchworks EHR, enabling physicians to automatically view, print, and electronically transfer prescription vouchers and copay savings to a patient's pharmacy.

Microwize Technology launches a cloud version of its Lytec medical billing software.
The Michigan-based Consortium of Independent Physician Associations helps 212 physician practices earn patient-centered medical home designations from Blue Cross Blue Shield of Michigan. Managed by The Medical Advantage Group consulting firm, CIPA represents 1,400 physicians from independent physician associations, FQHCs, rural health centers, and group practices.
---
Government and Politics
New Jersey State Assemblyman Bob Andrzejczak (D) introduces a measure that would cap the fees charged to patients for copies of their own medical records. Providers could charge no more than $100 for paper records with a copying fee of 50 cents per page and a $15 administrative fee. The maximum fee for electronic records would be a far more "affordable" $50. The records would also have to be provided within 30 days, which still seems like too long a timeframe for patients who may be in the midst of life-saving care transitions.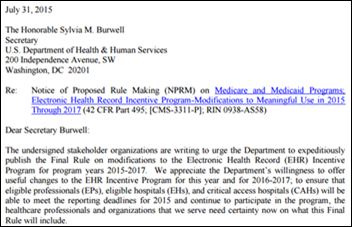 A group of 18 healthcare stakeholders including MGMA, ACP, Cerner, and Greenway Health write to HHS Secretary Sylvia Burwell imploring her to finalize a proposed rule issued in April that would modify Stages 1 and 2 of Meaningful Use. As the authors explain, "The Oct. 3rd deadline to begin the final possible 90-day reporting period in calendar year 2015 is fast-approaching. If providers do not receive the final rule shortly, it will be very difficult to make workflow adjustments in a timely manner to meet programmatic deadlines and facilitate meaningful use tracking and reporting."
---
People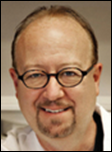 CMS names Richard Ottomeyer, DC a Medicare Physician Champion Community of Practice Provider for his efforts to educate physicians in Minnesota about the transition to ICD-10. He is the first chiropractic physician to be awarded the honor.

Corey Stevenson (CMS) joins Cognosante as vice president and deputy general manager of its health data and communications business.
Practice Fusion names Matt Ackley (Marin Software) chief marketing officer; Dorothy Gemmell (Havas Life) senior vice president, life science practice and strategic partnerships; Tim Rauschenbach (Level Five Solutions) vice president, customer service and support; and Dave Caldwell (Transcend Insights) senior vice president, enterprise solutions. The company, which is gearing up for an IPO, also welcomes Alan Black (Zendesk) to its Board of Directors.
---
Telemedicine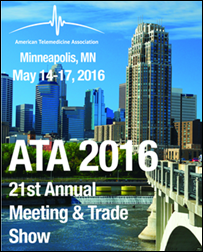 ATA is accepting presentation submissions for its 21st annual meeting and tradeshow, which will be held May 14-17, 2016 in Minneapolis. Presentations on nine main areas of interest including direct-to-consumer services, chronic disease management, and population health will be accepted in a variety of formats.
---
Research and Innovation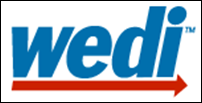 A WEDI ICD-10 industry preparedness survey conducted in June finds that just 20 percent of physician practices have commenced or completed external testing, while less than half are ready or will be ready for the switch on October 1 (just 58 days away). Vendor readiness fared slightly better, with 75 percent of respondents noting they have completed product development, and 100 percent committing to readiness by the compliance date. Based on its findings, WEDI has recommended that HHS appoint its new ICD-10 Ombudsman position as soon as possible, among other WEDI-friendly suggestions. (Is it just me, or is the switch to ICD-10 beginning to feel like the doomsday predictions associated with Y2K?)
The Vitality Institute, a New York City-based research organization, drafts a set of proposed guidelines to address legal, social, and ethical concerns associated with consumer-generated health data. Guidelines for providers include: protect user privacy; clearly define who owns the data; make it easy to interpret, enable access to underserved populations, and incorporate evidence-based approaches to behavior improvement. Comments are due October 15.
---
Other
HHS announces that the data of 3.9 million people was exposed in the Medical Informatics Engineering / NoMoreClipboard hack that took place in late May. Affected facilities included Concentra (TX), Rochester Medical Group (MI), and Franciscan St. Francis Health Indianapolis.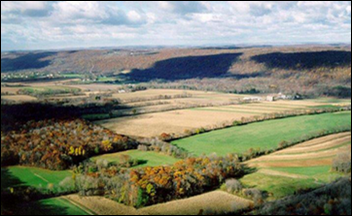 Rutgers profiles Ron Weiss, MD and Ethos Health, the farm-based primary care practice he launched in 2014 on 342 acres in Long Valley, NJ. Ethos trains patients in selecting from over 40 different vegetable and fruit crops from the fields just outside the waiting room, plus offers cooking classes.
---
Contacts
Jennifer,  Mr. H, Lorre, Dr. Jayne, Dr. Gregg, Lt. Dan
More news: HIStalk, HIStalk Connect.
Get HIStalk Practice  updates.
Contact us online.
Become a sponsor.