Top News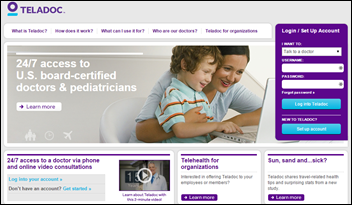 Teladoc announces Q2 results: revenue up 78 percent, with combined subscription access and visit fees totaling $18.3 million. Membership increased 48 percent to 11.5 million, while visits increased by 104 percent to 125,322. The news comes on the heels of the company's Q2 IPO, which raised nearly $160 million; and its decision to hire Julian Cohen (Breakthrough Behavioral) as president and general manager of the behavioral health division. Revenue for the full year 2015 is expected to be near $75 million.
---
Webinars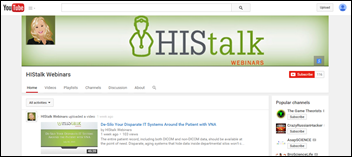 None scheduled in the next two weeks. Previous webinars are on the YouTube channel. Contact Lorre for webinar services including discounts for signing up by Labor Day.
---
Tweet Chat

Don't miss the next #HIStalking tweet chat on August 20 at 1pm ET. Amy Gleason (@ThePatientsSide), COO of CareSync and White House Champion of Change for Precision Medicine, will host. Stay tuned for topics.
---
Acquisitions, Funding, Business, and Stock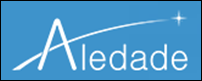 Aledade looks to establish seven ACOs for independent physicians in Tennessee (a first for the state), West Virginia, Virginia, Florida, Kansas, Louisiana, and Mississippi. Pending CMS approval, the new organizations would launch in January 2016. (Aledade CEO Farzad Mostashari, MD alluded to the expansion in our April interview.) The company, which raised $30 million in June, currently has ACOs in 11 states covering over 100 practices and over 80,000 Medicare patients.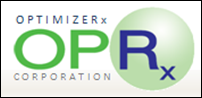 OptimizeRx announces Q2 results: a 20-percent increase over Q2 2014 and a 15-percent increase over Q1 2015. The company, which plans to expand operations and sales, seems to be riding high after last week's announcement that Allscripts will integrate its SampleMD savings technology into Touchworks EHRs. CEO David Harrell made sure to note that, "With our expanded partnership with Allscripts, we are now the exclusive eCoupon delivery platform of over 200 EHRs, which represents two-thirds of our network."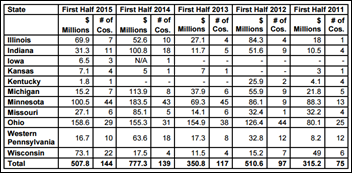 It's a good time to be a healthcare technology company in the Midwest: BioEnterprise reports that healthcare software and service companies in that region received $155 million in equity funding during the first half of 2015. Their medical device and biopharma counterparts garnered $227 million and $126 million, respectively.
---
People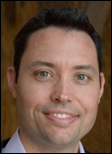 Mark Price (ChenMed) joins DaVita HealthCare Partners as president of its HealthCare Partners Colorado market.
---
Telemedicine

Computerized Screening Inc. will roll out Doctor on Demand telemedicine services in its screening kiosks for work sites, retail outlets, and clinics.
Twenty Minnesota legislators pen their support for Medicare reimbursement for telemedicine services in a letter to members of the state's congressional delegation. "The Minnesota Legislature passed bipartisan legislation this year to expand this technology," explained Ron Kresha and it's our hope that Congress will follow and make sure every Minnesotan can take advantage of this technology and help improve our healthcare system by decreasing costs and giving more people access to quality care."
---
Announcements and Implementations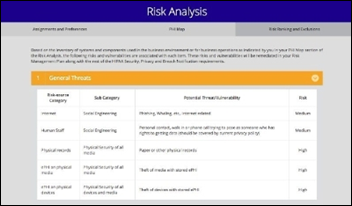 SecurityMetrics develops a HIPAA dashboard to help physician practices simplify the HIPAA compliance process. The solution features risk analysis and management planning tools, workforce training tracking and assessments, security policies and procedures, BA agreements, and reports for audit preparation.
The New England Healthcare Exchange Network selects Cognizant and its Trizetto subsidiary to manage its HIE infrastructure. The NEHEN consortium, made up of payers and providers, hopes the combined services of the two companies will enable it to process up to 8 million transactions a month.
Office Practicum integrates ClearTriage's Web-based decision support system for pediatric triage nurses into its EHR.
---
Government and Politics
HIMSS Innovator-in-Residence Adam Culbertson announces the HIMSS Patient Matching Testing event on August 14 at the HIMSS Innovation Center in Cleveland. Goals for the event, which will offer two testing scenarios, include building consensus on how to best leverage FHIR, interface matching algorithms with FHIR, benchmarking different matching approaches, and best leveraging incentives to encourage collaboration. Attendees will have the opportunity to work with FHIR architect and interoperability consultant Graham Grieve. You can read Mr. H's recent interview with him about the future of FHIR here.
---
Research and Innovation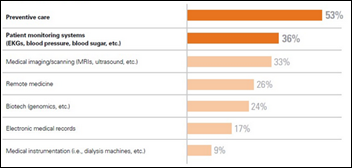 A KPMG study predicts that healthcare IT devices and applications, mobile, and data and analytics will be the biggest revenue drivers for tech businesses in 2015. Twenty-two percent of survey respondents believe that healthcare IT in particular (especially preventative care, patient-monitoring systems, and medical imaging and scanning) will drive the bulk of their revenue over the next two years. Given the consistent consolidation of the healthcare IT industry over the last 18 months, it's also interesting to note that respondents feel access to new customers, and new technology and products are the biggest drivers for tech's current M&A activity.
---
Other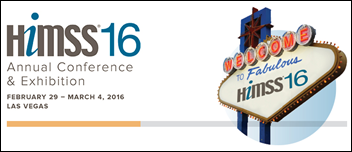 It's hard to believe registration for HIMSS16 is already open, given that I am still wrangling with United over its failure to reimburse me for an unexpected overnight stay at an absolutely quaint HoJo in the suburbs of Chicago during my trek to HIMSS15 in April. HIMSS is switching things up a bit by holding the opening keynote and reception on Monday rather than the typical Sunday. Registration will set HIMSS members back $795 with the early bird discount.
---
Sponsor Updates
Versus Technology publishes "5 Myths and Misunderstandings About RTLS."
AdvancedMD offers "Level the financial data playing field."
Billian's HealthDATA offers "Trends in Healthcare Finance."
---
Contacts
Jennifer,  Mr. H, Lorre, Dr. Jayne, Dr. Gregg, Lt. Dan
More news: HIStalk, HIStalk Connect.
Get HIStalk Practice  updates.
Contact us online.
Become a sponsor.