Top News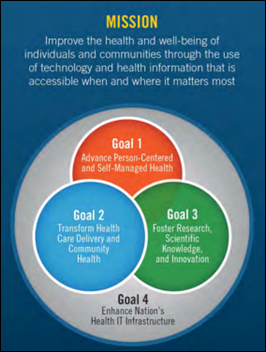 ONC releases the final Federal Health IT Strategic Plan 2015-2020, a 50-page action plan for agencies that use or influence the utilization of health IT as they work towards establishing interoperability across the healthcare continuum. The final plan incorporates the December 2014 draft, input from 35 federal agencies, and recommendations from over 400 individuals and organizations. In introducing the plan, National Coordinator Karen DeSalvo, MD explains, "With this Plan, the federal government signals that, while we will continue to work towards widespread use of all forms of health IT, efforts will begin to include new sources of information and ways to disseminate knowledge quickly, securely, and efficiently. This Plan will help guide the nation's shift towards focusing on better health and delivery system reform." I hope to give the entire plan my full attention while en route to Boston tomorrow. Feel free to share your impressions of ONC's five-year guide for health IT in the comments below.
---
Webinars


September 22 (Tuesday) noon ET. "Just Step on the Scale: Measure Ongoing EHR Success and Focus Improvements Using Simple but Predictive Adoption Metrics." Sponsored by The Breakaway Group. Presenters:  Heather Haugen, PhD, CEO and managing director, The Breakaway Group; Gene Thomas, VP/CIO, Memorial Hospital at Gulfport. Simple performance metrics such as those measuring end-user proficiency and clinical leadership engagement can accurately assess EHR adoption. This presentation will describe how Memorial Hospital at Gulfport used an EHR adoption assessment to quickly target priorities in gaining value from its large Cerner implementation, with real-life results proving the need for a disciplined approach to set and measure key success factors. Commit to taking that scary first step and step onto the scale, knowing that it will get measurably better every day.


September 22 (Tuesday) 5 p.m. ET. "Laying the Groundwork for an Effective CDS Strategy: Prepare for CMS's Mandate for Advanced Imaging, Reduce Costs, and  Improve Care." Sponsored by Stanson Health. Presenters: Scott Weingarten, MD, MPH, SVP and chief clinical transformation officer, Cedars-Sinai; Anne Wellington, VP of informatics, Stanson Health. Medicare will soon penalize physicians in specific settings who do not certify that they consulted "appropriate use" criteria before ordering advanced imaging services such as CT, MRI, nuclear medicine, and PET. This webinar will provide an overview of how this critical payment change is evolving, how it will likely be expanded, and how to begin preparations now. A key part of the CMS proposal is clinical decision support, which will help meet the new requirements while immediately unlocking EHR return on investment. Cedars-Sinai will discuss how they decreased inappropriate utilization of diagnostic tests and treatments, including imaging.
---
#HIStalking Tweet Chat – Portals, Mobile Devices, and Patient Engagement

Frank Fortner (@iatricFJF) will host the next #HIStalking tweet chat on Thursday, September 24 at 1pm ET. Check out discussion topics here.
---
Announcements and Implementations
Aprima expands its "Rescue Plan" that offers licensing discounts of up to 65 percent to users of an expanded list of EHRS that originally included only Allscripts MyWay.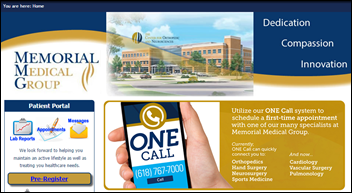 Memorial Medical Group (IL) selects the EClinicalWorks EHR for its 78 Memorial Hospital-employed physicians across 30 locations. The hospital migrated to Meditech 6.0 about four years ago.
---
Acquisitions, Funding, Business, and Stock

Boca Raton, FL-based Modernizing Medicine closes a Series E financing round of $38 million, bringing its total raised to $87 million. Investors include Pentland Group, Summit Partners, and Sands Capital Ventures. The specialty EHR vendor completed its acquisition of gastroenterology-specific tech vendor gMed earlier this month.
---
Government and Politics
ONC awards $1 million in grants to 10 community programs to support their efforts to gather and share health data for improved patient decision-making and outcomes. The programs will use the new funding to support the EHR adoption efforts of providers that are ineligible for EHR Incentive Program participation. Grant awardees include the National Health Start Association, Georgia Health Information Network, and Rhode Island Quality Institute, which manages the state's CurrentCare HIE. I interviewed RIQI President and CEO Laura Adams earlier this summer.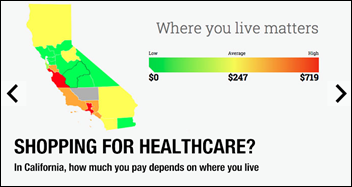 The California Dept. of Insurance works with Consumer Reports and researchers at UC San Francisco to launch California Healthcare Compare. The consumer-friendly website offers quality data on common conditions and procedures, as well as pricing information by county for 100 procedures.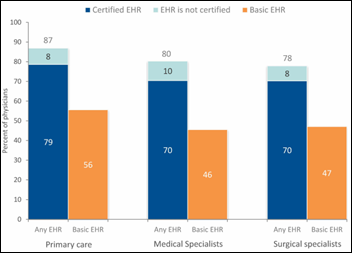 New data from ONC show that at least 8 out of 10 physicians used an EHR in 2014 – an increase of four percentage points from the year before. The new statistic, led by primary care docs, leads ONC to conclude that nearly three-quarters of physicians used a certified EHR last year. The news isn't so rosy when it comes to solo physicians. Less than two-thirds had adopted an EHR, certified or otherwise, in 2014, while just over half had adopted a certified tool.
---
People

DaVita HealthCare partners promotes Atul Mathur to EVP of global operations. Mathur's new role comes on the heels of the company's acquisition of The Everett Clinic, a chain of 20 specialty and primary care sites north of Seattle.

Evelyn Whitlock, MD (Kaiser Permanente Northwest) joins the Patient-Centered Outcomes Research Institute as its new chief science officer.
---
Telemedicine

Chattanooga, TN-based WeCounsel adds automatic insurance verification to its telemedicine platform for behavioral health providers. The upgrade also enables physicians to bill for co-pays and submit claims through a designated clearing house. Side Note: Chattanooga has become one of my favorite get-away spots. It's an extremely pedestrian- and bicycle-friendly town with unique tourist spots like Ruby Falls and Rock City, not to mention a great restaurant scene. Give Tony's a whirl if you're in the mood for Italian and find yourself in the Bluff View Arts District.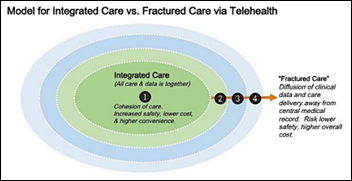 I'm beginning to wonder if the folks at ONC ever sleep … The office releases a white paper on consumer-centered telehealth, offering nine recommendations including the need for frictionless user experience, an increased focus on the security of patient data, and being wary of potential data overload. The need for Interoperability is of course included, as are telemedicine's three biggest barriers to ubiquity: payment models; physician licensure; and care fragmentation and data fracturing.
---
Other
Amidst the fretting and fingernail-biting, Scientific American points out the impact ICD-10 will have on healthcare: "More detailed medical billing codes could eventually improve your healthcare. Those new codes could provide a clearer picture of why individuals seek care and which health problems are growing or contracting in communities —helping inform what health issues should be researched and improved. At least, that's the hope." That "at least" is a big caveat, given that most ICD-10 coverage has focused on the revenue damage control physicians are preparing for in the wake of October 1. (Dr. Jayne's latest EPtalk alludes to one physician's fear – and panic room preparation efforts – that he won't be able to pay his staff due to ICD-10-related revenue problems.)

Author Tom Chiarella conducts an informal study of people's reactions to uniforms, including that of a doctor. Donning scrubs, a lab coat, and an air of exasperation combined with busyness, he finds that, "The world wants to help a doctor. The uniform conveys a responsibility that people are willing to share. They took little bits from the priest, and ignored the security guard, and didn't bother to see the mechanic, but they gave to the doctor. Ceaselessly and for many city blocks."
---
Sponsor Updates
TriZetto Provider Solutions receives the Visionary for Children Award from the Children's Home Society of Missouri.
Blog Posts
---
Contacts
Jennifer,  Mr. H, Lorre, Dr. Jayne, Dr. Gregg, Lt. Dan
More news: HIStalk, HIStalk Connect.
Get HIStalk Practice  updates.
Contact us online.
Become a sponsor.