Top News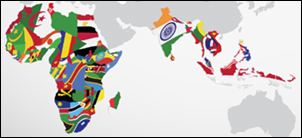 GE Healthcare creates Sustainable Healthcare Solutions, a new division that will serve emerging markets in Africa, India, and South and Southeast Asia. SHS will invest $300 million in a multi-phase effort to develop low-cost, high-value technologies and delivery solutions, working with local partners such as governments, business, NGOs, and physicians to roll them out. "SHS will leverage GE's Fastworks methodology to accelerate, test, and rapidly commercialize relevant, affordable technologies," explains Terri Bresenham, president and CEO of the new division. "By taking this 'start-up' model approach, we can rapidly test new ideas, products, and services to maximize effectiveness for customers before we scale up."
---
HIStalk Practice Announcements and Requests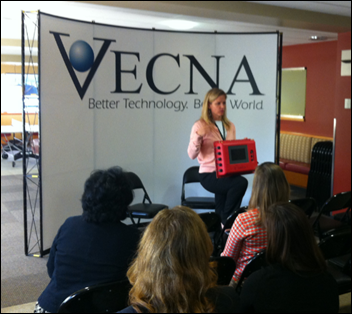 While we're on the subject of emerging markets … I had the opportunity to hear a presentation on health data disparity from Vecna Technologies co-founder and CEO Deborah Theobald yesterday, during which she presented the CliniPak, a "lightweight" EHR that requires minimal training and can be hooked up to a variety of power sources (including a car battery!) One hundred of the devices are in the field – free clinics, hospitals, medical missions – in the very markets GE Healthcare's new division will target, which makes me wonder if there's some potential synergy between the two companies.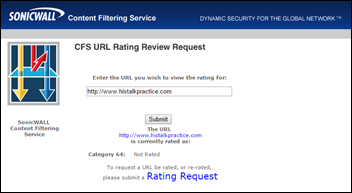 Working remotely sometimes has its drawbacks, as I discovered when connected to guest WiFi at a venue I rarely frequent. The content filtering service listed HIStalk Practice as "not rated," so I submitted a request to have it classified appropriately, which will hopefully enable access the next time I visit. HIStalk and HIStalk Connect were a-ok, making me wonder if other services consider HP to be the black sheep of the HIStalk family.
A friend and I were discussing favorite industry podcasts earlier today, which made me realize I only know of a handful devoted to healthcare IT. Are there others I should be tuning in to? Any I shouldn't waste my time with? Let me know via the comments below.
---
Webinars
October 7 (Wednesday) 1:00 ET. "Develop Your Analysts and They'll Pay for Themselves." Sponsored by Health Catalyst. Presenters: Peter Monaco, senior business intelligence developer, Health Catalyst; Russ Stahli, VP, Health Catalyst. It takes years for analysts to develop the skills they need to build reports and dashboards that turn data into valuable insights. This webinar will describe how to cultivate those analytical skills, including technical prowess and adaptive leadership. Leaders will learn how to develop a culture that fosters improvement, how to encourage analysts to develop the right skills, and ways to remove the barriers that stand in their way.
Here's the video of Tuesday's webinar from The Breakaway Group titled "Just Step on the Scale: Measure Ongoing EHR Success and Focus Improvements using Simple but Predictive Adoption Metrics."
---
#HIStalking Tweet Chat – Portals, Mobile Devices, and Patient Engagement

Frank Fortner (@iatricFJF) will host the next #HIStalking tweet chat on Thursday, September 24 at 1pm ET. Check out discussion topics here.
---
Telemedicine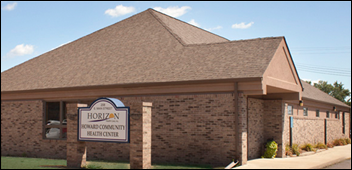 Community health center network Horizon Health Care (SD) plans to expand its telemedicine services thanks to a $292,000 Expanded Services Grant from HHS. Horizon was also named as one of the 160 recipients of the HHS $1 million Health Infrastructure Investment Program Grant, which it will use to renovate and expand its facility in Aberdeen.
---
Announcements and Implementations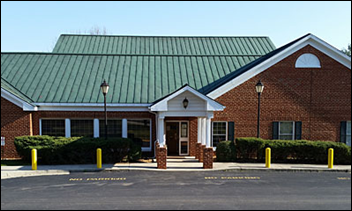 FQHC Central Virginia Health Services implements the EClinicalWorks EHR for 70 physicians across 15 locations. CVHS joins the 54 percent of FQHCs across the US using the eCW tool.
Renaissance Health Network, a Pennsylvania-based IPA with over 70 locations, selects digital chronic care management tools from MD Revolution and WellTrackOne to better manage chronic and preventative care.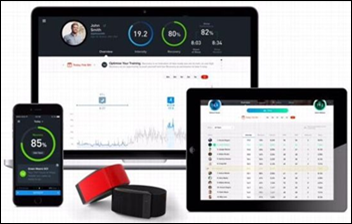 Boston-based Whoop launches a wearable wristband that goes beyond the more traditional metrics of a Fitbit or Jawbone. Geared towards elite athletes, the wristband measures skin conductivity and heart-rate variability, as well as how the athlete's body recovers. The device, including analytics, doesn't come cheap, clocking in at between $500 and $5,000 a year for individuals and upwards of $100,000 a year for teams. Whoop investors include Mike Mancias, a medical analytics advocate and the long-time personal trainer of LeBron James.
MDTool Box adds a certified real-time EPA module to the MDToolbox-Rx e-prescribing product.
AHIMA launches Code-Check, a coding question and resource service for members and non-members that will be available via ongoing subscription or one-time use starting October 12.
---
People

The New Jersey Health Care Quality Institute promotes Linda Schwimmer to president.
---
Government and Politics

Massachusetts Medical Society President Dennis Dimitri, MD testifies before the state's Joint Committee on Health Care Financing in strong support of providing additional time for physicians to comply with a mandate requiring them to establish an interoperable EHR by 2017. "While physicians are much further along on interoperable records than many other professions, 2017 is not achievable for all of us and much less so for other providers," Dimitri said during his testimony. "This date was arbitrary and aspirational when established and needs to be recalculated to a more reasonable goal, such as 2022."
---
Research and Innovation

Austin Regional Clinic (TX) tests out Humm patient feedback technology as part of a three-month pilot program at three of its clinics. The Central Texas locations are trying out different feedback devices to determine which is the best fit for their patient populations – a standing kiosk in public areas, a tablet handed to patients at checkout, and a table-top tablet in each exam room. The pilot runs through the end of this month. ARC has already collected real-time feedback from 4,000 visits.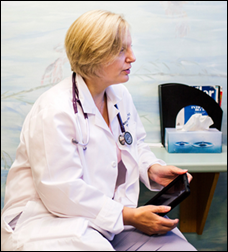 The local paper profiles Harrington Family Health Center (ME) and its use of tablets and medical-related apps, including a symptom checker, pill identifier, dosage calculator, and medical encyclopedias. The tablets, provided by nonprofit Health eVillages (founded by Physicians Interactive CEO Donato Tramuto), have proved helpful in caring for the rural area's patients suffering from multiple chronic conditions. HFHC staff provide feedback to Health eVillages as to how they're using the devices and what's of most value. They eventually hope to tie the project to population health metrics.
---
Other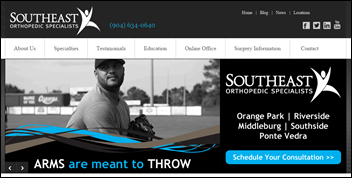 The local business paper dives into the year-long ICD-10 prep undertaken by Southeast Orthopedic Specialists (FL). The process, which CFO Scott Quinn says costs in the six figures, involved overhauling software, employee training, and making sure outside vendors were aware of the changes. "What really helps is communicating with every party involved in the revenue cycle," Quinn says. "Making sure the front desk, billing, and third-party partners are all up to speed."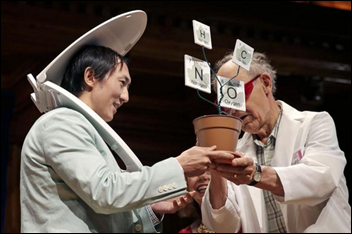 The Annals of Improbable Research (distant cousin to the Nobel Prizes) award their annual Ig Nobel prizes for a variety of "comical scientific achievements." Lauded research included the revelation that nearly all mammals take about 21 seconds to urinate, the ability to partially un-boil an egg with chemicals, and the mathematical determination of how a 17th century North African emperor fathered nearly 900 kids in just 30 years. The Ig Nobel medicine prize went to researchers who conducted "experiments" to study the biological effects of intense kissing, which include decreasing skin allergies.
---
Sponsor Updates
Aprima Medical Software will exhibit at the Colorado MGMA Fall Conference September 24-25 in Breckinridge.
Clockwise.MD CEO Mike Burke will speak at the Urgent Care Fall Conference September 24-26 in New Orleans.
Nordic adds its 500th Epic consultant.
Blog Posts
---
Contacts
Jennifer,  Mr. H, Lorre, Dr. Jayne, Dr. Gregg, Lt. Dan
More news: HIStalk, HIStalk Connect.
Get HIStalk Practice  updates.
Contact us online.
Become a sponsor.