Top News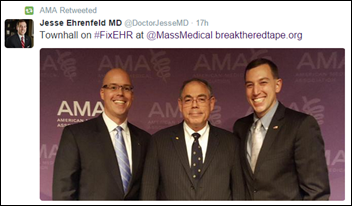 The AMA hosts a Town Hall meeting in Waltham, MA with the Massachusetts Medical Society, offering physicians a chance to vent their frustrations with EHRs, Meaningful Use, vendors, audits … the list could go on and on. Massachusetts physician concerns are warranted, given that over 80 percent use EHRs but only 25 percent have achieved Stage 2 of Meaningful Use. AMA President Steven Stack, MD was enthusiastic in his cry for postponement of Stage 3, echoing a letter the AMA and 41 other medical societies sent to HHS earlier this month. The meeting, held just a few months after a similar gathering in Atlanta, is part of the association's Break the Red Tape awareness campaign. 
---
HIStalk Practice Announcements and Requests

If you're a HIStalk Practice, HIStalk, or HIStalk Connect sponsor exhibiting at MGMA, complete this form and we'll include your company in our attendee guide. I'll be reporting from Nashville during the event (assuming my press pass gets the ok), which kicks off October 11.
---
Webinars
October 7 (Wednesday) 1:00 ET. "Develop Your Analysts and They'll Pay for Themselves." Sponsored by Health Catalyst. Presenters: Peter Monaco, senior business intelligence developer, Health Catalyst; Russ Stahli, VP, Health Catalyst. It takes years for analysts to develop the skills they need to build reports and dashboards that turn data into valuable insights. This webinar will describe how to cultivate those analytical skills, including technical prowess and adaptive leadership. Leaders will learn how to develop a culture that fosters improvement, how to encourage analysts to develop the right skills, and ways to remove the barriers that stand in their way.
Contact Lorre for webinar services.
---
Announcements and Implementations
On3Health, developer of the Lifestyle Health Record for chronic care management, joins the Greenway Health Marketplace of value-added partners. In related news, Greenway names genomic decision-support company ActX its Marketplace Partner of the Month.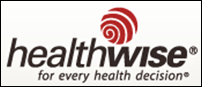 Healthwise adds a lung cancer screening decision aid to its library of shared decision-making solutions.

PrecisionBI launches a more affordable and customizable version of its enterprise analytics solution for physician practices using GE Healthcare's Centricity Practice Solution.
Intelligent Medical Objects offers a free trial of IMO Anywhere, an iOS or Android app that allows clinicians to document from any location with ICD-10 drill-down capability and 460,000 terms.
---
Acquisitions, Funding, Business, and Stock
Advertising, marketing and branding firm Grey Healthcare Group acquires a minority interest in OptimizeRx, a Rochester, MI-based technology company that enables pharmaceutical companies to provide services at the point of care via EHR.
---
Research and Innovation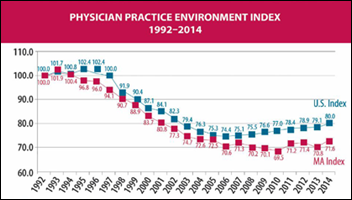 The latest edition of the Massachusetts Medical Society's Physician Practice Environment Index likely fueled the fire of many who attended the AMA town hall event yesterday. The latest statistics put the state's practitioners behind many of their national counterparts, and highlights the challenges they'll have to overcome to keep up including the cost of doing business, housing expenses, and comparatively lower physician salaries. MMS President Dennis Dimitri, MD pointed out that the index doesn't even address the "growing burdens of administrative, regulatory, and legislative requirements and mandates, all of which rob physicians of the valuable time necessary for caring for patients."
---
People

Nightingale elects David Atkins (Actra Fraternal Benefit Society) chairman of the board.

Wanda Filer, MD moves from president-elect to president of the AAFP.
---
Government and Politics
Congressional calls for the delay of various stages of Meaningful Use have become hard to keep up with. The latest example: Senators John Thune (R-SD) and Lamar Alexander (R-TN) of the Senate's HELP Committee ask the administration to immediately delay implementation of Meaningful Use Stage 2 to at least January 1, 2017 and then a phase in of Stage 3 based on provider readiness. They join a 116-member bipartisan group asking for the same delay.
---
Telemedicine
A Kalorama report shows that telemedicine apps account for 40 percent of all healthcare app sales – a market worth $489 million.
---
Other
A California dermatology practice notifies patients that its document scanner was inadvertently exposing their records on the Internet.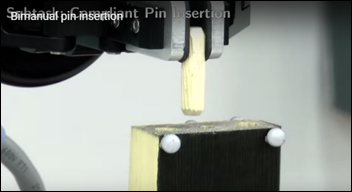 Robots may be taking over certain parts of healthcare, but it seems they won't hack their way to assembling Ikea furniture anytime soon. Researchers in Singapore put a robot through its furniture-assembling paces, only to discover that Ikea's pesky little wooden dowels pose a pretty big problem, resulting in the robot "looking like two inebriated humans trying to put the furniture together in slow motion."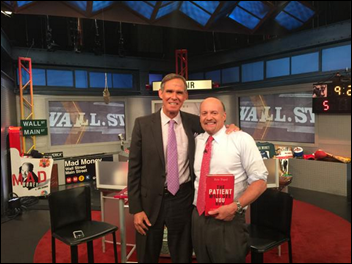 Eric Topol, MD pitches the benefits of digital health (and his book) on CNBC's Mad Money with Jim Cramer.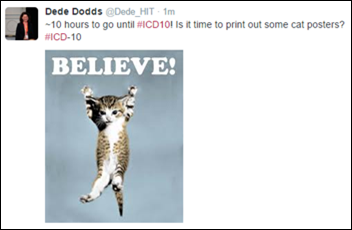 It might be too late to prepare for ICD-10, but it's never too late to laugh your way through it.
---
Sponsor Updates
Aprima Medical Software will exhibit at the Texas Pediatric Society annual meeting October 1-2 in Sugarland.
Billian's HealthData interviews David Sindelar, CEO, St. Anthony's Medical Center.
Blog Posts
HIStalk Practice sponsors exhibiting at the AAFP FMX Annual Meeting September 29-October 3 in Denver:
Aprima Medical Software
EClinicalWorks
E-MDs
Greenway Health
---
Contacts
Jennifer,  Mr. H, Lorre, Dr. Jayne, Dr. Gregg, Lt. Dan
More news: HIStalk, HIStalk Connect.
Get HIStalk Practice  updates.
Contact us online.
Become a sponsor.