Top News

Premier Inc. acquires InFlow Health for $6 million in cash, and will merge its physician practice analytics business and employees into its Performance Service segment. "InflowHealth's capabilities will extend Premier's reach into the ambulatory market, says Premier Performance Partners SVP Wes Champion, "and deepen the holistic ways we address healthcare improvement, providing physician practices with a full picture of performance, as well as actionable intelligence to initiate positive change."
---
HIStalk Practice Announcements and Requests
Thanks to GE Healthcare for its continued support of HIStalk Practice. Contact Lorre if your company is interested in taking advantage of HIStalk Practice sponsorship benefits.

If you're a HIStalk Practice, HIStalk, or HIStalk Connect sponsor exhibiting at MGMA, complete this form and we'll include your company in our attendee guide. I'll be reporting from Nashville during the event, which kicks off at the Gaylord October 11.
---
Webinars
October 7 (Wednesday) 1:00 ET. "Develop Your Analysts and They'll Pay for Themselves." Sponsored by Health Catalyst. Presenters: Peter Monaco, senior business intelligence developer, Health Catalyst; Russ Stahli, VP, Health Catalyst. It takes years for analysts to develop the skills they need to build reports and dashboards that turn data into valuable insights. This webinar will describe how to cultivate those analytical skills, including technical prowess and adaptive leadership. Leaders will learn how to develop a culture that fosters improvement, how to encourage analysts to develop the right skills, and ways to remove the barriers that stand in their way.
Contact Lorre for webinar services. Past webinars are on our HIStalk webinars YouTube channel.
---
#HIStalking Tweet Chat

Loran Cook ( @loranstefani) will host the next #HIStalking tweet chat on Thursday, October 15 at 1pm ET. Stay tuned for discussion topics. Check out past chat recaps here.
---
Acquisitions, Funding, Business, and Stock

Tampa, FL-based consulting firm Doctors Administrative Solutions expands its RCM services via the acquisition of medical billing firm Spectra Healthcare, a 14 year-old company based in nearby Tampa Bay.
---
People

Howard Graman, MD (PeaceHealth Medical Group) joins AMGA Consulting Services as vice president.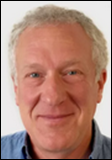 David Wennberg, MD (Health Dialog Analytic Solutions) joins Quartet Health as head of data science and analytics.
---
Announcements and Implementations

Document management software vendor Scrypt combines its HIPAA-compliant Sfax solution with Box cloud-storage services, enabling physicians to fax PHI directly to and from their Box accounts.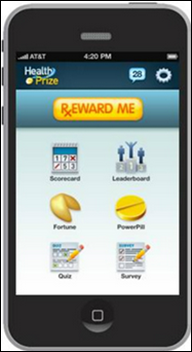 Aprima Medical Software integrates HealthPrize's patient engagement and medication adherence gaming technologies into its patient portal. The integrated solution, which will roll out early next year, will enable physicians to track prescription data, including refill pattern and adherence behaviors.
RxNT optimizes its e-prescribing app for the iPad.
---
Government and Politics
Deputy Administrator and Director of the Center for Medicare Sean Cavanaugh welcomes everyone to ICD-10, outlining the ways in which CMS will riding shotgun with providers during the coming weeks of transition including real-time transition monitoring; systems review; addressing issues that come in via the ICD-10 Coordination Center. Cavanaugh also points out ICD-10 Ombudsman Bill Rogers, MD as the "impartial advocate" physicians should turn to in their time of need. I'd love to know whether his inbox is overflowing with concerns or if all has been quiet on the ICD-10 physician front. (Dr. Gregg provides his take in the latest DOCtalk.)
---
Research and Innovation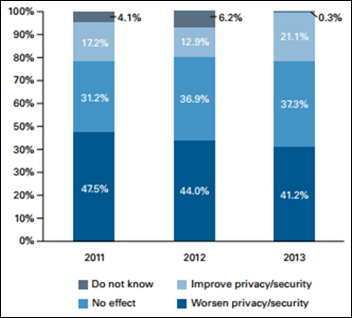 Weill Cornell Medical College researchers find that patient confidence in the security of EHRs increased during the early years of Meaningful Use. Though their phone-based survey of 1,000 patients conducted between 2011 and 2013 saw a six-percent decrease in concerns relating to the security of personal health data, it also revealed that patients were less likely to believe that EHRs improve care. Given that some of the industry's biggest breaches have taken place within the last two years, I'm willing to bet patient confidence may have peaked in 2013. Feel free to weigh in with your anecdotes via the comments below.
---
Telemedicine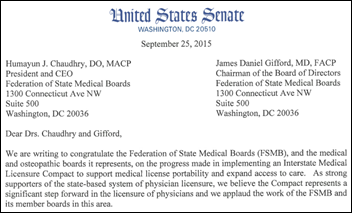 A late-September letter from 13 senators to the Federation of State Medical Boards highlights the enthusiasm legislators have for FSMB's efforts to stand up an interstate licensing compact – a move seen as essential to widespread adoption and utilization of telemedicine. "[W]e encourage you to continue to work with your member medical boards and states to consider participation in the compact, which will simultaneously facilitate multi-state practice while ensuring states' ability to regulate medicine and ensure patient safety," the authors write. The Interstate Medical Licensure Compact Commission will meet for the first time later this month to begin hashing out how to develop the compact's infrastructure. Eleven states have joined the compact so far.
---
Other
Scientists at the University of Sydney and the University of Copenhagen create a blueprint of the molecular reactions to exercise in hopes of identifying the most important and replicating those changes using drugs. Creation of the blueprint took three years, and drug development may take a decade or more. Lead researcher Nolan Hoffman sees enormous potential in an "exercise pill" for the elderly and those suffering from chronic disease. Those of us who adopt a New Year's resolution to step up our workouts may also see some benefit.

The Ann Arbor, MI-based Altarum Institute will lead Michigan-based efforts as part of the Great Lakes Practice Transformation Network, a three-state initiative led by Indiana University that includes 32 healthcare partners including RECs, HIEs, universities, and state departments of health. The network will strive to help over 11,000 physicians become learning practices capable of delivering better care at lower costs. Altarum will assist 4,000 Michigan-based physicians with quality reporting requirements, value-based payment initiatives, and population health management.
---
Contacts
Jennifer,  Mr. H, Lorre, Dr. Jayne, Dr. Gregg, Lt. Dan
More news: HIStalk, HIStalk Connect.
Get HIStalk Practice  updates.
Contact us online.
Become a sponsor.