Top News
The Social Security Administration becomes the first government agency to join CommonWell, making it the organization's 34th member. The agency requests over 15 million medical records from "almost every healthcare provider" to assist it with making decisions about 3 million disability claims each year. The announcement comes on the same day that Cerner announced it has signed up 75 clients, representing 1,200 care sites, for CommonWell's interoperability services.
---
HIStalk Practice News and Announcements
The HIStalk Must See Exhibitors Guide for MGMA 15 is now live. Check out what some of our sponsors will be doing at the show, plus preview some great giveaways.
---
#HIStalking Tweet Chat

Loran Cook (@loranstefani) will host the next #HIStalking tweet chat on Thursday, October 15 at 1pm ET. Stay tuned for discussion topics. Check out past chat recaps here.
---
Acquisitions, Funding, Business, and Stock

Government health IT contractor Apprio opens a new office in Baltimore to better support its work with CMS, which includes assisting with EDI standardization efforts and ICD-10 compliance reporting for provider claims.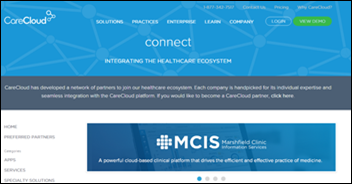 Following in the footsteps of Greenway Health and Athenahealth, CareCloud launches the CareCloud Connect partner marketplace.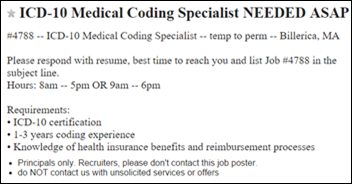 The ICD-10 transition may have gone smoothly, but that doesn't mean providers and vendors aren't still scrambling for qualified help, per the Craigslist ad above, which pegs the hourly  wage at $18-$25 based on experience. There's no doubt many organizations will seek outsourcing help, too. It appears the Philippines – the world's international call services hub – is ramping up to accommodate such US-based requests. IT & Business Process Association of the Philippines Chairman Dan Reyes anticipates that the new code set will open up more processing jobs, which the country will be well-equipped to fill given its large pool of qualified graduates.
---
Announcements and Implementations
Greenway Health names patient intake management solutions vendor Phreesia its Marketplace Partner of the Year for the second year in a row.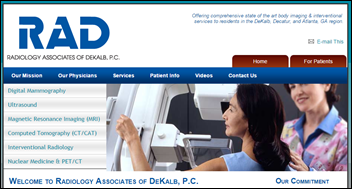 Radiology Associates of DeKalb (GA) renews its RCM services agreement with Zotec Partners
---
People

Randy Jones (UT Southwestern Medical Center) joins Culbert Healthcare Solutions as SVP of consulting services for the Western region.
---
Government and Politics
For those of you who haven't quite got your fill of reading reactions to ONC's Meaningful Use modifications, check out the well-organized and refreshingly brief takeaways from The Advisory Board. Health IT newcomers will especially appreciate the MU primer.
National Coordinator and HHS Acting Assistant Secretary for Health Karen DeSalvo, MD receives a 2015 Innovators in Health Award from the Network for Excellence in Health Innovation for her leadership in using healthcare IT for better public health and patient care.
---
Telemedicine
The MedWand team takes home the Health 2.0 Launch! Award for its telemedicine-friendly remote examination device. The win comes just a week after Eau Claire, WI-based Group Health Cooperative selected the MedWand device and accompanying Digital Onsite Clinic for its employer clients.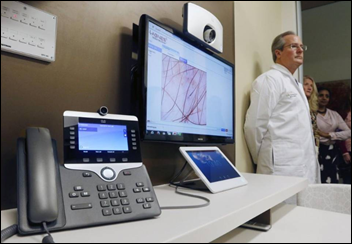 Cisco Systems partners with UNC Healthcare to open its third on-site medical practice for 4,800 employees and their families. The Research Triangle Park-based LifeConnections Health Center will be staffed by 25 UNC clinicians and comes equipped with the usual primary care trappings plus telemedicine capabilities, a Zen Suite for massages, and optometry services. Cisco will initially pay UNC for services rendered, after which the health system will assume some of the financial risk of patient care.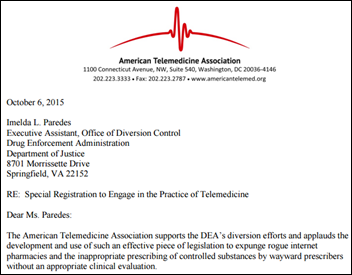 The ATA writes to the DEA in support of changing the rules related to prescription of controlled substances via telemedicine, which are currently hampered by The Ryan Haight Online Pharmacy Consumer Protection Act. "[T]he interpretation of the Act's general prohibition of prescribing controlled substances by means of the internet has become overly restrictive," the authors note. "Therefore, it is time to identify a structured yet flexible framework for appropriate online prescribing that recognizes long-standing practices by legitimate, licensed providers who offer needed medical services to a highly targeted group of patients."
---
Research and Innovation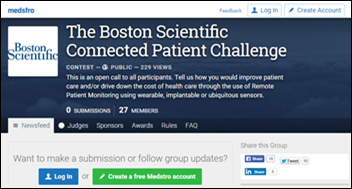 Boston Scientific launches the Connected Patient Challenge, a contest designed to encourage innovations in the use of remote-patient monitoring via such technologies as wearable, implantable or ubiquitous sensors. Submissions will be accepted through January 5 and finalists will be showcased at a live event in Cambridge, MA. Challenge winners will divvy up $25,000 in services for further idea development and potential piloting.
A Practice Fusion survey of clients before and after the ICD-10 transition shows that though just 18 percent felt prepared, only 17 percent found the switch to be disruptive to their practice. Most commonly used codes thus far include essential (primary) hypertension (I10); type 2 diabetes mellitus without complications (E11.9)' hyperlipidemia, unspecified (E78.5); low back pain (M54.5); and anxiety disorder, unspecified (F41.9). I wonder which physician practice will be the first to recognize some of the wacky codes we've heard so much about.
---
Other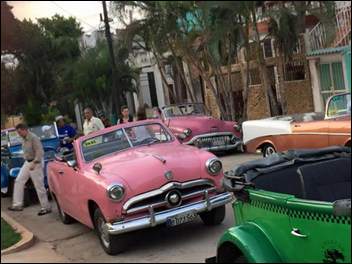 Former Senator Bill Frist, MD documents his most recent trip to Cuba – the third this year, this time paying a call to a family care physician in Havana. Though Mercedes Pina, MD has no EHR or PM tools, lacks many of the most basic medical supplies, and cares for nearly 400 patients with the assistance of a single nurse, she is a familiar and trusted figure that clearly connects with her patients. "I'm struck by how powerful a tool healthcare can be for diplomacy," Frist explains. "The differences between our country and hers are vast and complicated, but sitting down together — physician with physician — Dr. Pina and I find much common ground. We can learn from one another. We love our communities and we want to build healthy habits and enable healthy choices for the people in them."
---
Contacts
Jennifer,  Mr. H, Lorre, Dr. Jayne, Dr. Gregg, Lt. Dan
More news: HIStalk, HIStalk Connect.
Get HIStalk Practice  updates.
Contact us online.
Become a sponsor.