Top News
Lyra Health raises a $35 million Series A round of financing led by Greylock Partners and Venrock. The company, which has developed technology to help patients find the best care for mental health and substance abuse issues, will use the new funding to make its solution available to employers, payers, and providers. The startup was founded earlier this year by an executive team with previous experience at Facebook, Genentech, and Castlight Health.
---
#HIStalking Tweet Chat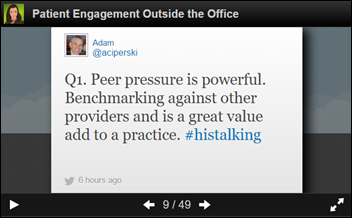 Check out the recap of today's #HIStalking tweet chat, hosted by @loranstefani.
---
Webinars
None in the next few days. Contact Lorre for webinar services. Past webinars are on our HIStalk webinars YouTube channel.
---
Acquisitions, Funding, Business, and Stock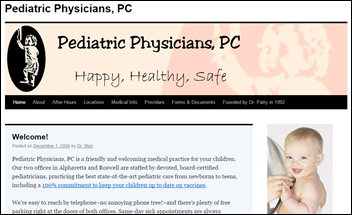 Forbes focuses on one Atlanta-based pediatric practice feeling the pinch from ICD-10 after spending $50,000 on IT upgrades. "With that much money we could have probably hired an additional nurse," explains Roy Benaroch, MD. "We quickly discovered that if our [ear infection] coding didn't specify ruptured or not ruptured, we wouldn't get paid. I'm on vacation and our billing guru just called and said all of our ear infection claims are getting denied and have to be re-filed. Now our claims are delayed. [U]ntil it's resolved, the doctors are taking no bonuses and we don't know if or when we'll get paid."
---
Announcements and Implementations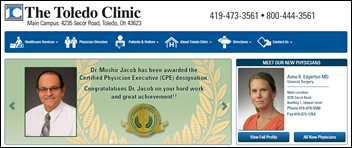 The Toledo Clinic & Outpatient Surgery Center (OH) implements the EClinicalWorks EHR across the its 62 locations. The clinic, the largest independent physician group in Northwest Ohio, is already using the company's CCMR solution for population health management.
---
Government and Politics
The VA and Indian Health Service receive accreditation from EHNAC and DirectTrust, making them the first federal agencies to gain interoperability via the Direct exchange network.
---
Telemedicine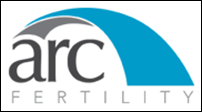 Saratoga, CA-based ARC Fertility launches a telehealth system for practices specializing in fertility treatments such as in-vitro fertilization.
PCP services company Tandigm Health partners with mobile health company TouchCare to offer telemedicine services to over 350 patients in Philadelphia. The first phase of the partnership will focus on rolling out telemedicine services to high-risk patients that already engage with Tandigm Health's Care Team over the phone.
---
Research and Innovation
A Health Affairs study finds that common medical procedures become more expensive in areas where large medical practices are clustered, confirming the theory that increased market power enables physicians to bargain for higher prices from payers. "We know from some good examples that larger, well-run practices can provide high-quality care," says researcher Laurence C. Baker, MD "and many of our current policies are built around the notion that we should encourage the formation of larger organizations in the hope of improving the quality of care and fostering improvements in value. It is also important that we factor in these kinds of effects on prices and the downstream impacts this can have on our health-care costs."
---
Other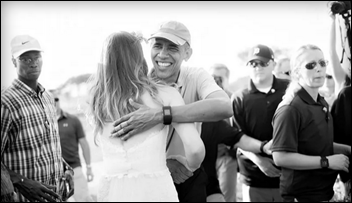 The Verge gives President Obama props for being a "wearables nerd" due to the fact that he's eight months in to a relationship with his Fitbit. Wearables, as you may have read, have developed a notorious reputation for being discarded after several months of use.
---
Contacts
Jennifer,  Mr. H, Lorre, Dr. Jayne, Dr. Gregg, Lt. Dan
More news: HIStalk, HIStalk Connect.
Get HIStalk Practice  updates.
Contact us online.
Become a sponsor.