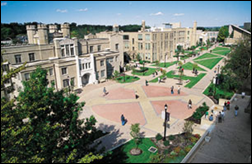 Xavier University and Cincinnati-based startup Strap launch the Project X Health campaign to help the university gain a better understanding of the health of its 7,500 students, faculty, and staff. The program will use Strap software to connect and track participants through their smartphones, apps, and wearables; after which it will use analytics from that data to provide population health insights and trends. "We believe that engaging at this level with our population will enlighten our understanding of our population and help drive outcomes that we can't possibly understand today," says Shawn Nason, chief innovation officer at the university. "Xavier University is driven by the education of the whole person for each member of the university, and we see a healthy lifestyle as an integral part of what we can offer a student in four years." The project is the first initiative in a larger partnership between Xavier's Center for Innovation and Strap that will engage the community in digital population health programs.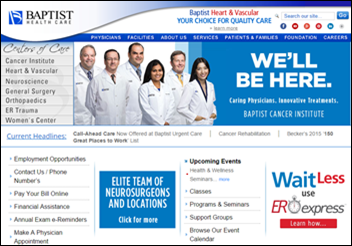 Baptist Health Care (FL) chooses Allscripts products Sunrise, Sunrise Revenue Cycle Management, EPSi, FollowMyHealth, and dbMotion for population health management.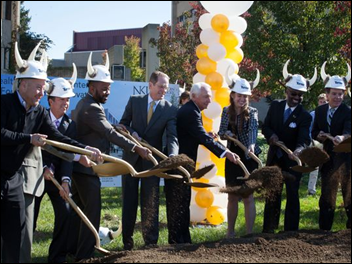 Northern Kentucky University breaks ground on its new $97 million Health Innovation Center, which will bring together leaders from NKU's six colleges to create teams that will address issues like addiction and chronic disease by combining the studies of analytics, preventative care, psychology, and holistic approaches. "The future of population healthcare will increasingly depend upon gathering and analyzing data to determine which practices and policies are improving collective health outcomes," says Dale Smith, dean of NKU's College of Health Professions. "Our innovative approach will be a model for other educational institutions and communities to emulate."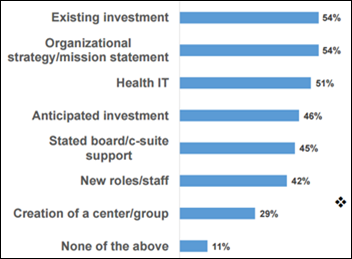 An EHealth Initiative study finds that only 17 percent of the 65 providers surveyed have integrated population health analytics into their EHRS. Analytics tools were most often used for quality measurement and reporting, followed by physician benchmarking, identification of gaps in care and preventive services, and identification of outliers in cost and utilization. Respondents cited a lack of interoperability as the biggest barrier to successfully implementing population health initiatives.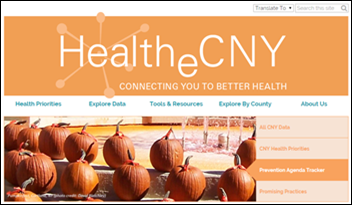 HealtheConnections and the Cayuga Community Health Network launch HealtheCNY.org, a new website that allows users to view detailed population data for Central New York Communities, as well as best practices and resources for health-improvement programs.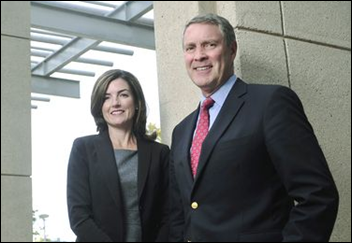 The local paper covers the evolution of Bill Frist, MD's NashvilleHealth, a soon-to-be nonprofit that is looking to transform the health of the Tennessee-based town's 800,000 residents. The organization, which will first focus on hypertension, smoking cessation, and child health, is working with Vanderbilt University's School of Medicine on the data and research behind the projects. Frist has tapped Caroline Young (Nashville Health Care Council) to serve as executive director. "Most CEOs in Nashville have no idea what the adult obesity rate is. We are worse than Charlotte, Austin," explains Frist. "People think we're beating all these other places. I just think it's so dramatic that we can shock people, and by shocking people they will step up and pay attention."
---
Contacts
Jennifer,  Mr. H, Lorre, Dr. Jayne, Dr. Gregg, Lt. Dan
More news: HIStalk, HIStalk Connect.
Get HIStalk Practice  updates.
Contact us online.
Become a sponsor.