Top News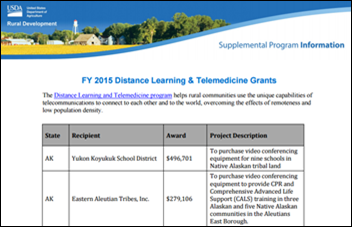 In honor or National Rural Health Day, the USDA announces $23.4 million in distance learning and telemedicine grants for 75 projects in 31 states and Western Pacific territories. "Rural communities often lack access to specialized medical care or advanced educational opportunities necessary for stronger rural economies," said Agriculture Secretary Tom Vilsack. "These grants will help increase access to healthcare and many other essential services."
---
Webinars


December 2 (Wednesday) 1:00 ET. "The Patient is In, But the Doctor is Out: How Metro Health Enabled Informed Decision-Making with Remote Access to PHI." Sponsored by Vmware. Presenters: Josh Wilda, VP of IT, Metro Health; James Millington, group product line manager, VMware. Most industries are ahead of healthcare in providing remote access to applications and information. Some health systems, however, have transformed how, when, and where their providers access patient information. Metro Health in Grand Rapids, MI offers doctors fast bedside access to information and lets them review patient information on any device (including their TVs during football weekends!) saving them 30 minutes per day and reducing costs by $2.75 million.
December 2 (Wednesday) 1:00 ET. "Tackling Data Governance: Doctors Hospital at Renaissance's Strategy for Consistent Analysis." Sponsored by Premier, Inc. Presenters: Kassie Wu, director of application services, Doctors Hospital at Renaissance; Alex Eastman, senior director of enterprise solutions, Premier, Inc. How many definitions of "complications" (or "cost" or "length of stay"…) do you have? Doctors Hospital at Renaissance understood that inconsistent use of data and definitions was creating inconsistent and untrusted analysis. Join us to hear about their journey towards analytics maturity, including a strategy to drive consistency in the way they use, calculate, and communicate insights across departments.
December 2 (Wednesday) 2:00 ET. "Creating HIPAA-Compliant Applications Without JCAPS/JavaMQ Architecture." Sponsored by Red Hat. Presenters: Ashwin Karpe, lead of enterprise integration practice, Red Hat Consulting; Christian Posta, principle middleware architect, Red Hat. Oracle JCAPS is reaching its end of life and customers will need a migration solution for creating HIPAA-compliant applications, one that optimizes data flow internally and externally on premise, on mobile devices, and in the cloud. Explore replacing legacy healthcare applications with modern Red Hat JBoss Fuse architectures that are cloud-aware, location-transparent, and highly scalable and are hosted in a container-agnostic manner.
December 3 (Thursday) 2:00 ET. "501(r) Regulations – What You Need to Know for Success in 2016." Sponsored by TransUnion. Presenter: Jonathan Wiik, principal consultant, TransUnion Healthcare Solutions. Complex IRS rules take effect on January 1 that will dictate how providers ensure access, provide charity assistance, and collect uncompensated care. This in-depth webinar will cover tools and workflows that can help smooth the transition, including where to focus compliance efforts in the revenue cycle and a review of the documentation elements required.
December 9 (Wednesday) 1:00 ET. "The Health Care Payment Evolution: Maximizing Value Through Technology." Sponsored by Medicity. Presenter: Charles D. Kennedy, MD, chief population health officer, Healthagen. This presentation will provide a brief history of the ACO Pioneer and MSSP programs and will discuss current market trends and drivers and the federal government's response to them. Learn what's coming in the next generation of programs such as the Merit-Based Incentive Payment System (MIPS) and the role technology plays in driving the evolution of a new healthcare marketplace.
Contact Lorre for webinar services. Past webinars are on our HIStalk webinars YouTube channel.
---
Acquisitions, Funding, Business, and Stock

Practice marketing technology vendor PatientPop secures a $10 million Series A round of financing from Toba Capital. The Santa Monica, CA-based startup, which secured $3.3 million in seed funding from Athenahealth in May, plans to use the new investment to scale from 65 employees to 200.
Primary Care Partners and South Metro Primary Care combine to form the largest group of PCPs in the Denver area. The new PHPprime will serve 375,000 residents via 320 physicians across 85 practices. The new organization has tapped Denver-based Physician Health Partners to manage its operations, including care coordination and analytics.
---
Announcements and Implementations

Nextech develops analytics and a data exchange platform for users of its MDIntelleSys EHR for ophthalmologists.

Osis migrates from Microsoft to VMware operations management software for greater IT scalability in light of business growth. The Cincinnati-based nonprofit provides NextGen consulting services to 38 health centers across 17 states.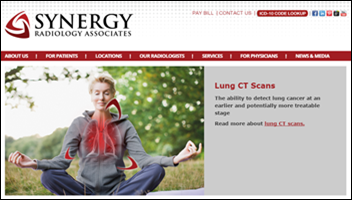 Synergy Radiology Associates (TX) implements ScImage's PICOM365 Cloud PACS.
Doctors Co. subsidiary Medical Advantage Group partners with the Ohio State Medical Association to offer independent physicians access to its consulting services.
---
Telemedicine

Telemedicine vendor Carena expands with the opening of an office in Nashville, TN. The company, which provides turnkey, white label telemedicine clinics for health systems, will share office space with Martin Ventures, which invested $13 million in the Seattle-based company earlier this year.
TriBridge adds Schmitt Thompson clinical content to its Health 360 phone triage tool to help providers better triage telemedicine interactions.
---
Government and Politics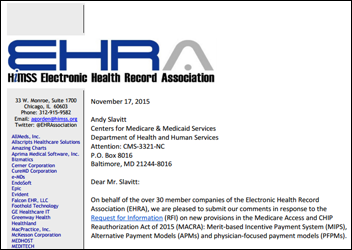 EHRA warns CMS that vendors and physicians will need more time to develop and implement advanced payment model-friendly EHR functionality and reporting capabilities in light of the steadily approaching 2017 performance year. The association also cautioned against an "over-reliance on the use of EHRs and health IT for collecting data that is outside the scope of EHRs, or is not currently defined and implemented today," and made clear its non-support of anew certification program for MACRA's alternative payment model track or its new Merit-based Incentive Payment Program.
HHS seeks comments on guidance for implementing NIST's cybersecurity framework in healthcare, released earlier this month. Comments, due by November 30, will help to shape a final draft that will be submitted to the Joint Healthcare and Public Health Cybersecurity Working Group for review before publication.
---
Research and Innovation
Over half of patients enrolled in a national trial of the Space in Depression online treatment program recover from their symptoms and/or go into remission, outcomes maintained at three- and six-month follow ups. The eight-module program was developed by Trinity College's School of Psychology and SilverCloud Health.
---
Other
Adweek takes Athenahealth CEO Jonathan Bush to task for his colorful explanation of the company's success on live TV. Surely anyone who books Bush for live appearances does a little digging into his on-air demeanor – a trait that has also translated a time or two to the HIStalkapalooza stage.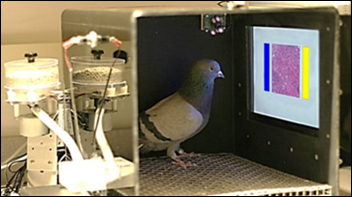 I find this hard to believe: Researchers discover that, with a little training, pigeons do just as well as humans in a study testing their ability to distinguish between cancerous and healthy breast tissue samples. Study co-author and professor Edward Wasserman explains that, "Pigeons can distinguish identities and emotional expressions on human faces, letters of the alphabet, misshapen pharmaceutical capsules, and even paintings by Monet versus Picasso. Their visual memory capacity is equally impressive, with a proven recall of more than 1,800 images."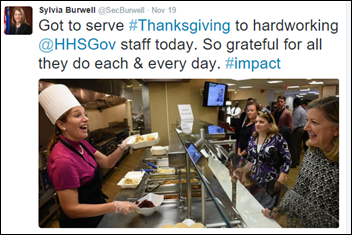 I love to see public officials giving back with gratitude.
---
Contacts
Jennifer,  Mr. H, Lorre, Dr. Jayne, Dr. Gregg, Lt. Dan
More news: HIStalk, HIStalk Connect.
Get HIStalk Practice  updates.
Contact us online.
Become a sponsor.