Top News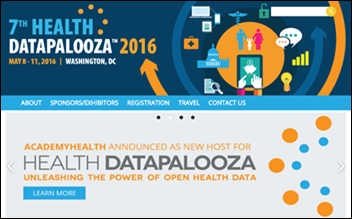 AcademyHealth announces it will take over Health Datapalooza from The Health Data Consortium, which is closing up shop after running the event since it was founded six years ago. Rumor has it HDC's funding ran out, and its attempts at lobbying for the liberation of health data proved unsuccessful, at least in terms of revenue generation. AcademyHealth President and CEO Lisa Simpson explains that, "As hosts of the Health Datapalooza, we'll build on our work … to shape an agenda that engages the broad community of data liberation champions – patients, advocates, researchers, and delivery system and industry leaders – in focused discussions about how we turn data into evidence, and evidence into actions that improve health outcomes."
---
Webinars


December 2 (Wednesday) 1:00 ET. "The Patient is In, But the Doctor is Out: How Metro Health Enabled Informed Decision-Making with Remote Access to PHI." Sponsored by Vmware. Presenters: Josh Wilda, VP of IT, Metro Health; James Millington, group product line manager, VMware. Most industries are ahead of healthcare in providing remote access to applications and information. Some health systems, however, have transformed how, when, and where their providers access patient information. Metro Health in Grand Rapids, MI offers doctors fast bedside access to information and lets them review patient information on any device (including their TVs during football weekends!) saving them 30 minutes per day and reducing costs by $2.75 million.
December 2 (Wednesday) 1:00 ET. "Tackling Data Governance: Doctors Hospital at Renaissance's Strategy for Consistent Analysis." Sponsored by Premier, Inc. Presenters: Kassie Wu, director of application services, Doctors Hospital at Renaissance; Alex Eastman, senior director of enterprise solutions, Premier, Inc. How many definitions of "complications" (or "cost" or "length of stay"…) do you have? Doctors Hospital at Renaissance understood that inconsistent use of data and definitions was creating inconsistent and untrusted analysis. Join us to hear about their journey towards analytics maturity, including a strategy to drive consistency in the way they use, calculate, and communicate insights across departments.
December 2 (Wednesday) 2:00 ET. "Creating HIPAA-Compliant Applications Without JCAPS/JavaMQ Architecture." Sponsored by Red Hat. Presenters: Ashwin Karpe, lead of enterprise integration practice, Red Hat Consulting; Christian Posta, principle middleware architect, Red Hat. Oracle JCAPS is reaching its end of life and customers will need a migration solution for creating HIPAA-compliant applications, one that optimizes data flow internally and externally on premise, on mobile devices, and in the cloud. Explore replacing legacy healthcare applications with modern Red Hat JBoss Fuse architectures that are cloud-aware, location-transparent, and highly scalable and are hosted in a container-agnostic manner.
December 3 (Thursday) 2:00 ET. "501(r) Regulations – What You Need to Know for Success in 2016." Sponsored by TransUnion. Presenter: Jonathan Wiik, principal consultant, TransUnion Healthcare Solutions. Complex IRS rules take effect on January 1 that will dictate how providers ensure access, provide charity assistance, and collect uncompensated care. This in-depth webinar will cover tools and workflows that can help smooth the transition, including where to focus compliance efforts in the revenue cycle and a review of the documentation elements required.
December 9 (Wednesday) 1:00 ET. "The Health Care Payment Evolution: Maximizing Value Through Technology." Sponsored by Medicity. Presenter: Charles D. Kennedy, MD, chief population health officer, Healthagen. This presentation will provide a brief history of the ACO Pioneer and MSSP programs and will discuss current market trends and drivers and the federal government's response to them. Learn what's coming in the next generation of programs such as the Merit-Based Incentive Payment System (MIPS) and the role technology plays in driving the evolution of a new healthcare marketplace.
Contact Lorre for webinar services. Past webinars are on our HIStalk webinars YouTube channel.
---
Announcements and Implementations

Radiology information systems vendor Advanced Data Systems launches EMRdirect as part of its MedicsRIS, enabling digital delivery of radiology reports to the EHRs of referring physicians via the Surescripts network.
---
Telemedicine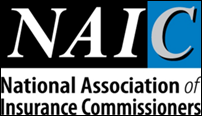 The National Association of Insurance Commissioners adopts state model legislation giving payers the ability to use telemedicine to access physicians from outside a geographic area. States must formally adopt the legislation for it to become effective.
XG Technology signs a $400,000 agreement for implementation of its turnkey telemedicine solution as part of a digital health communities pilot program in remote areas of the West Pacific. Final roll out will likely include up to 50 of the company's xMax Telemedicine Network Solutions.
---
Government and Politics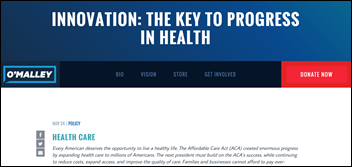 Democratic presidential candidate and former governor of Maryland Martin O'Malley includes support for the development of state HIEs in his new health plan. His enthusiasm is not surprising, given his gubernatorial oversight of Maryland's CRISP HIE. O'Malley also promises to give patients greater access to their health data, and to ensure that "comprehensive cybersecurity protections" will ensure the safety of that access.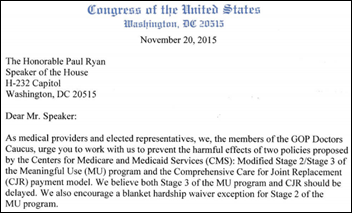 Making no headway with CMS, the GOP Doctors Caucus asks Speaker Paul Ryan for a delay of Stage 3 Meaningful Use and a blanket hardship exemption for Stage 2. "Members of our caucus, as well as numerous congressional healthcare leaders, have engaged CMS on these issues to warn them of the potential negative consequences of placing these new requirements on providers in order to meet an arbitrary deadline. CMS has ignored Congress," the authors vent. "Congressional action is the only solution left for preserving patient access, choice, and quality."
---
Other
Just in time for Thanksgiving: Dan Munro shows his journalistic chops in a positively "delicious" piece on government force-feeding of EHRs. Never did I think to see "foie-gras," "bouillabaisse," or "golden goose" mentioned on the same page as FHIR or interoperability.
---
Contacts
Jennifer,  Mr. H, Lorre, Dr. Jayne, Dr. Gregg, Lt. Dan
More news: HIStalk, HIStalk Connect.
Get HIStalk Practice  updates.
Contact us online.
Become a sponsor.