HIT Thanks
Of course, this time of year leads to reflection and an appreciation of life's blessings. The gratitude may be overlooked through most of the year, but it's nice we set aside a little time to remember all that we've been given and the cornucopia of wonders that enrich our daily existence, be they family and friends or things of much less importance … like HIT! I mean, really … it isn't even in the top 10 of Most Valuable Things in Your Life, is it? Nevertheless, sometimes those littlest items can lead to such significant irritation that when they go well, or are removed from us, the joy experience can be significant. Thus, appreciating and giving thanks for such things should be an integral part of any serious HIT geek's Thanksgiving.
Here are a few of mine this year, in no particular order (and mostly somewhat related to HIT):
I'm grateful for Meaningful Use.

Yes, it's been a pain in a whole bunch of ways, and if it doesn't change directions radically, it may be time for it to go away and let the market take control again, but overall I believe it has done us a major favor getting so many more providers digitized, and getting the beginnings of connectivity and sharing catalyzed.

I'm grateful that most notes I receive from other providers are now actually legible.

Likely related to the MU gratitude above.
I can remember not so very long ago when obtaining medical records was a crapshoot: You always wanted them, but more often than not, you couldn't read them. Though they have their shortcomings – or "longcomings," digital notes are at least legible.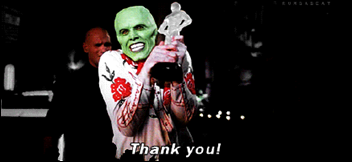 I'm grateful for Google and its impact on patient flow.

Remember the days when researching a patient issue required having tons of expensive, voluminous texts on hand through which you had to manually thumb, either dramatically slowing your patient flow or else leading to "let me get back to you after I do some research" conversations?
Nowadays – "Gimme a sec …"

I'm grateful for engaged patients.

Admittedly, most of my patients are too young to be majorly engaged healthcare consumers, but their parents are becoming more and more so. And, though challenging at times, especially when Dr. Google has led them astray, it has brought some greater understanding, some better and deeper health conversations, and even helped to keep me on my toes striving to stay abreast of their knowledge.

I'm grateful for an easy-to-use EHR.

So often I hear or read about folks bemoaning the drudgery of using their EMR/EHR. I'm happy that I never feel that way. (I admit that I wish my EMR was more "pediatric-friendly" and had a better patient portal, but its ease of use is compellingly powerful.)

I'm grateful that there are other decent EMRs out there these days.

While I don't look forward to the workflow chaos that switching EMRs can (will) bring, it's nice to see that there are some newer gen, or newer versions of older gen, systems out there now that are showing much improved user experiences. (And if I find one that offers me a better portal and pediatric experience – who knows? – it may just be time to consider that switch. At least it won't be as painful, having some experience with what to expect during such transitions)

I'm grateful for the new "Peanuts" movie.

No real HIT relevance at all. Jus' sayin'.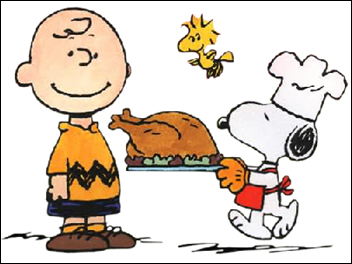 I'm grateful that HIEs are starting to show signs of life.
I'm grateful that cell phones are so powerful, I can work my browser-based EMR from anywhere.

Gone are the days when I had to go somewhere (my office, or the hospital) to retrieve information about a patient. I don't even need to lug around a laptop or tablet. Today, I can do it from my son's soccer match, during a family outing (when I'm not driving), or even from the friggin' commode. (Sorry for the visual.)

I'm grateful that I never have to search through a file room.

Remember that? What a pain!

I'm grateful I'm not a turkey. (OK, at least not the feathered kind.)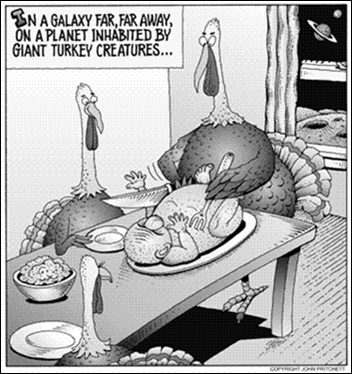 From the trenches…
"Thanksgiving is an emotional time. People travel thousands of miles to be with people they see only once a year. And then discover once a year is way too often." – Johnny Carson
Dr. Gregg Alexander, a grunt in the trenches pediatrician at Madison Pediatrics, is Chief Medical Officer for Health Nuts Media, an HIT and marketing consultant, and sits on the board of directors of the Ohio Health Information Partnership.
---
Contacts
Jennifer,  Mr. H, Lorre, Dr. Jayne, Dr. Gregg, Lt. Dan
More news: HIStalk, HIStalk Connect.
Get HIStalk Practice  updates.
Contact us online.
Become a sponsor.