Top News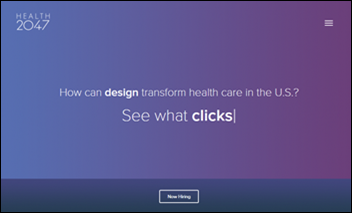 AMA invests $15 million to become a founding partner in Health2047 (a nod to AMA, which was founded in 1847), a for-profit company based in San Francisco that will develop new products and services to meet specific physician needs, most likely in the areas of chronic care, value-based care and payments, connected health, medical education, and networking technology. The startup will also assist other businesses, including pharmaceutical companies, in launching new products. AMA James Madara will serve as the company's chairman, while Douglass Given (G5 Partners) will serve as CEO. The startup already has 15 staff working on potential partnerships with Silicon Valley tech companies; Given hopes that number will grow to 60 as the company matures.
---
Webinars
January 13 (Wednesday) 1:00 ET. "Top 5 Benefits of Data as a Service: How Peace Health Is Breathing New Life Into Their Analytics Strategy." Sponsored by Premier. Presenter: Erez Gordin, director of information management systems, Peace Health. Finding, acquiring, and linking data consumes 50 to 80 percent of an analyst's time. Peace Health reduced the time analysts were spending on data wrangling, freeing them up to create new actionable insights.
Contact Lorre for webinar services. Past webinars are on our HIStalk webinars YouTube channel.
---
Announcements and Implementations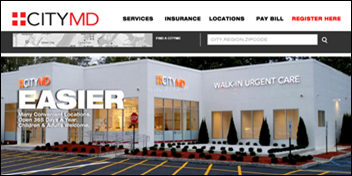 Urgent care chain CityMD (NY) partners with New York City-based Zipdrug to offer drug delivery to its Murray Hill clinic customers. The company will likely expand the partnership to additional clinics next month. Zipdrug launched last summer and has raised $2.6 million. CityMD is its first "major" bricks-and-mortar partner.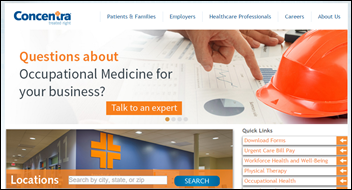 Concentra expands its agreement with Allscripts to include roll out of TouchWorks to 2,000 providers plus remote hosting services from the new Allscripts facility in Kansas City, MO. The urgent care and occupational medicine company has used various Allscripts solutions like FollowMyHealth since 2011.
---
People

Stephany Verstraete (Truveris) joins Teladoc as chief marketing officer.
---
Acquisitions, Funding, Business, and Stock

GE Healthcare will relocate its headquarters from England to Chicago. The senior executive leadership team will move into office spaced already leased by its parent company within the next several months. CEO John Flannery attributes the move to GE Healthcare's need to be closer to its US customers. The relocation news comes just a few weeks after the company announced that Lee Cooper will join GE Healthcare in January as president and CEO of its United States and Canada regions.

Apple acquires San Diego-based Emotient for an undisclosed sum. The San startup specializes in the development of artificial technology that analyzes facial expressions to identify people's emotions. Primarily used by advertisers to gauge customer reactions, the company's technology has been tested by physicians to interpret the pain levels of unresponsive patients. Apple has given no clue as to what they plan to do with Emotient's assets, though keeping up with similar moves by Facebook and Google is probably reason enough. The company acquired another AI startup, VocalIQ, in October and filed for a related patent in 2014. 
---
Telemedicine
Preliminary 2015 revenue figures for Teladoc come in at $77 million – a 77-percent increase over last year's total. Visits up by 53 percent, coming in at just under 900,000 consults. CEO Jason Gorevic predicts the company, which launched an IPO last June, will see a 50-percent increase this year in both categories. For those keeping track, Teladoc was smack dab in the middle (#10) of Mr. H's year-end look at publicly traded health IT stock performance.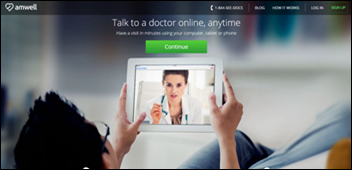 Meanwhile, American Well touts its App Annie ranking as the most downloaded telemedicine app for the second year in a row. Both news items bolster my belief that the increasingly competitive telemedicine market had a big part to play in HealthSpot's demise.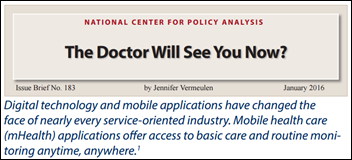 The National Center for Policy Analysis rakes Texas over the coals in its latest report on state telemedicine policies. (As you may recall, Teladoc and the Texas Medical Board are still waging a litigious war over the company's ability to operate in the state.) It points out that, "The protectionist policies of the Texas Medical Board threaten to undermine the effort Texas has made to increase access to medical care through telemedicine. With the population of Texas projected to double by 2050, attempting to limit telemedicine patients and providers is a dangerous bet against the future of health care in Texas."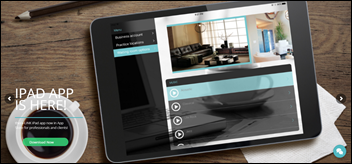 Mental and behavioral health telemedicine vendor Thera-Link launches an IPad app. The Dallas-based startup is planning an Android app release in the near future.
---
Government and Politics
CMS announces 121 new participants in its Medicare ACO program. Twenty one have joined the new Next Generation ACO Model, which offers participants the chance to take on higher levels of financial risk, while offering them prospectively set benchmarks from which to budget.
---
Research and Innovation

April Fool's comes early: A new report from the Study of Maternal and Child Kissing (SMACK) Working Group finds that kisses from mom do not, in fact, alleviate the pain associated with the everyday "boo boo." Researchers recommend a "moratorium on the practice" given that participant scores on the Toddler Discomfort Index "did not differ significantly between the maternal and sham kiss groups."
---
Contacts
Jennifer,  Mr. H, Lorre, Dr. Jayne, Dr. Gregg, Lt. Dan
More news: HIStalk, HIStalk Connect.
Get HIStalk Practice  updates.
Contact us online.
Become a sponsor.