Top News
CMS establishes the Rural Health Council to oversee the agency's work on improving access to care in rural areas, supporting the economics of providing that care, and making sure the "innovation healthcare agenda" is a good fit for rural communities. Acting CMS Administrator Andy Slavitt gave quite a bit of airtime to the role telemedicine will play in the council's work, including the forthcoming Frontier Community Health Integration Project and the just-published final rule on Medicaid home health requirements that, for the first time, allows for a face-to-face encounter to occur using telemedicine.
---
Webinars
None scheduled in the next few weeks. Contact Lorre for webinar services. Past webinars are on our HIStalk webinars YouTube channel.
---
Acquisitions, Funding, Business, and Stock

Prestige Healthcare Management Group partners with an unnamed investment group to help it grow via future acquisitions. Founded in 2002 by dermatologist Larry Jaeger, the New York City-based company provides business management and administrative services to physician practices.
---
People

The Pennsylvania EHealth Partnership Authority appoints Kelly Thompson the authority's interim executive director, effective April 18. Thompson, the authority's former chief counsel and privacy officer, takes over from Alix Goss, who resigned late last month. I interviewed Goss last fall about the authority's work to connect Pennsylvania physicians to its HIE.
---
Announcements and Implementations
Amazing Charts integrates Caremerge's chronic care management tools into its EHR and PM platform.

Mediware Information Systems develops MediLinks 2016, a Web-based tool for rehabilitation therapy physicians. The accompanying press release is vague on details; though it does allude to the tool's appointment-scheduling and care-planning capabilities.
---
Telemedicine

Austin, TX-based Chiron Health releases telemedicine software billing and reimbursement tools to help automate insurance eligibility each time a video visit is scheduled. The new Chiron Rules Engine pulls patient insurance data directly from a practice's PM system.
---
Government and Politics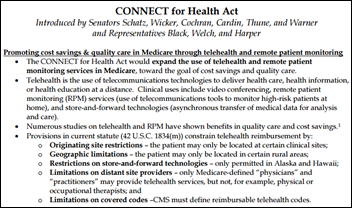 AMA announces its support for the bipartisan Creating Opportunities Now for Necessary and Effective Care Technologies (CONNECT) for Health Act. Introduced today, the bill looks to expand the use of telemedicine and remote patient monitoring services in Medicare. "This legislation has the potential to remove barriers to new healthcare delivery models that promote coordinated and patient-centered care, says AMA President Steven Stack, MD. "Importantly, the bill aims to maintain high standards whether a patient is seeing a physician in an office or via telemedicine."
---
Research and Innovation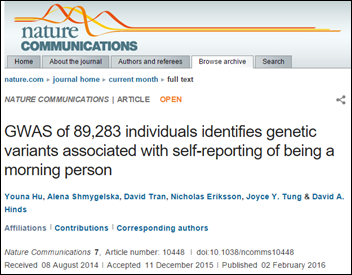 I knew waking up at 5:30 this morning would work in my favor: Researchers from 23andMe and San Jose State University find that specific genes are associated with being a "morning person" – someone who is irritatingly perky before the day has really begun – and a "night owl" – those who prefer to unleash their productivity during the overnight hours. Researchers also found that morning people are less likely to be depressed or obese. I'm going to have to be a little bit of both once the biggest health IT conference of the year rolls around … as a friend likes to tell me, "Sleep is for the weak, especially during HIMSS."
---
Other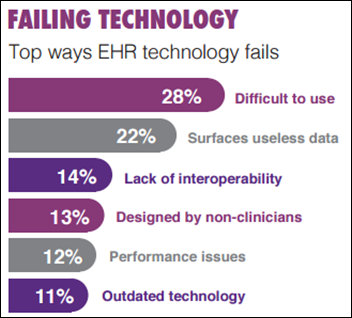 Over 700 physicians share their healthcare technology gripes via the #LetDoctorsBeDoctors Twitter campaign. The tweets break down into three main areas of frustration:
80 percent of healthcare providers complained about workload and excessive time spent on documentation.
53 percent were concerned about EHR distraction and said EHRs prevent quality care.
20 percent said EHRs prevent them from doing that they were trained for – and they're ready to call it quits.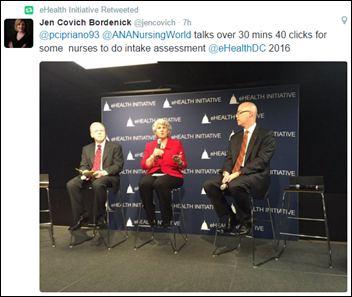 The tweets were flying during today's EHealth Initiative event in Washington, DC. I'm pretty sure that's anti-clickster and AMA President Steven Stack, MD on the right.
---
Sponsor Updates
Blog Posts
---
Contacts
Jennifer,  Mr. H, Lorre, Dr. Jayne, Dr. Gregg, Lt. Dan
More news: HIStalk, HIStalk Connect.
Get HIStalk Practice  updates.
Contact us online.
Become a sponsor.