Top News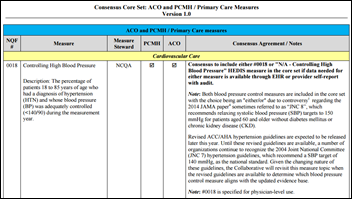 CMS and the Core Measures Collaborative release seven sets of core clinical quality measures to streamline physician quality programs across payers. The new measures pertain to ACOs, patient-centered medical homes, and primary care; cardiology; gastroenterology; HIV and Hepatitis C; medical oncology; obstetrics and gynecology; and orthopedics. Implementation of the new measures is in the works for Medicaid and Medicare, and will be phased in by private payers. CMS notes that implementation will depend on the availability of clinical data from EHRs or registries; as such, the agency recommends that "[p]rovders and payers will need to work together to create a reporting infrastructure for such measures."
---
Webinars
February 17 (Wednesday) noon ET. "Take Me To Your Leader: Catholic Health Initiatives on Executive Buy-In for Enterprise Analytics." Sponsored by Premier. Presenters: Jim Reichert, MD, PhD, VP of analytics, Catholic Health Initiatives; Rush Shah, product manager analytics factory, Premier. Catholic Health Initiatives, the nation's second-largest non-profit health system, knew that in order to build an enterprise analytics strategy, they needed a vision, prioritization, and most importantly buy-in from their executives. Dr. Jim Reichert will walk through their approach.


February 23 (Tuesday) 1:00 ET. "Completing your EMR with a Medical Image Sharing Strategy." Sponsored by LifeImage. Presenters: Don K. Dennison, consultant; Jim Forrester, director of imaging informatics, UR Medicine. Care coordination can suffer without an effective, cost-efficient way to share images across provider networks. Consolidating image management systems into a single platform such as VNA or PACS doesn't address the need to exchange images with external organizations. This webinar will address incorporating the right image sharing methods into your health IT strategy.
---
Telemedicine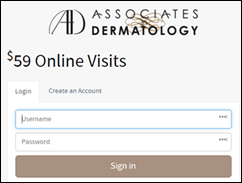 Associates in Dermatology (KY) launches telemedicine services via a partnership with Pittsburgh-based teledermatology company Iagnosis.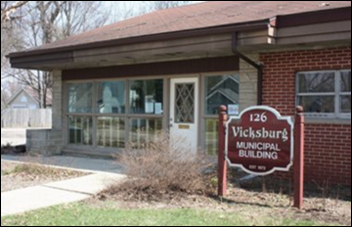 The village of Vicksburg, MI offers telemedicine services via Teladoc to its 25 employees and members of the village council.
---
Announcements and Implementations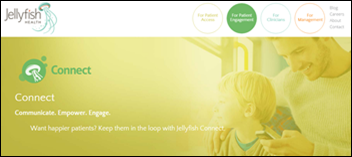 Jellyfish Health develops a mobile app enabling patients to find, schedule, and wait for a physician using their mobile device. Jellyfish Health President and CEO Dave Dyell founded ISirona in 2008, becoming senior vice president of product development for Nanthealth when the two companies merged in 2014.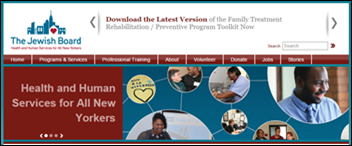 The Jewish Board of Family and Children's Services selects Netsmart technologies including the company's CareRecord EHR to better provide mental and behavioral health services to its 43,000 clients in New York City. The board will also work with Netsmart to develop new technologies and demonstrate improved outcomes to Netsmart clients.
AssessURHealth releases a mental health risk assessment survey app to help physicians screen pregnant women and new mothers for postnatal depression.
---
People

Matthew Kremke (AMA) joins the American Osteopathic Information Association as vice president of business development.
Sara Barry (University of Vermont) joins OneCare of Vermont as director of clinical and quality improvement. 
---
Research and Innovation
Biomedical data analysis company Seven Bridges opens up its Cancer Genomics Cloud, including the National Cancer Institute's Cancer Genome Atlas, to researchers across the globe. The database of over 11,000 patients and 33 types of cancer is used by oncologists, data scientists, and geneticists to better understand the disease a tool likely to be used by Vice President Joe Biden's Cancer Moonshot Task Force.
---
Other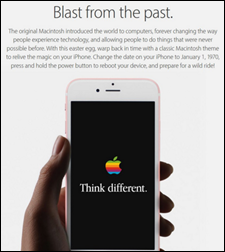 Apple officially acknowledges a bug that will render newer IPhones useless if their internal clock is set back to January 1, 1970 (a full six years before the company was founded). Rumors swirled around the notion that setting the clock back would uncover an "Easter Egg" that puts a retro Apple logo theme on the phone's display. An impending software update will soon fix the glitch.
---
Contacts
Jennifer,  Mr. H, Lorre, Dr. Jayne, Dr. Gregg, Lt. Dan
More news: HIStalk, HIStalk Connect.
Get HIStalk Practice  updates.
Contact us online.
Become a sponsor.