Top News
The California-based Integrated Healthcare Association and Office of the Patient Advocate publish a medical group report card that displays clinical quality, patient experience, and cost-of-care ratings. The report card rates over 150 medical groups caring for 9 million patients enrolled in commercial HMOs and point-of-service programs offered by 10 payers. The patient experience category includes coordinating care, which in turn includes a medical group's use of "systems to handle and communicate information properly." OPA Director Elizabeth Abbott explains that, "What we want to do is to be able to differentiate good outcomes and pair it up with lower than average costs. It's a terrific tool for both purchasers and for consumers."
---
Webinars


March 16 (Wednesday) noon ET. "Looking at the Big Picture for Strategic Communications at Children's Hospital Colorado." Sponsored by Spok. Presenters: Andrew Blackmon, CTO, Children's Hospital Colorado; Hemant Goel, president, Spok. Children's Hospital Colorado enhanced its care delivery by moving patient requests, critical code communications, on-call scheduling, and secure texting to a single mobile device platform. The hospital's CTO will describe the results, the lessons learned in creating a big-picture communication strategy that improves workflows, and its plans for the future.
March 16 (Wednesday) noon ET. "The Physiology of Electronic Fetal Monitoring." Sponsored by PeriGen. Presenter: Emily Hamilton, MDCM, SVP of clinical research, PeriGen. This webinar will review the physiology of EFM – the essentials of how the fetal heart reacts to labor. The intended audience is clinicians looking to understand the underlying principles of EFM to enhance interpretation of fetal heart rate tracings.


March 22 (Tuesday) 2:00 ET. "Six Communication Best Practices for Reducing Readmissions and Capturing TCM Revenue." Sponsored by West Healthcare Practice. Presenters: Chuck Hayes, VP of product management, West; Fonda Narke, senior director of healthcare product integration, West Healthcare Practice. Medicare payments for Transition Care Management (TCM) can not only reduce your exposure to hospital readmission penalties and improve patient outcomes, but also provide an important source of revenue in an era of shrinking reimbursements. Attendees will learn about the impacts of readmission penalties on the bottom line, how to estimate potential TCM revenue, as well as discover strategies for balancing automated patient communications with the clinical human touch to optimize clinical, financial, and operational outcomes. Don't be caught on the sidelines as others close gaps in their 30-day post discharge programs.
Contact Lorre about our post-HIMSS webinar sale.
---
Announcements and Implementations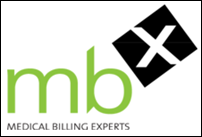 Salt Lake City-based MBX Medical Billing Experts develops Apex Business Intelligence, a data visualization tool that helps physicians analyze metrics in their PM systems across time, physician, and location.
---
Telemedicine
Dictum Health launches its Virtual Exam Room as part of its cloud-based telemedicine system. Through the VER, patients can use connected medical devices to share real-time vital signs, cardiopulmonary data, and medical images with off-site providers.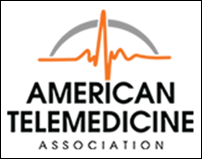 The American Telemedicine Association not surprisingly announces its support for the President's ConnectAll initiative, which aims to provide affordable broadband access to 20 million more Americans by 2020. The initiative will include an extension of the FCC phone subsidy program to Internet coverage, plus a study highlighting the importance of broadband access in creating economic growth. "The expansion of affordable broadband will further solidify the rapidly growing telemedicine sector, which is transforming the healthcare paradigm," says Jonathan Linkous, CEO of the ATA. "This initiative helps to deliver the promise of more cost-effective healthcare delivery models, and promotes the expansion of telehealth services for all." 
---
Research and Innovation

HHS awards Christopher Harle, an assistant professor and researcher at Indiana University-Purdue University Indianapolis, a $1.1 million grant to develop clinical decision support tools that will help PCPs improve care for chronic-pain patients. He has also received a $1.9 million grant from NIH to develop software that will help patients understand the informed consent process when they approve use of their EHRs for research purposes.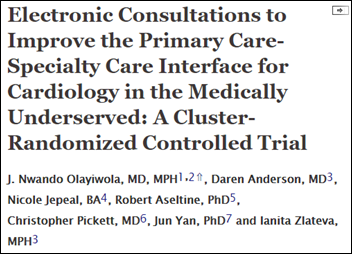 An Annals of Family Medicine study finds that electronic consults between PCPs and cardiologists resolved issues 70 percent of the time amongst underserved patients. Overall, the e-consults improved access to and timeliness of care, streamlined specialty referrals without adversely affecting outcomes, and reduced utilization of specialists. Thirty six PCPs from 12 community health centers participated in the study.

A patient engagement survey of 200 physicians and 200 patients shows that there's a bit of a disconnect between the two groups. Sixty percent of physicians believe that providing patients with better online access to their personal health record would improve quality of care, yet only 35 percent of patients say they've noticed their physician becoming more engaged with them. Key barriers to adopting patient portals – one of the top-rated ways in which patients prefer to engage – include security concerns, cost, and lack of staff.
A survey of 500 physicians finds that the majority believe new payment models may contribute to a higher quality of care and improved patient outcomes, rating "improved patient health" as the top benefit of participation. Fifty-five percent participate in some form of alternative payment model, and over 33 percent have been doing so for over three years. While the figures are certainly cause for optimism, it can't be denied that there's still a sizeable chunk of physicians clinging on to fee-for-service: 41 percent FFS is ideal for delivering positive patient outcomes.
---
Government and Politics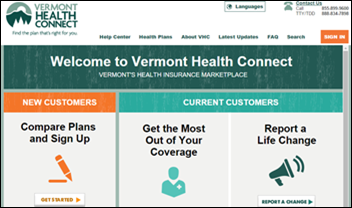 An HHS audit of Vermont's health insurance exchange reveals that it failed to meet several federal requirements established to ensure consumers were qualified to receive coverage. During its first six months of operation, Vermont Health Connect failed to process life-changing events, and properly verify Social Security numbers, family income, and incarceration status of applicants. The exchange has been a hot-button issue amongst the state's gubernatorial candidates, with Republican contenders calling for abandonment and Democratic hopefuls resisting the urge to move over to Healthcare.gov. The state has estimated it will spend $302.3 million on set up and operations between 2015 and 2016, a move one campaign manager calls "spending good money after bad."
---
Other
Throwback Thursday: University of Toledo researchers declare binge watching to be a public health concern. Researchers found in a study released last fall that binger watchers were more likely to report addictive behavior, making me totally rethink my plans to catch up on Fixer Upper this weekend. A separate, more current analysis of the research concluded that, "Their findings concord with other recent findings in scientific literature that water is wet and fire is hot. In other words, we already knew that watching too much TV was probably not great for you. Turns out, watching too much TV all at once … is also probably not great for you."
---
Contacts
Jennifer,  Mr. H, Lorre, Dr. Jayne, Dr. Gregg, Lt. Dan
More news: HIStalk, HIStalk Connect.
Get HIStalk Practice  updates.
Contact us online.
Become a sponsor.