Top News
A ProPublica analysis of physicians who have written at least 1,000 prescriptions in Medicare Part D finds that those who received money from drug and device makers prescribed a higher overall number of name-brand drugs than physicians who didn't. Even physicians who were just treated to meals prescribed more. The analysts don't go so far as to assume a direct cause and effect; instead, they point out that "payments are associated with an approach to prescribing that, writ large, benefits drug companies' bottom line." American College of Cardiology President Kim Williams, MD points out in accompanying NPR commentary that relationships between companies and physicians are circular. "The more physicians learn about a new drug's differentiating characteristics, the more likely they are to prescribe it," he explained. "And the more they prescribe it, the more likely they are to be selected as speakers and consultants for the company." It seems to be a very slippery – and subjective – slope. I'm hoping Dr. Jayne will weigh in.
---
Webinars


March 22 (Tuesday) 2:00 ET. "Six Communication Best Practices for Reducing Readmissions and Capturing TCM Revenue." Sponsored by West Healthcare Practice. Presenters: Chuck Hayes, VP of product management, West; Fonda Narke, senior director of healthcare product integration, West Healthcare Practice. Medicare payments for Transition Care Management (TCM) can not only reduce your exposure to hospital readmission penalties and improve patient outcomes, but also provide an important source of revenue in an era of shrinking reimbursements. Attendees will learn about the impacts of readmission penalties on the bottom line, how to estimate potential TCM revenue, as well as discover strategies for balancing automated patient communications with the clinical human touch to optimize clinical, financial, and operational outcomes. Don't be caught on the sidelines as others close gaps in their 30-day post discharge programs.
Contact Lorre for webinar services. Past webinars are on our HIStalk webinars YouTube channel.
---
Acquisitions. Funding, Business, and Stock

Value-added reseller Azcomp Technologies voices its support for the sale of McKesson's ambulatory products to E-MDs, a business that it considers to be "smaller and more focused on servicing the type of medical practices and physician's offices that have been the primary customers of Azcomp." In addition to McKesson software, the Mesa, AZ-based VAR also sells Lytec PM software, to which it anticipates adding mobile diagnosis and billing entry features in the near future.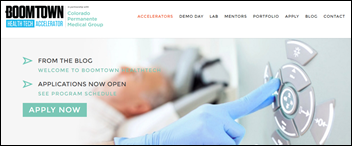 Colorado Permanente Medical Group partners with Boulder, CO-based accelerator Boomtown to introduce its first healthcare class. Mindful Labs, Patientory, VisibleHand, and Agathos will go through a 12-week mentoring program culminating in a demo day on April 13. I'm most interested in Agathos, which is developing a tool to provide physicians with insight into treatment costs, prognosis and treatment results culled from peers, performance statistics, and peer evaluations.
---
Announcements and Implementations

Millenium Healthcare launches a chronic care management service that it hopes to roll out to at least 100 physician practices in 2016. Millenium is parent company to four subsidiaries that specialize in billing and coding, medical devices, clinical laboratory, and messaging services.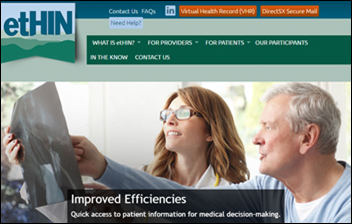 East Tennessee Health Information Network selects real-time, healthcare data management and reporting technologies from Imat Solutions. ETHIN anticipates full implementation of Imat's software to be wrapped by the end of June. Imat signed a similar deal with Delaware Health Information Network last June.
---
Research and Innovation

An American Journal of Managed Care study of practices acquired by hospitals finds no difference in healthcare IT utilization – in other words, a practice bought up by a hospital is no more likely to implement a new EHR than one that retains its independence. The study did find significantly higher usage of evidence-based care-management processes across hospital-owned practices of all sizes, likely due to greater availability of resources as a result of acquisition. The authors conclude that hospital-owned practices may be a better bet for chronically ill patients.
Fitbit users can now ask Amazon's Alexa voice assistant about their sleep patterns, daily walks, and other monitored health activities. Alexa, which is compatible with Amazon's Echo speaker and Fire TV streaming devices, may even offer words of encouragement like, "I believe in you." Fitbit goals are more likely to be met if Alexa were to say, "You shouldn't lay on the couch you lazy bum. You're 5,000 steps short of your daily goal."
---
Other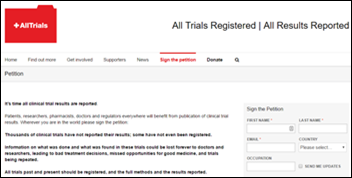 AMA throws its support behind the AllTrials initiative, a global campaign that is working to increase awareness of a greater need for clinical trials transparency. "The AMA strongly supports improving the timeliness and accessibility of clinical trial data to reduce the duplication of research and help inform future research — ultimately improving health outcomes for patients," says AMA President Steven J. Stack. "The AMA is pleased to join the AllTrials initiative to continue efforts aimed at ensuring open access to clinical trial data for physicians, researchers and patients."
---
Contacts
Jennifer,  Mr. H, Lorre, Dr. Jayne, Dr. Gregg, Lt. Dan
More news: HIStalk, HIStalk Connect.
Get HIStalk Practice  updates.
Contact us online.
Become a sponsor.