Top News
New research from Rock Health shows that digital health funding reached $981.3 million in the first quarter of this year, a year-over-year growth of almost 50 percent. This year's initial quarter marks the highest first-quarter total since the organization started tracking the data five years ago. Deals of note included One Medical Group's acquisition of mobile app developer Rise, plus Flatiron Health and Jawbone's combined $340 million funding rounds.
---
Webinar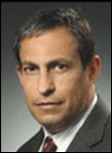 April 8 (Friday) 1:00 ET. "Ransomware in Healthcare: Tactics, Techniques, and Response." Sponsored by HIStalk. Presenter: John Gomez, CEO, Sensato. Ransomware continues to be an effective attack against healthcare infrastructure, with the clear ability to disrupt operations and impact patient care. This webinar will provide an inside look at how attackers use ransomware; why it so effective; and recommendations for mitigation.
Contact Lorre for webinar services. Past webinars are on our HIStalk webinars YouTube channel.
---
Acquisitions, Funding, Business, and Stock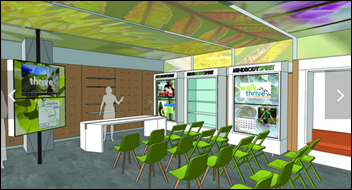 The local business paper shares mock-up photos of Kaiser Permanente Northwest's (OR) new convenient care clinic, set to open this fall. The pilot space will offer a limited range of urgent care services and will offer members the ability to conduct virtual visits for colds and minor burns. Patients will also be able to access their medical records and health information at the "Thrive Bar."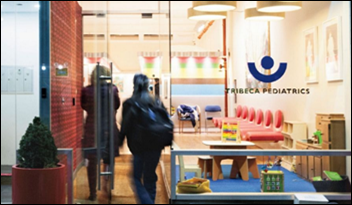 Tribeca Pediatrics (NY) founder Michel Cohen, MD recounts the ways in which he single-handedly transformed his nearly bankrupt practice into a now-thriving chain. A few highlights:
Installing a new billing system, which he's tweaked to track the status of unpaid claims each week.
Sometimes hiring for personality over experience.
Creating a centralized customer support department that handles all patient calls, including insurance claim disputes.
Opening up his own fabrication workshop to supply furnishings for new locations.
---
Telemedicine
Konica Minolta's Business Innovation Center partners with SnapMD to launch a telemedicine pilot. The accompanying press release is light on details; media outlets report urgent care and chronic care management will be initial target areas.
---
Research and Innovation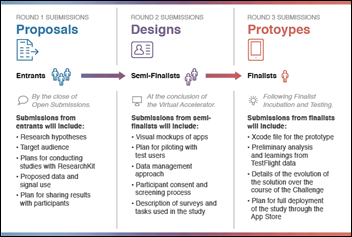 The Robert Wood Johnson Foundation and Luminary Labs announce the Mood Challenge for ResearchKit as part of their New Venture Fund program. The challenge, which is looking for proposals for ResearchKit studies that will further understanding of mood and how it relates to daily life, will offer finalists mentoring and piloting opportunities. Up to $500,000 will be awarded throughout the competition. Submissions are due May 22.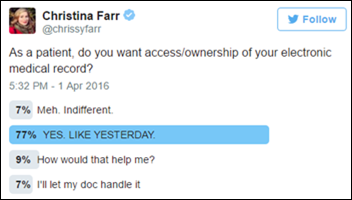 An informal Fast Company survey of 1,000 presumably Web-savvy consumers finds over 75 percent want access to their medical records, contradicting the author's (and healthcare industry's) belief that patients have historically been "indifferent" to their medical records. The overwhelming response in favor of record access doesn't surprise me given OCR's recent push to make providers more away of patient record access rights, the expansion of OpenNotes, and the ease with which patient portals should make access a non-issue.
---
People
SCI Solutions names Maryanne Pace (Radius Global Solutions) senior vice president of client delivery and Tammy Wood solution consultant.
---
Other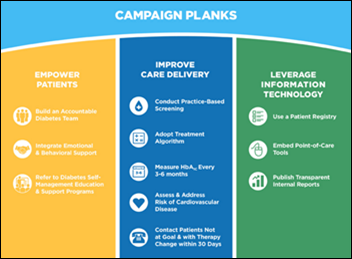 The American College of Physicians joins the AMGA Foundation's Diabetes: Together 2 Goal campaign. Launched last month, the campaign is working with healthcare organizations across the country to improve care for 1 million people with Type 2 diabetes by 2019. The program heavily emphasizes healthcare IT including the use of patient registries and point-of-care tools.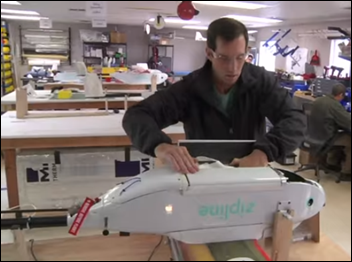 Inverse takes a look at the ways in which drone delivery business Zipline is helping remote clinics in Rwanda. The San Francisco-based company will soon deliver medical supplies such as blood or vaccines across the 10,000 square mile country via two launch hubs of 10 to 15 drones each.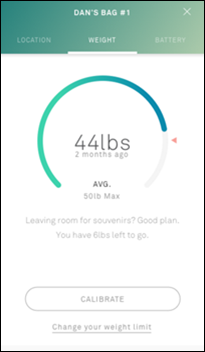 As if our world weren't connected enough: Raden introduces a line of app-connected travel cases that include a built-in weight sensor to help travelers avoid overweight baggage fees and a battery that can charge a mobile phone up to four times. The accompanying app offers airport travel tips and security line wait times, alerts users when their baggage is on the carousel, and tracks luggage destinations.
---
Sponsor Updates
EClinicalWorks will exhibit at the NCCHC Spring Conference on Correctional Health Care April 10-12 in Nashville, TN.
Healthwise will exhibit at the Allscripts Central Region User Group April 13-15 in Minneapolis.
Blog Posts
---
Contacts
Jennifer,  Mr. H, Lorre, Dr. Jayne, Dr. Gregg, Lt. Dan
More news: HIStalk, HIStalk Connect.
Get HIStalk Practice updates.
Contact us online.
Become a sponsor.