Top News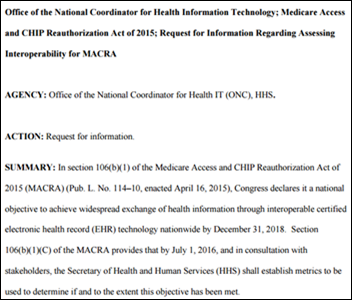 ONC issues a request for information on how to measure interoperability as part of the broader MACRA objective of achieving widespread health data exchange through the use of interoperable, certified EHRs. HHS has been tasked with developing metrics with the help of healthcare IT stakeholders. The RFI is looking for input on:
What populations and elements of information flow should be measured?
How can it use current data sources and associated metrics to address the MACRA requirements?
What other data sources and metrics should HHS consider to measure interoperability more broadly?
---
Webinars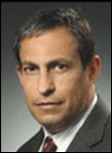 April 8 (Friday) 1:00 ET. "Ransomware in Healthcare: Tactics, Techniques, and Response." Sponsored by HIStalk. Presenter: John Gomez, CEO, Sensato. Ransomware continues to be an effective attack against healthcare infrastructure, with the clear ability to disrupt operations and impact patient care. This webinar will provide an inside look at how attackers use ransomware; why it so effective; and recommendations for mitigation.
Contact Lorre for webinar services. Past webinars are on our HIStalk webinars YouTube channel.
---
Acquisitions, Funding, Business, and Stock

Melville, NY-based Millenium HealthCare launches a Services Division offering development, support, and administration services for physician practices.

Chicago-based startup HealthJoy raises $3 million in seed funding from health insurance marketplace Go Health and angel investors. Founded in 2014, the company offers telemedicine services and offers a "virtual concierge" service to help guide consumers through healthcare decision-making.The company plans to use the new funding to start selling directly to employers.
---
Announcements and Implementations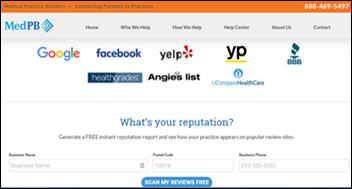 Practice marketing firm MedPB launches an Online Review Builder service to help physician practices manage their online reputations.

The Augustine Recovery Center (FL) joins MAP Health Management's Recovery Network, giving it access to outcomes-tracking and telemedicine technologies.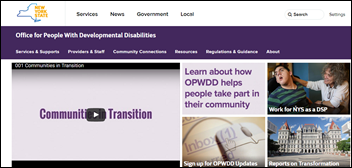 The New York State Office for People With Developmental Disabilities selects EHR and intellectual and developmental disabilities software from Foothold Technology to better enable its support of 38,000 patients across the state.
---
Telemedicine
A report from the Urban Institute looks at the impact payer-based telemedicine programs have had on healthcare access and outcomes in six states. As expected, the authors conclude that payers aren't using virtual care models to the best of their abilities due in large part to uncertainty around state and federal regulations, lack of payer and provider investment in necessary technology, and a lack of infrastructure and integration into physician workflows.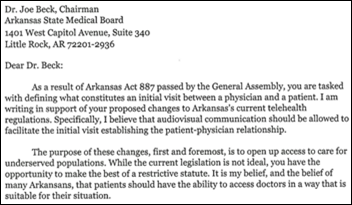 Arkansas Governor Asa Hutchinson encourages the state medical board to recognize the establishment of patient-physician relationships via video visits in an effort to help provide greater access to care, particularly to underserved populations. "It is important to increase access to care for Arkansans by fully taking advantage of technological innovations," he writes. "For this reason, I encourage you to allow the initial visit, facilitated by audiovisual communication, to establish the patient-physician relationship." Legislators are working on defining an initial visit in the hopes of passing telemedicine-friendly legislation in the near future.
---
Government and Politics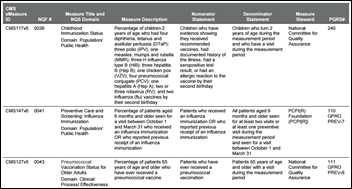 CMS updates 64 electronic clinical quality measures for EPs and 29 for hospitals.
---
Other
New York-based physician Barry Weinstein, MD calls it quits in light of New York's mandated e-prescribing. "It's a cost in money and time," says Weinstein, who ran a paper-based practice for over 40 years. "I'm not particularly computer efficient – older people generally are not – and it's more a cost of time and aggravation. As I talked to the patients the last couple of months and they told me about experiences with doctors, they don't seem to have a lot of face time with doctors. They all seem to be putting their energy in their computers."
---
Contacts
Jennifer,  Mr. H, Lorre, Dr. Jayne, Dr. Gregg, Lt. Dan
More news: HIStalk, HIStalk Connect.
Get HIStalk Practice updates.
Contact us online.
Become a sponsor.