Top News
Lawmakers introduce the Flexibility in Electronic Health Record (EHR) Reporting Act (HR 5001) in an attempt to implement a 90-day reporting period for Meaningful Use in 2016. Sponsored by the usual legislative suspects, the bipartisan bill hopes to offer providers the option of choosing any three-month quarter for the EHR reporting period in 2016 to quality for MU. "Representative Ellmers' bill allows for a 90-day reporting period and supplies providers with the flexibility to avoid harmful, bureaucratic penalties," says bill co-author Rep. Marsha Blackburn (R-TN.) "This administration has constantly failed to offer patients, and the provider community, with the resources necessary in order to provide quality care."
---
Webinars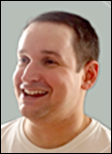 April 26 (Tuesday) 1:00 ET. "Provider-Led Care Management: Trends and Opportunities in a Growing Market." Sponsored by HIStalk. Presenter: Matthew Guldin, analyst, Chilmark Research. This webinar will provide a brief overview and direction of the provider-led care management market. It will identify the types of vendors in this market, their current and longer-term challenges, product capabilities, partnership activity, and market dynamics that influence adoption. It will conclude with an overview of key factors for vendors and solutions moving forward.
Contact Lorre for webinar services. Past webinars are on our HIStalk webinars YouTube channel.
---
Telemedicine

Dictum Health partners with Creekridge Capital to offer financing options to its telemedicine customers. The company's Virtual Exam Room received FDA clearance at the end of February, and formally launched in early March.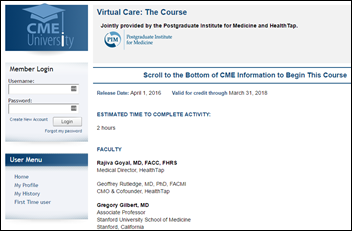 HealthTap launches a free, online training and certification program for virtual care. The course will provide physicians with one hour of CME credit, plus an opportunity for advanced training.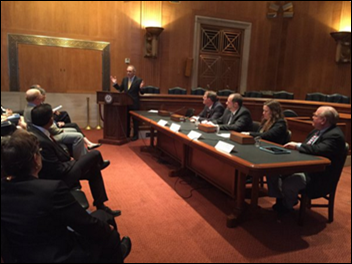 Children's Health Fund heads to the Hill to advocate for pediatric telemedicine. The Congressional briefing coincides with the release of a CHF white paper outlining the benefits of telemedicine access, particularly for underserved children and those living in rural areas.
Salus Telehealth and Covenant Technology Group develop a bluetooth stethoscope for physicians looking to conduct virtual visits.
---
Announcements and Implementations

Flatiron Health will enhance its OncoEMR and OncoAnalytics tools to help oncologists meet new CMS Oncology Care Model reporting requirements. Updates will include automated reporting of quality measures, embedded pathways at the point of care, and the ability to create care plans. I had the opportunity to chat with Robin Zon, MD at Michiana Hematology Oncology (IN) about her practice's OCM plans. You can read my interview with her here.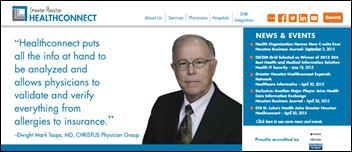 The Greater Houston Healthconnect HIE completes its accreditation from the Texas Health Information Exchange Accreditation Program in partnership with EHNAC and the Texas Health Services Authority. Established in 2010, the HIE serves 39 percent of the region's physicians and just over half of the hospital market.
---
Other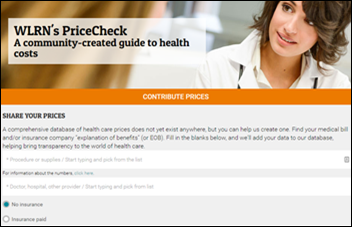 ClearHealthCosts.com partners with local news outlets to launch PriceCheck, a searchable online database that combines healthcare procedure costs with information and reviews from patients living in South Florida and the Tampa Bay area. "People should know what things cost in healthcare," says Jeanne Pinder, a healthcare journalist and founder of ClearHealthCosts.com. "We'll use the power of our communities to reveal the secrets of the marketplace, and join hands to make this opaque system more transparent."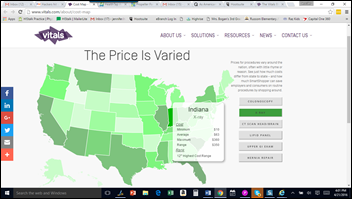 In other healthcare cost transparency news, Vitals pays homage to Bob Barker with The Price is Varied, a map that highlights the extreme price differences for six procedures across the country. Mapmakers point out that California has the highest costs across the board, while Maine has the most "rational," with minimum cost differences for four of the six categories.
---
Contacts
Jennifer,  Mr. H, Lorre, Dr. Jayne, Dr. Gregg
More news: HIStalk, HIStalk Connect.
Get HIStalk Practice updates.
Contact us online.
Become a sponsor.