Top News
The FTC finalizes its privacy case settlement with Practice Fusion. The company's trouble with the FTC stems from a 2013 incident in which it solicited doctor reviews from patients without disclosing that the reviews would be publicly posted on the Internet. The settlement, which was published in a draft version in June, prevents the company from using the illegally collected reviews, and authorizes the FTC to conduct privacy audits on the company for the next 20 years.
---
Webinars

August 24 (Wednesday) 1:00 ET. "Surviving the OCR Cybersecurity & Privacy Pre-Audit: Are You Truly Prepared?" Sponsored by HIStalk. Presenter: John Gomez, CEO, Sensato. Many healthcare organizations are not prepared for an OCR pre-audit of their privacy and security policies. This webinar will provide a roadmap, tools, and tactics that will help balance policies and budgets in adopting an OCR-friendly strategy that will allow passing with flying colors.
Contact Lorre for webinar services. Past webinars are on our HIStalk webinars YouTube channel.
---
Announcements and Implementations

Walgreens will work with HealthPrize Technologies to expand its mobile health tools to include gamification strategies and Walgreens rewards points to improve medication adherence. The company will initially target diabetic patients who take certain medications for the new Web-based, mobile-friendly program.
Ride2MD, a technology-enabled patient transportation startup based in Miami, partners with Lyft to help transport patients that don't require wheelchair-accessible vehicles. Ride2MD services only private-paying customers at the moment, but plans to soon partner with two local health plans, nursing homes, and assisted living facilities.
---
Telemedicine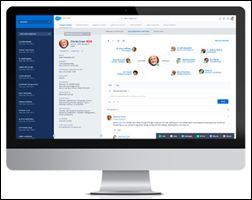 Salesforce adds telemedicine capabilities to its Health Cloud CRM.
---
People

Chandra Osborn (Vanderbilt University Medical Center) joins diabetes app startup One Drop as vice president of health and behavioral informatics.
---
Government and Politics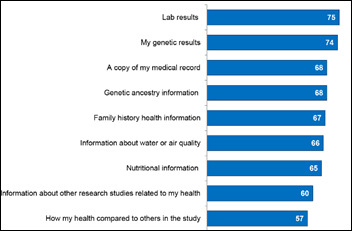 An NIH survey of consumer interest in the Precision Medicine research cohort, which aims to track the health data of at least 1 million people over many years, finds that the majority of adults surveyed are in favor of it. Enthusiasm levels didn't vacillate that much between racial and ethnic groups, though younger respondents favored participation more than those over 60, and those with less education. A majority of survey takers find that routinely receiving data is the most important participation incentive. Others said their participation would be contingent on access to lab results, genetic information, and a copy of their medical records.

The Health Care Industry Cybersecurity Task Force seeks input from stakeholders to help it identify risks, gaps, challenges, and best practices related to cybersecurity issues in the healthcare sector. Formed in March, the task force will report its findings to Congress and the public, as well as develop educational materials.
---
Research and Innovation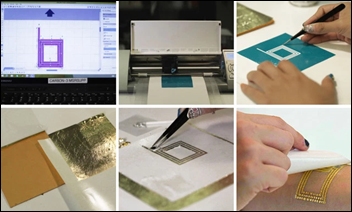 Researchers from MIT and Microsoft put a gold-leaf spin on temporary smart tattoos. The DuoSkin tattoo can track and show information about the wearer, including body temperature. For the fashionable and lazy, the tattoo can even be used as a button to help users find lost phones.
---
Other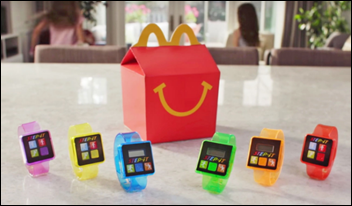 McDonald's includes basic activity trackers in its Happy Meals, tying in nicely with its Olympic Games. The Step-It pedometer blinks quickly or slowly depending on the wearer's activity level, and is considered to be in line with the company's "general philosophy for Happy Meal toys, which is to make toys that encourage either physical or imagination-based play," according to a company representative. This isn't the fast-food chain's first foray into wearables: It included a pedometer in special Go Active! adult Happy Meals in 2004. (Update: The company has ended the activity tracker promotion early due to possible skin irritations.)
---
Contacts
Jenn,  Mr. H, Lorre, Dr. Jayne, Dr. Gregg
More news: HIStalk, HIStalk Connect.
Get HIStalk Practice updates.
Contact us online.
Become a sponsor.