Top News
HHS doles out $100 million in ACA funds to help 1,304 health centers across the country with quality improvement efforts, including bolstering healthcare IT utilization. The centers, selected based on their performance in a number of categories related to equity, access, coordination, and value, will use the funds to expand quality improvement initiatives and infrastructure, as well as the delivery of primary care services.
---
HIStalk Practice Announcements and Requests
Peer60 polled C-level health system IT executives (mostly CIOs and CMIOs) this month to determine the reach, influence, and usefulness of the six major health IT news publications and sites. The five-question poll found that HIStalk is:
#1 most read
#1 most influential
#1 in generating interest about companies
#1 in providing information most useful for job performance
#1 most recommended by executives to others
While the results focused on Mr. H's unflagging efforts at HIStalk.com, I like to think that Practice also contributes a wee bit to these statistics. In honor of the results, we're kicking off our annual "new sponsor special" early. (Marketing folks, take note: It's much easier to reach out now than to wait a few weeks before HIMSS when everyone is clamoring for attention 10 minutes ago.) Contact Lorre, who will also have HIStalkapalooza information soon.
---
Webinars

August 24 (Wednesday) 1:00 ET. "Surviving the OCR Cybersecurity & Privacy Pre-Audit: Are You Truly Prepared?" Sponsored by HIStalk. Presenter: John Gomez, CEO, Sensato. Many healthcare organizations are not prepared for an OCR pre-audit of their privacy and security policies. This webinar will provide a roadmap, tools, and tactics that will help balance policies and budgets in adopting an OCR-friendly strategy that will allow passing with flying colors.
Contact Lorre for webinar services. Past webinars are on our HIStalk webinars YouTube channel.
---
Announcements and Implementations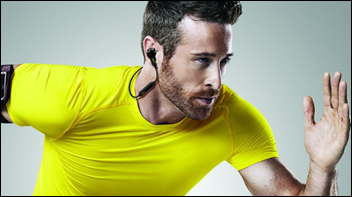 TrainerMD will offer fitness-monitoring earbuds as part of its 360˚ Health Program, set to officially launch this fall. In addition to heart rate, the wearable will stream pace and caloric data in real time to a corresponding app that physicians and trainers can use to better manage a patient's care. These seem like they'd make great conference giveaways, provided the app is consumer-friendly.
Jopari Solutions offers physicians the ability to exchange digital attachments with workers compensation businesses and payers from within their existing PM software.
---
Acquisitions, Funding, Business, and Stock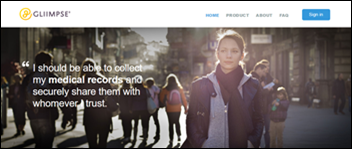 Reports surface that Apple has purchased personal health data startup Gliimpse. Founded in 2013 by Anil Sethi (who started out as a systems engineer at Apple in the '80s) and Karthik Hariharan, the company's PHR technology is targeted to chronically ill patients, and seems in line with Apple's recent moves in digital health, which include hiring pediatric endocrinologist and HealthKit app developer Rajiv Kumar, MD and software developer Evan Doll, as well as its patent for a wearable ECG monitor.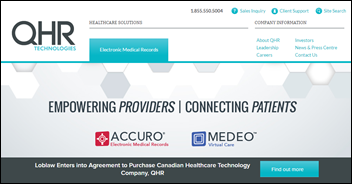 Canadian grocery store and pharmacy chain operator Loblaw will acquire EHR vendor QHR Corp. for $170 million. QHR will operate as a business unit within Loblaw's Shoppers Drug Mart division, and remain headquartered in Kelowna, British Columbia.
---
People
Kevin Hutchinson (MyTaskit) and Ned Moore (Clutch) join HudlHealth's advisory board.
---
Telemedicine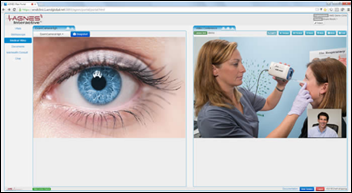 AMD Global Telemedicine updates its Agnes Interactive  software, adding enhanced EHR integration, API customization, session controls, and security.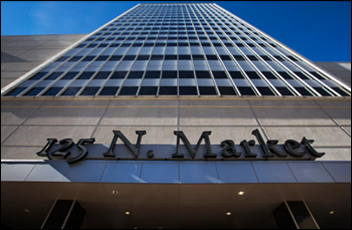 Vigilias Telehealth opens its 400 square-foot headquarters in downtown Wichita. Two of the Kansas-based startup's leaders – President Elisha Yaghmai, MD and Marketing Director Chuck Coffey, MD – both did their residencies at the University of Kansas School of Medicine-Wichita.
---
Government and Politics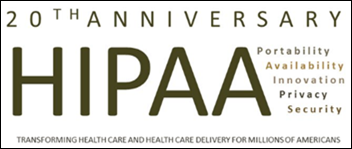 ONC commemorates the 20th anniversary of HIPAA with a tweet chat highlighting its evolution and the challenges that surround it today. The celebration is timely, given, as @ElinSilveous mentioned, the propensity for some practices and hospitals to prevent patient record access due to a lack of HIPAA understanding; not to mention OCR's announcement late last week that it will begin to focus its investigations on breaches affecting fewer than 500 people. You can check out my recap of the #HIPAAchat here.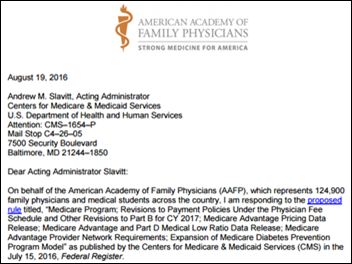 The AAFP responds to Medicare's proposed physician fee schedule. I honestly couldn't bring myself to wade through the 56-page response, which seems polite to a fault. At a glance, healthcare IT-related highlights include sections on telemedicine and clinical decision support software in imaging use cases.
---
Other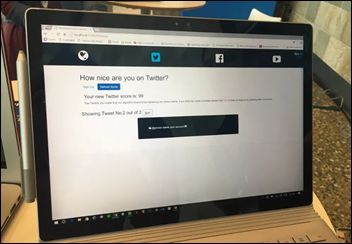 If you think you might be, then you probably are: Intel summer intern Alexei Bastidas develops an algorithm that will help Twitter users determine if they are, in fact, online trolls. The corresponding app, designed to detect tweets with a tone of harassment, offers users a numerical rating and example tweets that could be seen as harassing.
---
Sponsor Updates
AdvancedMD opens registration for its annual conference EVO16, to be held October 11-12 in Salt Lake City, UT.
Intelligent Medical Objects will exhibit at HIMSS Asia-Pac August 23-26 in Bangkok.
Blog Posts
---
Contacts
Jenn,  Mr. H, Lorre, Dr. Jayne, Dr. Gregg
More news: HIStalk, HIStalk Connect.
Get HIStalk Practice updates.
Contact us online.
Become a sponsor.