Top News
As part of Prescription Opioid and Heroin Epidemic Awareness Week, the FDA launches a competition to encourage developers to build an app that will connect those in the throes of an overdose with prescription antidote Naloxone. Overdose deaths from prescription opioids have tripled to more than 165,000 since 1999. "The goal of this competition is to develop a low-cost, scalable, crowd-sourced mobile application that addresses this issue of accessibility," said the FDA's Peter Lurie, MD. "Mobile phone applications have been developed to educate laypersons on how to recognize an overdose and administer naloxone, and to connect bystanders with individuals in need of other medical services, such as CPR. To date, however, no application is available to connect carriers of naloxone with nearby opioid overdose victims." Entries for the Naloxone App Competition are due October 7. The winner will receive $40,000.
In related news, the USDA announces funding for 18 distance learning and telemedicine projects in 16 states that it hopes will expand access to healthcare and substance abuse treatment.
---
HIStalk Practice Musings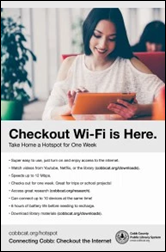 I was pleasantly surprised to learn that my local library now offers "Checkout Wi-Fi." The service gives library patrons access to their very own floating hotspot anywhere in the country for one week. This seems like the perfect solution for when I have a few hours to kill (and work to do) in an airport that doesn't offer WiFi, free or otherwise.
---
Webinars
September 27 (Tuesday) 1:00 ET. "Put MACRA in your Workflow – CDS and Evolving Payment Models." Sponsored by Stanson Health. Presenters: Anne Wellington, chief product officer, Stanson Health; Scott Weingarten, MD, MPH, SVP and chief clinical transformation officer, Cedars-Sinai. Reimbursement models are rapidly changing, and as a result, health systems need to influence physicians to align with health system strategy. In this webinar, we will discuss how Stanson's Clinical Decision Support can run in the background of every patient visit to help physicians execute with MACRA, CJR, et al.
October 13 (Thursday) 2:00 ET. "Glycemic Control During Therapeutic Hypothermia." Sponsored by Monarch Medical Technologies. Presenter: Tracey Melhuish, RN, MSN, clinical practice specialist, Holy Cross Hospital (FL). Using therapeutic hypothermia (TH) as a method of care can present risks of hyperglycemia, hypoglycemia, and blood glucose variability. Maintaining safe glucose levels during the cooling and rewarming phases of TH reduces the risks of adverse events. Tracey Melhuish, author of "Linking Hypothermia and Hyperglycemia," will share best practices for optimal glucose control during TH and the success Holy Cross Hospital sees while using a computerized glucose management software.
Contact Lorre for webinar services. View previous webinars on our HIStalk webinars YouTube channel.
---
Announcements and Implementations

Coordinated Care Oklahoma, the state's largest HIE, implements DrFirst's Backline communication and collaboration software for secure electronic transfer of patient data in real-time.
The Compliancy Group develops an online HIPAA Help Center for covered entities and business associates.
CompuLink Business Systems develops ENT-specific EHR and PM technology.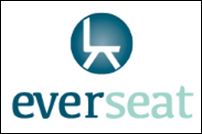 Everseat adds insurance eligibility verification capabilities from PokitDok to its appointment-scheduling service.
---
People
Linda Ostach (Medsphere Systems) and Jenn Bula (Impact Advisors) join MedSys Group's advisory services team. Tom Welch, Patricia Drew, and Aaron Spratt have been promoted to the team as well.
---
Telemedicine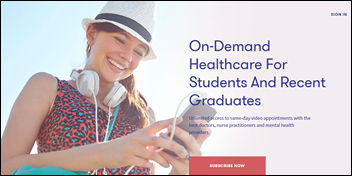 I missed this a few weeks ago: Maven, which bills itself as "the first digital clinic for women," (including mental health) offers a virtual consult subscription service for college students. Maven Campus offers unlimited same-day video appointments, and unlimited text messaging with physicians. The pricing, which ranges from $25 to $45 a month, seems like an absolute steal when you compare it with the typical price of an office visit to the psychiatrist or psychologist.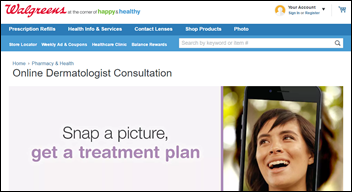 Walgreens adds teledermatology to its website and app through a partnership with Iagnosis and its DermatologistOnCall service. The addition is part of the company's push to add more skin-care resources, including real-time chat with Walgreens pharmacists, to its digital resources.
IViews Imaging System launches a telemedicine imaging service that helps PCPs send images to opthalmologists at designated reading centers for quicker interpretation and referrals. The Dunedin, FL-based company has also created a cloud-based central diagnostic imaging and data repository.
---
Research and Innovation

A TD Bank survey of 342 physicians finds that buying or leasing new technology takes the top spot when it comes to areas of anticipated capital expenditure. Hiring staff and training and education round out the top three. Thirty-five percent across all age groups named technology as their current biggest challenge; Baby Boomers put new technology at the top of their list. Nearly half of all survey respondents believe it's too expensive to run a practice in today's current climate.
---
Other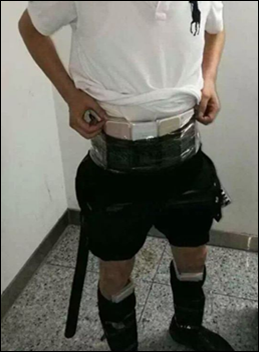 Olympian Apolo Anton Ohno shares this picture on Instagram of a man ready to resell what looks to be at least seven iPhone 7s. "Walked by the Apple store today here in [Hong Kong] and saw a few dozen resellers of the new iPhone," he said. "Squatting directly outside of the Apple store haha! Hustle game heavy in Asia." The phone went on sale stateside last Friday. The larger model sold out via pre-orders last Wednesday, and while it doesn't seem to suffer from Samsung's exploding battery problem, several users have complained that it makes a hissing noise when "under load."
Vince Ciotti and Elise Ames look at physician practice EHRs in the latest installment of their "Rating the Ratings" series. You can catch up on previous installments, which focus on enterprise environments, at HIStalk.com. If you enjoy this, I highly recommend you check out Vince and Frank Poggio's webinar on "rise of the small first letter vendors," which takes an in-depth look at leading vendors that are trying to make a go of it in the crossover EHR market.
---
Sponsor Updates
Versus Technology will exhibit at Epic's UGM September 21-23 in Verona, WI.
Healthwise is included in Fortune's "100 Best Workplaces for Women."
---
Contacts
Jenn,  Mr. H, Lorre, Dr. Jayne, Dr. Gregg
More news: HIStalk, HIStalk Connect.
Get HIStalk Practice updates.
Contact us online.
Become a sponsor.