Top News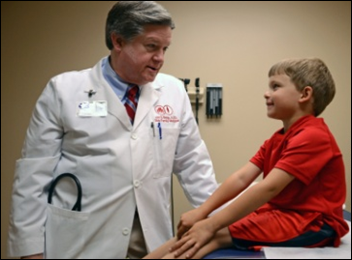 John Meigs, Jr. MD takes on the role of AAFP president. A family physician based in Centreville, AL, Meigs probably has a good handle on the ups and downs of the physician practice landscape, given that he was in private practice for over 30 years before merging with another medical practice affiliated with Bibb Medical Center (AL). The pros seems to outweigh the cons when it comes to moving from independent practice to employment:
"I have to go through a bureaucracy to do things and sometimes I get frustrated by the bureaucracy. And now there are a lot of committees that have to approve things. When I was private, I decided what EHR I wanted to buy, and I decided what kind of pens to write with. Now I have to put in a special request to get my pens. It's a minor little thing, but it illustrates the point. But I still have my patients. I mean I'm still seeing the same people I've been seeing for almost 35 years. The best part about it is I don't have to do the payroll and the accounts payable and all those kinds of things I did when I was in private practice. I frequently did those things at one o'clock in the morning because there wasn't time to do it during the day."
Meigs, who seems more in tune with healthcare technology than his peer at AMA, counts usability and interoperability as his two biggest challenges with EHRs.
---
HIStalk Practice Musings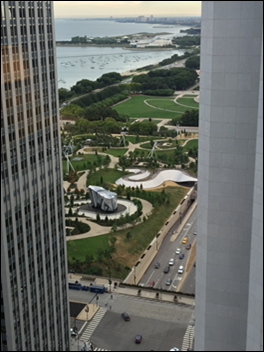 This week finds me in Chicago for the Oliver Wyman Health Innovation Summit. I've had the opportunity thus far to gaze at Lake Michigan from my hotel window and attend an immersion tour at local primary care clinic Oak Street Health. The conference will officially kick off tomorrow, and, for reasons I still can't remember, I signed myself up for the "Wakeup Wellness 5k" at 6 am. Look for the rundown in tomorrow's post.
---
Webinars
September 27 (Tuesday) 1:00 ET. "Put MACRA in your Workflow – CDS and Evolving Payment Models." Sponsored by Stanson Health. Presenters: Anne Wellington, chief product officer, Stanson Health; Scott Weingarten, MD, MPH, SVP and chief clinical transformation officer, Cedars-Sinai. Reimbursement models are rapidly changing, and as a result, health systems need to influence physicians to align with health system strategy. In this webinar, we will discuss how Stanson's Clinical Decision Support can run in the background of every patient visit to help physicians execute with MACRA, CJR, et al.
October 13 (Thursday) 2:00 ET. "Glycemic Control During Therapeutic Hypothermia." Sponsored by Monarch Medical Technologies. Presenter: Tracey Melhuish, RN, MSN, clinical practice specialist, Holy Cross Hospital (FL). Using therapeutic hypothermia (TH) as a method of care can present risks of hyperglycemia, hypoglycemia, and blood glucose variability. Maintaining safe glucose levels during the cooling and rewarming phases of TH reduces the risks of adverse events. Tracey Melhuish, author of "Linking Hypothermia and Hyperglycemia," will share best practices for optimal glucose control during TH and the success Holy Cross Hospital sees while using a computerized glucose management software.
Contact Lorre for webinar services. View previous webinars on our HIStalk webinars YouTube channel.
---
Acquisitions, Funding, Business, and Stock

Englewood, CO-based startup CarnotMD, which offers provider benchmarking data and dashboard tools, joins Innosphere's incubator program in Colorado. Founded by a group of physicians in 2013, the company is named after Nicolas Carnot, the "father of the second law of thermodynamics."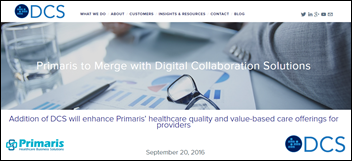 Healthcare consulting and services company Primaris merges with care coordination and patient engagement consulting firm Digital Collaboration Solutions. DCS Founder and CEO Michael Levinger will take on the role of Primaris COO. HIStalk Practice readers may know Columbia, MO-based Primaris for its work helping Aledade stand up an ACO in Missouri – the first independent physician-led ACO in the state.
---
Announcements and Implementations
NextGen reseller TSI Healthcare adds OTech Group's patient check-in kiosks to its line of technologies for rheumatologists.
---
People
Ellis Keitt (Radiology Associates) joins Zotec Partners as vice president.

Jennifer Nuckles (Zynga) joins Doctor on Demand as chief marketing officer.
---
Telemedicine
Managed care company Prime Health Services partners with technology firm Consumer Health Connections to roll out a telemedicine offering for the workers' compensation industry.
---
Research and Innovation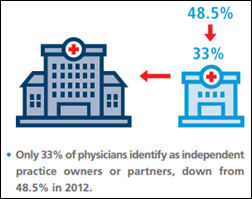 A Physicians Foundation survey finds that 54 percent of physicians surveyed rate their morale as somewhat or very negative, with 49 percent saying they are either often or always feeling burnt out. As a patient, that greatly concerns me, especially with additional, impending MACRA hurdles (of which only 20 percent are aware). If given the chance at a career do-over, nearly a third would go into a different field. Over 60 percent are "pessimistic" about the future of the profession. Not surprisingly their biggest source of dissatisfaction stems from regulatory and paperwork burdens, and loss of clinical autonomy.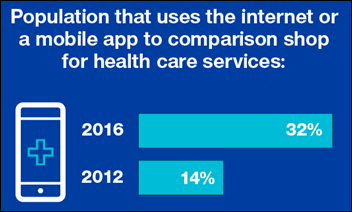 Shocking: Consumers prefer doing just about anything else (including filing taxes) to enrolling in a health plan during open enrollment, according to a UnitedHealthcare survey. To add insult to injury, most consumers don't fully understand what they're buying. Just 7 percent of those surveyed could define basic health insurance concepts like premiums, deductibles, co-insurance, and out-of-pocket maximums. With regard to technology, 37 percent of consumers are likely to use telemedicine. The payer launched telemedicine offerings through American Well and Doctor on Demand in late 2015.
---
Sponsor Updates
Aprima will exhibit at the American Academy of Pain Management annual meeting September 22-24 in San Antonio.
GE Healthcare will invest €150 million to establish a biopharmaceutical manufacturing campus and advanced manufacturing training center in Ireland.
Built in Austin profiles E-MDs CTO Alan Ortego.
Blog Posts
---
Contacts
Jenn,  Mr. H, Lorre, Dr. Jayne, Dr. Gregg
More news: HIStalk, HIStalk Connect.
Get HIStalk Practice updates.
Contact us online.
Become a sponsor.