Top News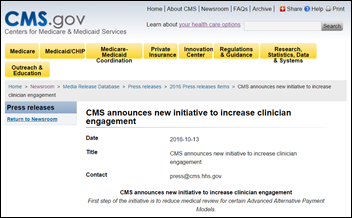 In an effort to improve physician satisfaction and reduce administrative burden, CMS will incorporate physician feedback into its ongoing review of regulations and policies related to the move to advanced payment models within MACRA. The initiative will be led by senior MDs within CMS, who will report to Deputy Administrator and Director Shantanu Agrawal, MD. Regional CMS offices will host local meetings within the first six months to ensure physicians working in the trenches have an opportunity to voice their concerns.
As part of the initiative, CMS will launch an 18-month pilot program that will reduce medical review/scrutiny for physicians practicing within certain APMs. "CMS is turning a new page in assessing not only how to reward for quality, but also to reduce administrative hurdles," says Agrawal. "I look forward to hearing about what steps we can take to make the practice of medicine in Medicare more efficient and rewarding."
The American College of Physicians has already weighed in with its support, adding that it hopes the pilot program will eventually be expanded to include the Comprehensive Primary Care Plus and patient-centered medical home programs.
On a side note, HHS Acting Administrator Andy Slavitt hints at the release date of a final MACRA rule in his tweet above.
---
HIStalk Practice Announcements and Requests
If you're a HIStalk Practice, HIStalk, or HIStalk Connect sponsor exhibiting at MGMA, complete this form and I'll include your company in our downloadable exhibitors guide. I won't be attending this year, and so would happily consider running reader reviews of the conference. Email me if you're interested in contributing.
---
Webinars


October 25 (Tuesday) 1:30 ET. "Data Privacy/Insider Threat Mitigation: What Hospitals Can Learn From Other Industries." Sponsored by HIStalk. Presenters: Robert Kuller, chief commercial officer, Haystack Informatics; Mitchell Parker, CISSP, executive director of information security and compliance, Indiana University Health. Cybersecurity insurers believe that hospitals are too focused on perimeter threats, ransomware, and the threat of OCR audits instead of insider threats, which are far more common but less likely to earn media attention. Attendees will learn how behavior analytics is being used to profile insiders and detect unusual behaviors proactively and to place privacy/insider risk within the risk management matrix.
November 8 (Tuesday) 1:00 ET. "A CMIO's Perspective on the Successful 25 Hospital Rollout of Electronic Physician Documentation." Sponsored by Crossings Healthcare. Presenter: Ori Lotan, MD, CMIO, Universal Health Services. UHS rolled out Cerner Millennium's electronic physician documentation to its 6,000 active medical staff members — 95 percent of them independent practitioners who also work in competitor facilities — across 25 acute care hospitals. UHS's clinical informatics team used Cerner's MPage development toolkit to improve the usability, efficiency, communications capability, and quality metric performance of Dynamic Documentation, embedding clinical decision support and also using Nuance's cloud-based speech recognition product for the narrative bookends of physician notes. This CMIO-led webinar will describe how UHS achieved 70 percent voluntary physician adoption within one month of go-live, saved $3 million in annual transcription expense, and raised EHR satisfaction to 75 percent. It will include a short demonstration of the software that UHS developed to optimize the physician experience.
November 9 (Wednesday) 1:00 ET. "How to Create Healthcare Apps That Get Used and Maybe Even Loved." Sponsored by MedData. Presenter: Jeff Harper, founder and CEO, Duet Health. Patients, clinicians, and hospital employees are also consumers who manage many aspects of their non-medical lives on their mobile devices. Don't crush their high technology expectations with poorly designed, seldom used apps that tarnish your carefully protected image. Your app represents your brand and carries high expectations on both sides. This webinar will describe how to build a mobile healthcare app that puts the user first, meets their needs (which are often different from their wants), creates "stickiness," and delivers the expected benefits to everyone involved.
Contact Lorre for webinar services. View previous webinars on our HIStalk webinars YouTube channel.
---
Announcements and Implementations
Raintree Systems adds electronic payment solutions from TransFirst to its EHR and PM technologies for specialties including physical, behavioral, and pediatric therapy.

Suncoast Community Health Centers selects SRG Technology's TopCare No-Show Roster to help it improve patient no-show rates at its FQHCs in Hillsborough County, FL.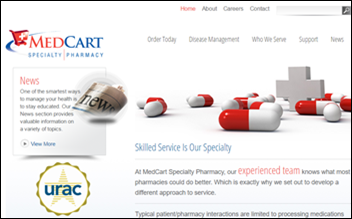 MedCart Specialty Pharmacy utilizes CareSpeak Communications technology to launch an SMS-based messaging program it hopes will help improve the medication adherence of its patients with chronic conditions. The new program will enable patients to message MedCart pharmacists, request refills, and receive reminders.
M3 adds content from clinical trial recruitment tech company EPatientFinder to its ecosystem of digital healthcare information services and websites for physicians.
Allscripts adds the voice-controlled MDLog patient data documentation app from MDOps to its developer program.
---
Acquisitions, Funding, Business, and Stock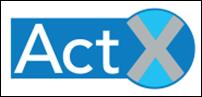 Genomic decision-support company ActX joins Athenahealth's More Disruption Please program and marketplace. Launched in 2012 by Andrew Ury, MD – founder of the first commercial EHR company way back in 1983, the company has developed technology that automatically checks prescriptions and alerts physicians of potentially adverse drug reactions, efficacy, or dosing issues based on a patient's genetic makeup.
Primary care company Iora Health raises $75 million in a Series D round of financing led by Temasek, a new investor based in Singapore. Iora will use the cash infusion to increase its presence beyond the 11 states it currently operates in. Founder and CEO Rushika Fernandopulle, MD has alluded to the need for Iora's services "globally," and so I wonder if Singapore may end up being part of its expansion plans
For now, Humana adds five Iora Health primary care practices to its Medicare Advantage Plan networks in Arizona, Colorado, and Washington. This marks the third consecutive year the two companies have collaborated. The payer hopes to have 75 percent of its MAP members seeing providers that have made the switch to value-based payment models by the end of next year; it has reached 61 percent thus far.
---
Contacts
Jenn,  Mr. H, Lorre, Dr. Jayne, Dr. Gregg
More news: HIStalk, HIStalk Connect.
Get HIStalk Practice updates.
Contact us online.
Become a sponsor.