Top News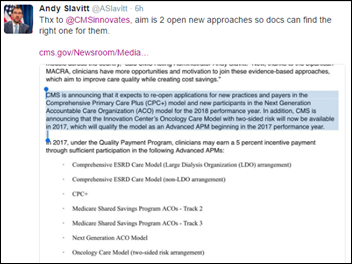 The MACRA flexibility train just keeps on chugging: CMS announces additional opportunities for physicians to participate in Advanced Alternative Payment Models, including:
Reopening the application process for the Comprehensive Primary Care Plus program.
Adding participants to the Next Generation ACO model.
Making participation in the Oncology Care Model's two-sided risk program available in 2017 so that it qualifies as an Advanced APM beginning in the 2017 performance year.
---
HIStalk Practice Announcements and Requests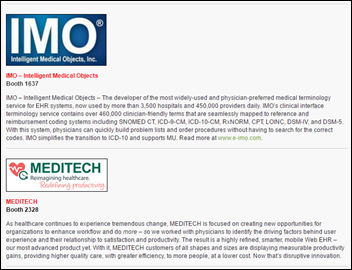 HIStalk's Must-See Exhibitors Guide for MGMA 2016 is live. Click here to look over the products and innovations our sponsors plan to showcase, and map out your trip to the exhibit hall accordingly.
---
Webinars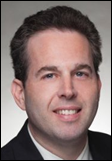 November 8 (Tuesday) 1:00 ET. "A CMIO's Perspective on the Successful 25 Hospital Rollout of Electronic Physician Documentation." Sponsored by Crossings Healthcare. Presenter: Ori Lotan, MD, CMIO, Universal Health Services. UHS rolled out Cerner Millennium's electronic physician documentation to its 6,000 active medical staff members — 95 percent of them independent practitioners who also work in competitor facilities — across 25 acute care hospitals. UHS's clinical informatics team used Cerner's MPage development toolkit to improve the usability, efficiency, communications capability, and quality metric performance of Dynamic Documentation, embedding clinical decision support and also using Nuance's cloud-based speech recognition product for the narrative bookends of physician notes. This CMIO-led webinar will describe how UHS achieved 70 percent voluntary physician adoption within one month of go-live, saved $3 million in annual transcription expense, and raised EHR satisfaction to 75 percent. It will include a short demonstration of the software that UHS developed to optimize the physician experience.
November 9 (Wednesday) 1:00 ET. "How to Create Healthcare Apps That Get Used and Maybe Even Loved." Sponsored by MedData. Presenter: Jeff Harper, founder and CEO, Duet Health. Patients, clinicians, and hospital employees are also consumers who manage many aspects of their non-medical lives on their mobile devices. Don't crush their high technology expectations with poorly designed, seldom used apps that tarnish your carefully protected image. Your app represents your brand and carries high expectations on both sides. This webinar will describe how to build a mobile healthcare app that puts the user first, meets their needs (which are often different from their wants), creates "stickiness," and delivers the expected benefits to everyone involved.
Contact Lorre for webinar services. View previous webinars on our HIStalk webinars YouTube channel.
---
Announcements and Implementations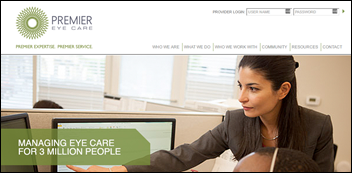 Managed care company Premier Eye Care (FL) implements data storage and management solutions from NetApp, reducing its backup-and-recovery time from up to nine hours to seven minutes.
Allscripts recertifies Universal Research Solutions, enabling it to incorporate its OBERD patient outcomes data collection systems with new versions of TouchWorks.
---
Telemedicine

MyTelemedicine launches a Partner Portal to help resellers manage their customer base. Features include real-time activation, utilization stats, prospect management, and commission tracking.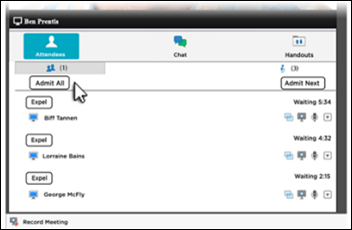 Brother International's OmniJoin Web conferencing division develops new waiting room features for telemedicine applications that include one-click attendee admission or expulsion capabilities and wait-time tracking.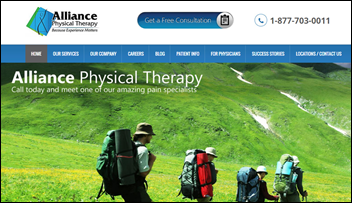 Alliance Physical Therapy pilots Docity's telemedicine software at its nine locations in and around Chattanooga, TN.
ViiMed partners with EHR integration startup Redox to add its telemedicine technology to software from the major EHR companies. Headquartered in Washington, DC, ViiMed launched in 2007 as a sports training company that developed collaborative training technology using interactive video and tailored workout programs.
---
Government and Politics

Perhaps taking note of my penchant for baking in lieu of reading the final MACRA rule in its entirety, AAFP kindly releases its own easy-to-digest, five-page executive summary.
Seventeen companies including Uber, Lyft, Matter, and Rock Health commit to helping HHS attract freelancers and entrepreneurs to Healthcare.gov once open enrollment gets going on November 1.
---
Research and Innovation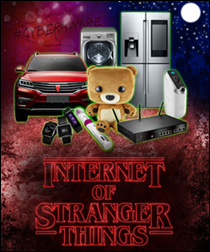 Hot on the heels of Friday's IoT-enabled DDoS attack on Dyn, the National Cyber Security Alliance and Internet security company ESET release survey results that show – surprise, surprise – most consumers are worried about hackers taking over their smart devices. Eighty-five percent of respondents know full well that hackers can remotely watch them via breached webcams, and 50 percent are reconsidering purchasing an IoT device due to cybersecurity concerns. Perhaps its time to rethink the notion that we really need smart fridges, thermostats, toasters, and toothbrushes.
---
Other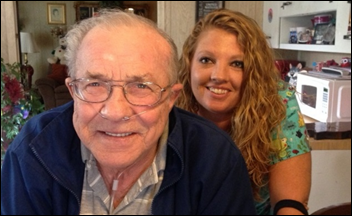 NPR's Marketplace takes a look at the progress the Aledade West Virginia ACO is making in helping reducing patient ER visits and overall costs. While I'm sure healthcare IT plays a role in helping patients like COPD patient Millard Scott, it seems his health has been improved through good old-fashioned human interaction via community health workers. "If I know [Samantha Runyon's] coming, I can sit here and make it through it," 76 year-old Scott says of his bad days. "But if there wasn't somebody I could depend on, I wouldn't have even sat here. I would go to the ER. But I know she's coming."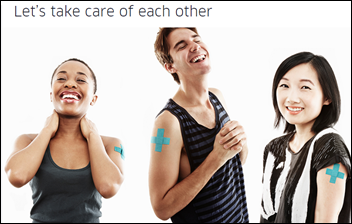 Uber and Passport Health partner to deliver free flu shots and "flu-fighting" care packages today to customers in 17 cities including Chicago, Philadelphia, and Washington, DC.
---
Contacts
Jenn,  Mr. H, Lorre, Dr. Jayne, Dr. Gregg
More news: HIStalk, HIStalk Connect.
Get HIStalk Practice updates.
Contact us online.
Become a sponsor.