Top News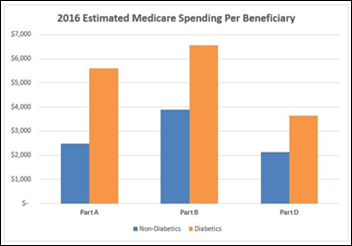 CMS announces several nearly-finalized policies aimed at improving the way it pays for primary care, care coordination, and mental healthcare. New coding and payment changes will enable PCPs to bill more for more time spent with patients and on better coordinating care. Similar bumps in pay will be made to physicians who bill under the new Psychiatric Collaborative Care Model, which brings together psychiatric consultants, behavioral healthcare managers, and PCPs in a team-based approach that extends beyond the four walls of an office. CMS will also launch an expanded Medicare Diabetes Prevention Program in 2018, aimed at offering preventative services to all beneficiaries in an effort to reduce costs associated with the onset of the disease.
---
Webinars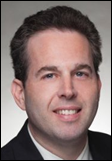 November 8 (Tuesday) 1:00 ET. "A CMIO's Perspective on the Successful 25 Hospital Rollout of Electronic Physician Documentation." Sponsored by Crossings Healthcare. Presenter: Ori Lotan, MD, CMIO, Universal Health Services. UHS rolled out Cerner Millennium's electronic physician documentation to its 6,000 active medical staff members — 95 percent of them independent practitioners who also work in competitor facilities — across 25 acute care hospitals. UHS's clinical informatics team used Cerner's MPage development toolkit to improve the usability, efficiency, communications capability, and quality metric performance of Dynamic Documentation, embedding clinical decision support and also using Nuance's cloud-based speech recognition product for the narrative bookends of physician notes. This CMIO-led webinar will describe how UHS achieved 70 percent voluntary physician adoption within one month of go-live, saved $3 million in annual transcription expense, and raised EHR satisfaction to 75 percent. It will include a short demonstration of the software that UHS developed to optimize the physician experience.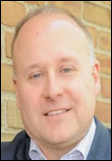 November 9 (Wednesday) 1:00 ET. "How to Create Healthcare Apps That Get Used and Maybe Even Loved." Sponsored by MedData. Presenter: Jeff Harper, founder and CEO, Duet Health. Patients, clinicians, and hospital employees are also consumers who manage many aspects of their non-medical lives on their mobile devices. Don't crush their high technology expectations with poorly designed, seldom used apps that tarnish your carefully protected image. Your app represents your brand and carries high expectations on both sides. This webinar will describe how to build a mobile healthcare app that puts the user first, meets their needs (which are often different from their wants), creates "stickiness," and delivers the expected benefits to everyone involved.
Contact Lorre for webinar services. View previous webinars on our HIStalk webinars YouTube channel.
---
Acquisitions, Funding, Business, and Stock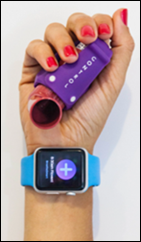 New York City-based Cohero Health closes a $9 million Series A round of financing led by Three Leaf Ventures. The company, which has developed smart device technology that tracks and improves respiratory treatment and medication adherence, will use the financing to continue business development efforts and further development of its BreatheSmart tools.
---
Announcements and Implementations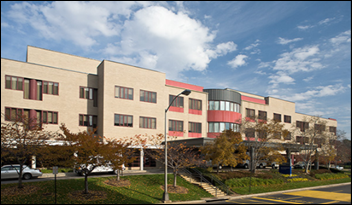 MedStar National Rehabilitation Network implements WebPT's EHR across its network of 50 outpatient facilities in Washington, DC, Baltimore, Southern Maryland, Delaware, and Northern Virginia.
Toronto-based companies MedChart, Self Care Catalysts, and YouBase partner to develop a presumably consumer-friendly way for patients to access and control their health data via blockchain technology. The end solution will take advantage of MedChart's portal technology, Self Care's patient engagement platform that also powers physician-facing behavior analytics software, and YouBase's blockchain tools for health data. The partnership will launch with a pilot project focused on Canadian epileptic patients.
Breg partners with Redox to develop an EHR-friendly interface for its orthopedic PM system.
---
People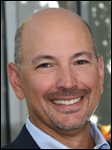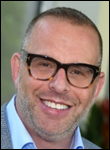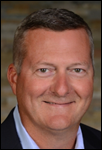 Continuum Health Alliance brings on Peter Bailey (LabVantage Solutions) as president and COO, Mark Glickman (ZirMed) as chief commercial officer, and Tim Weldon (Wellcentive) as GM and SVP of value.
---
Telemedicine

MyCare MedTech rolls out telemedicine services in Canada. I don't have any hard and fast figures, but it seems like our neighbor to the north has been embracing telemedicine at the same clip (and with some of the same licensing barriers) we have here in the states. Calgary-based digital consult company SnapDx summarized its foray into the space last year: "We charged $40 per patient visit and followed the standard split of 70 percent to pay for the doctor's time and the rest for the company. So each visit brought $12 net. To do this profitably, we'd have to run like a traditional family doctor's clinic – line up patients back to back with minimal downtime and run through each visit as fast as possible. Considering the marketing costs, limitations of what can be done medically without a physical exam, and time overhead involved in arranging a synchronous video call between patient and doctor, it was just not worth it."

HealthTap opens up its technology platform to help developers build out apps based on the company's virtual consult software. Blockchain S.A. has expressed interest in accessing the development tools to build out infrastructure for securely managing multi-party access to medical records on a private blockchain network.
---
Government and Politics
CMS publishes changes to the EHR Incentive Program that will allow returning EPs, hospitals, and CAHs to use any continuous 90-day reporting period between January 1 and December 31 for both 2016 and 2017. It is finalizing the process for a one-time EHR hardship exception for the Medicare EHR Incentive Program for certain EPs who participate in the EHR incentive program in 2017 who will transition to MIPS that same year.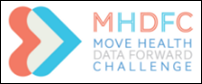 HHS announces 10 phase-one winners of its Move Health Data Forward Challenge, which aims to uncover APIs that will enable consumers to share PHI safely and securely with everyone in their care circle. The winners will each receive $5,000 and move on to the second round, where up to five finalists will win $20,000 each for prototypes and test performance of their ideas. While all of the initial winning ideas will no doubt incorporate PCPs, Lush Group's HealthyMePHR system is the only solution that specifically mentions giving patients the ability to import their health data from their physician's EHR.
---
Other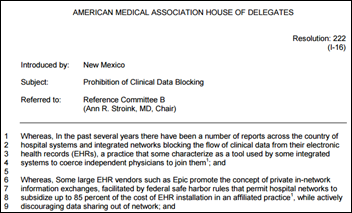 Among the proposed policies to be discussed at the AMA's Interim Meeting in Orlando November 12-15 is integrating mobile health apps and devices into everyday practice. A draft resolution that calls out Epic and EClinicalWorks as "data blockers" would ask federal and state governments to prohibit withholding patient information from non-affiliated physicians and asks AMA to support legislation that would limit EHR vendor interfacing fees. Another proposed item seeks federal legislation that would eliminate medical practice costs involved with converting patient data from a replaced EHR to a new one.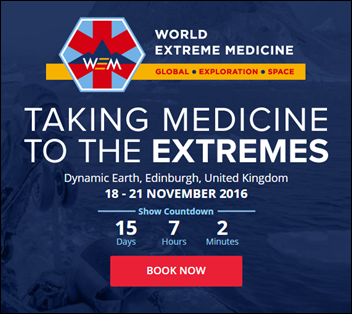 The "extreme" medicine community will convene in Scotland later this month for the World Extreme Medicine Conference and Expo, a four-day event that will highlight disaster and humanitarian medicine; extreme, expedition, and space medicine; human endurance and sports medicine, and pre-hospital medicine. I've love to hear scheduled speaker Michael Barratt, MD recount his 199 days as the CMO of the International Space Station. (Just what are the health repercussions of a direct hit by a solar storm?)
---
Sponsor Updates
Blog Posts
---
Contacts
Jenn,  Mr. H, Lorre, Dr. Jayne, Dr. Gregg
More news: HIStalk, HIStalk Connect.
Get HIStalk Practice updates.
Contact us online.
Become a sponsor.