Top News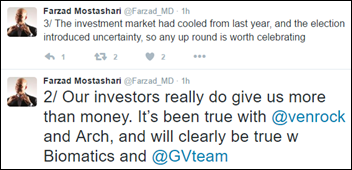 Aledade raises $20 million in an investment round led by Biomatics Capital, bringing its total raised to $55 million since launching in 2014. Founder and CEO Farzad Mostashari, MD provides plenty of commentary on the Series B round in a string of tweets from the JP Morgan Healthcare Conference going on this week in San Francisco. Ever the cheerleader for independent physicians and the role healthcare technology can play in helping them move the needle on value-based care, he seems certain the funding will help the company continue to grow its line of Medicare ACOs, adding that "creating a bridge from ACOs to Medicare Advantage is an obvious extension, that we may pull forward with this funding." Biomatics Capital cofounder Julie Sunderland will join Aledade's Board of Directors.
---
Webinars
January 18 (Wednesday) 1:00 ET. "Modernizing Quality Improvement Through Clinical Process Measurement." Sponsored by LogicStream Health. Presenters: Peter Chang, MD, CMIO, Tampa General Hospital; Brita Hansen, MD, CHIO, Hennepin County Medical Center. The presenters will describe how they implemented successful quality governance programs, engaged with their health system stakeholders, and delivered actionable information to clinical leadership and front-line clinicians. Q&A will follow.


January 26 (Thursday) 1:00 ET. "Jump Start Your Care Coordination Program: 6 Strategies for Delivering Efficient, Effective Care." Sponsored by Healthwise. Presenters: Jim Rogers, RN, RPSGT, director of healthcare solutions, Persistent Systems; Jason Burum, chief client officer, Healthwise. This webinar will explain how to implement a patient-centered care coordination program that will increase quality as well as margins. It will provide real-world examples of how organizations used care coordination to decrease readmission rates, ED visits, and costs.
---
Announcements and Implementations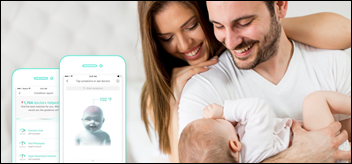 HealthTap introduces the artificial intelligence-powered Dr. AI in an effort to triage the healthcare concerns of its users. The next-generation chat bot offers up contextual advice, including virtual visit or physician referral, based on information already found in a user's personal HealthTap record. The company assures users that Dr. AI is "trained in the art of digital empathy to converse with people using a patient, polite and compassionate bedside manner."
---
Acquisitions, Funding, Business, and Stock

IBM touts the fact that in 2016 it received the most patents ever issued to one company in a single year. All of the 8,088 patents (an average of 22 granted per day) reflected the company's high-growth areas, which include artificial intelligence, cognitive computing, cognitive health, cloud, and cybersecurity. The news coincides with the company's decision to add Watson capabilities to Illumina's tumor-sequencing technology in an effort to up the ante on genomic data interpretation and subsequent research. Watson for Genomics consumes data from 10,000 scientific articles and 100 new clinical trials each month, and, in combination with Illumina technology, can reduce the amount of time it takes scientists to compile genetic reports from one week to several minutes.
---
Government and Politics
Massachusetts joins California, Indiana, and Washington in going public with the information it has been collecting about data breaches since 2007. State The data, which includes the type of breach and personal identifying information such as Social Security and credit card numbers, is being released in the interest of transparency and to help consumers "track trends and identify [u]nsecure interactions." The data set may also be a good starting point for patients looking to avoid providers who have been the victim of a breach.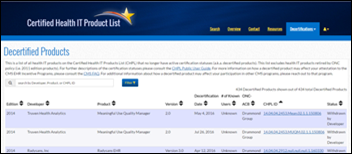 ONC updates its Certified Health IT Product List dashboard with pages devoted to decertified products for both 2014 and 2015 editions, and developers who are no longer allowed to apply for certification.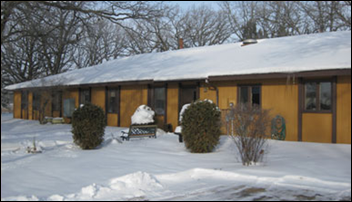 The State of Minnesota prepares to truly put the concept of coordinated care into practice with the launch of Certified Community Behavioral Health Clinics. The six clinics are part of a national pilot program that seeks to bring primary and behavioral healthcare together, particularly for those suffering from mental illness and/or substance abuse. The eight states selected to participate have until July 1 to begin their two-year demonstration programs.

On the eve of President Obama's farewell speech, Acting CMS Administrator Andy Slavitt shares his own parting reflections. His remarks, given at the JP Morgan Healthcare Conference, not only focus on the center's successes, but on the current nationwide tension building around repeal and replace. A few highlights:
"The good news is we have don't have to take a step backward," Slavitt writes. "The American public expects us to take what is working and build on it. The immensely popular features of the ACA like free preventive care and ending the pre-existing condition limitations should be left alone and the focus should be on a limited number of improvements that spur competition and increase affordability.

I've had many conversations with physicians over the last year since I made a statement here at JPM that we had lost the hearts and minds of physicians. Many of them say they want to experience the joy of medicine again—to be able to make a living from listening to their patients, coordinating their care, improving their health, and get paid for what works.

Whether you call these ACOs or Medical Homes or Bundled payments frankly doesn't matter. What matters is that we can develop these innovative practices locally, test them, and spread them.

Converting to a relationship-based system takes work and investment from all parties. We've started the process with the broad participation of physicians and patients. Using the CMS Innovation Center, which is part of the ACA, as well as through MACRA, the HITECH Act, and 21stCentury Cures, we are making the investments that unlock research, data, innovation and reduce the burdens and distractions that don't support care. They demonstrate that we can work in a bipartisan fashion on important issues in health care."
---
Other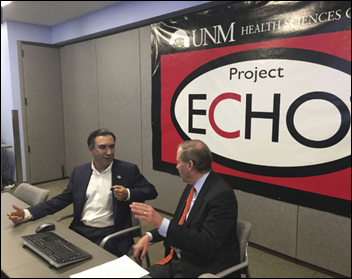 The local news highlights the impact the New Jersey Project ECHO (Extension for Community Healthcare Outcomes) Academic Medical Center Hub is having on patient care in the Garden State. The Hub's participating physicians disseminate specialty expertise to PCPs in rural areas via remote education clinics, helping those rural providers avoid referring patients to distant specialists. The program, made possible by a $1.9 million grant from the Nicholson Foundation , offers clinics for the treatment of hepatitis C; autism, ADHD, and pediatric mental health; and advanced endocrinology. "If they go see a specialist, there are often higher co-pays and costs in addition to having to make extra trips," explains participating Hub physician Vinod Rustgi, MD. "This program saves them money, time and travel distance. Now, if they are in Atlantic City, they don't have to travel all the way to me, but they still get quality specialty care through their primary doctor."
---
Contacts
More news: HIStalk, HIStalk Connect.
Get HIStalk Practice updates.
Contact us online.
Become a sponsor.