Top News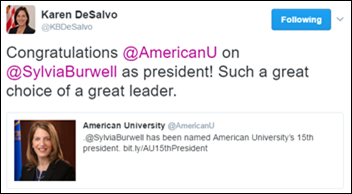 Former HHS Secretary Sylvia Burwell will take over as CEO of American University in Washington, DC on June 1. She will become the first woman in the school's history to hold the position. It seems to be her first foray into the professional world of academia. Aside from her government gigs (including stints during the Clinton administration), Burwell has also lent her expertise to the Walmart Foundation and the Bill & Melinda Gates Foundation. For context, her predecessor at HHS, Kathleen Sebelius, went on to form her own consulting and leadership development firm.
---
Webinars
February 1 (Wednesday) 1:00 ET. "Get your data ready for MACRA: Leveraging technology to achieve PHM goals." Sponsored by Medicity. Presenters: Brian Ahier, director of standards and government affairs, Medicity; Eric Crawford, project manager, Medicity; Adam Bell, RN, senior clinical consultant, Medicity. Earning performance incentives under MACRA/MIPS requires a rich, complete data asset. Use the 2017 transition year to identify technology tools that can address gaps in care, transform data into actionable information, and support population health goals and prepare your organization for 2018 reporting requirements.
---
Acquisitions, Funding, Business, and Stock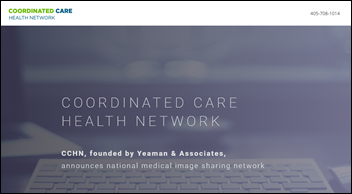 Less than two weeks after dissolving its Coordinated Care Oklahoma HIE, Yeaman and Associates taps its relationship with Nuance to create the Coordinated Care Health Network – a subscription-based, radiology image-sharing service for HIEs that relies on the Nuance PowerShare Network. Yeaman and Associates CEO Brian Yeaman, MD has hinted that an accompanying patient-matching service is also in the works.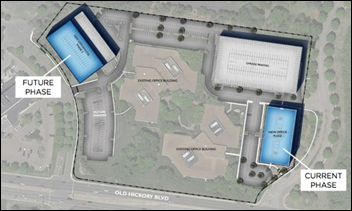 Atlanta-based healthcare software and app development company Pointclear Solutions will relocate and expand its Nashville office this spring. The company, which currently employs 20 Music City staffers, plans to hire an additional 30 over the next two years. The new office space will become Pointclear's primary development hub.
---
Announcements and Implementations

Universal Research Solutions develops a MIPS-specific qualified clinical data registry and real-time performance scores dashboard to help reduce the administrative reporting burdens already associated with the new program.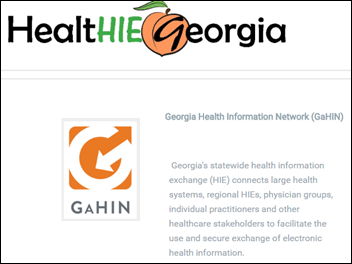 HealtHIE Georgia, an HIE serving rural providers in southern part of the state, connects to the statewide Georgia Health Information Network. Phase one of the project has already connected two hospitals and 20 clinics to GaHIN. A second phase will add six hospitals and a yet-to-be-determined number of clinics.
The McKesson Specialty Health-supported US Oncology Network adds 50 Vantage Oncology practices and their 350 affiliated physicians as part of an acquisition announced nearly a year ago. McKesson acquired the oncology-focused practice management company plus Biologics, an oncology pharmacy services company for a combined $1.2 billion.
---
People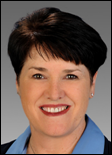 Christie Lawrence (KPN Health) joins consulting firm ARDX as VP of commercial services.
---
Research and Innovation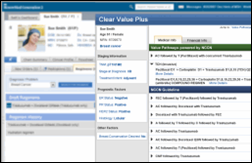 McKesson's IKnowMed EHR for oncologists comes out on top in a six-month Black Book survey of 733 physician practices. The software came McKesson's way through its acquisition of US Oncology (now US Oncology Network) for $2.16 billion in 2010.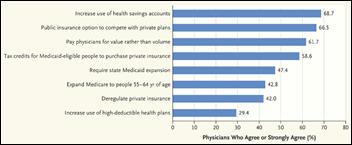 A New England Journal of Medicine survey of 426 PCPs finds just 15 percent are in favor of totally repealing the ACA. Of those that voted for President Trump, only 38 percent would like to see the ACA repealed in its entirety. An overwhelming majority are in favor of keeping the provisions related to pre-existing conditions, allowing young adults to remain on parental policies, and tax subsidies to consumers. Nearly half are in favor of penalizing those that don't sign up for insurance. Nearly 74 percent are in favor of making changes to the law, though there doesn't seem to be a general consensus on what those changes should be. Many of those surveyed responded most favorably to proposals that would increase consumer choice of health plans and greater use of health savings accounts.
---
Contacts
More news: HIStalk, HIStalk Connect.
Get HIStalk Practice updates.
Contact us online.
Become a sponsor.