Top News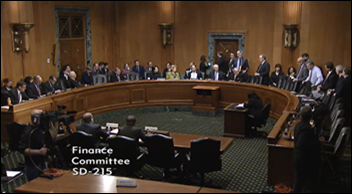 The Senate Finance Committee makes little headway in this morning's confirmation proceedings for CMS Administrator nominee Seema Verma. With an equal number of ayes and noes, presumably along party lines, plus a number of absent committee members, chairman Orrin Hatch (R-UT) called for a recess with the intent to reconvene for a final vote later today. Verma's nomination is expected to advance despite concerns about the conflicting hats she wore as both a government and vendor contractor while helping to expand Indiana's Medicaid program.
---
HIStalk Practice Announcements and Requests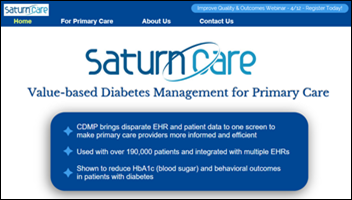 Welcome to new HIStalk Practice Gold Sponsor Saturn Care. The Conshohocken, PA-based company's technology-enabled chronic disease management program helps primary care practices participate in programs like CPC+ and MACRA. CDMP features include a single-screen snapshot of EHR and patient-generated data, risk scoring, and decision-support and mobile patient engagement tools – all designed to fit within existing workflows. Co-founder and CEO Phil Heifetz also helped to found the Philadelphia Health IT Circle networking group, and served as president and CEO of medical imaging company EyeIC. Thanks to Saturn Care for supporting HIStalk Practice.
---
Webinars
March 9 (Thursday) 1:00 ET. "PAMA: The 2017 MPFS Final Rule." Sponsored by National Decision Support Company. Presenter: Erin Lane, senior analyst, The Advisory Board Company. The Protecting Access to Medicare Act of 2014 instructed CMS to require physicians to consult with a qualified clinical decision support (CDS) mechanism that relies on established appropriate use criteria (AUC) when ordering certain imaging exams. Providers must report AUC interactions beginning January 1, 2018 to receive payment for Medicare Advanced Imaging studies, with the CDS recording a unique number. Outliers will be measured against a set of Priority Clinical Areas and interaction with the AUC. This webinar will review the requirements for Medicare Advanced Imaging compliance and will review how to ensure that CDS tools submit the information needed for reimbursement. 
Previous webinars are on our YouTube channel. Contact Lorre for information on webinar services. 
---
Announcements and Implementations

Athenahealth will partner with specialty medical societies on campaigns to help keep physicians abreast of new clinical guidelines, and to help them identify patients likely to be impacted by them. Initial messaging will focus on preventing medication safety risk during pregnancy, managing opioids and chronic conditions, and cholesterol treatment for cardiovascular patients.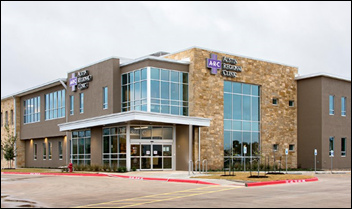 Austin Regional Clinic (TX) adds evidence-based clinical guideline support from Wolters Kluwer to its Epic EHR. The multispecialty medical group cares for nearly half a million area residents at 21 locations in seven cities.
Meridian Medical Management adds Quippe Clinical Lens – a new point-of-care decision-support tool from Medicomp Systems – to its EHR.
---
Acquisitions, Funding, Business, and Stock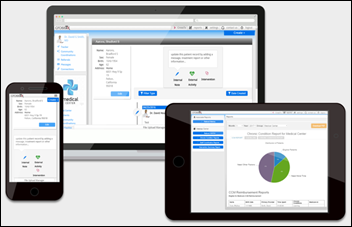 Bozeman, MT-based CrossTx brings its total funding to $1 million thanks to a $735,000 angel round led by Frontier Angel Fund 2. The company, which is working to develop cloud-based care coordination technology for PCPs and payers, will focus the investment on sales, development, and customer retention efforts. The city of Bozeman has developed quite a reputation for itself in tech circles, adopting the moniker of "Silicon Peaks" to reflect the startup culture it seems to be engendering. I can only assume that its cost of living is slightly more affordable than Silicon Valley, whose skyrocketing housing prices have forced its software engineers to seek housing further afield.

France-based medical device company Visiomed opens an office in Boston that will serve as the North American headquarters of its BeWellConnect subsidiary, which develops connected health devices for remote patient monitoring.
---
People

Sajid Ahmed (Martin Luther King, Jr. Community Hospital) joins the Safety Net Connect advisory board.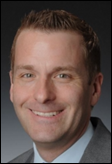 Outer Cape Health Services (MA) promotes Andrew Jorgensen, MD to CMO, effective May 1.
---
Government and Politics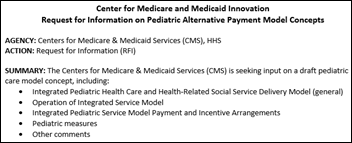 The CMS Innovation Center asks for input on a draft pediatric care model concept, including what a pediatric ACO would like and ways to more effectively use health IT to better integrate Medicaid providers and other social services like CHIP. Comments are due March 28.
---
Telemedicine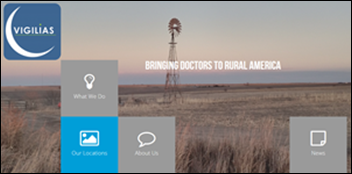 Vigilias Telehealth rolls out Azalea Health's EHR, PM, and RCM technologies to its 40 physicians caring for patients in the central and southwest US.
---
Research and Innovation

A CDW retrospective study looks at the evolution of patient engagement programs and technology. Findings include:
Nearly 75 percent of patients have registered for a patient portal versus 45 percent in 2016.
Eighty percent of providers are working to make PHRs easier to access, versus 67 percent. A similar percentage of patients would like easier access to their health records.
Sixty-four percent of patients would, if possible, submit real-time health data to their providers. (No mention is made of whether providers would accept or act on the data.)
Surprisingly, just 30 percent of patients believe telemedicine would help them to better engage in their care. Perhaps that's because their providers either don't understand it, can't afford it, or haven't yet looked into it. Only 9 percent of providers are "very comfortable" with the idea of virtual consults.
---
Sponsor Updates
AdvancedMD will introduce a new dermatology practice model, Practice 2.0, at the ADAM/AAD meetings in Orlando this week and next.
CommonWell TV interviews Aprima COO Neil Simon at HIMSS17.
EClinicalWorks successfully deploys CommonWell services.
Blog Posts
---
Contacts
More news: HIStalk, HIStalk Connect.
Get HIStalk Practice updates.
Contact us online.
Become a sponsor.