Top News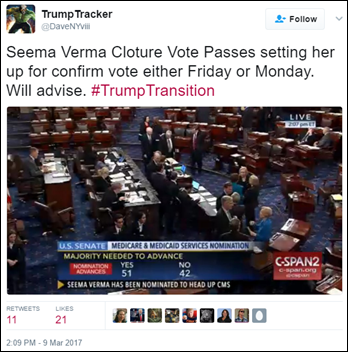 Senate Republicans break through the Democratic attempt to stall final voting on Seema Verma's nomination to head up CMS by passing a cloture vote – a move HIStalk Practice readers may recall from the will-they-or-won't-they voting process for HHS Secretary Tom Price, MD. It looks like the final confirmation vote will happen within the next several days. As with Price, Verma's eventual confirmation is expected along party lines.
---
Webinars
None scheduled in the coming weeks. Contact Lorre for information on webinar services.
---
Acquisitions, Funding, Business, and Stock


Global skincare company LEO Pharma's Innovation Lab invests $5.5 million in five startups, two of which are based in the US. San Francisco-based Pacific has developed an app to help consumers manage stress, anxiety, and depression; and a corresponding dashboard tool for providers. Remedly, also based in San Francisco, has developed an EHR and PM system for dermatologists. 
---
Announcements and Implementations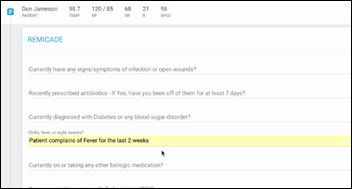 Austin-based startup WeInfuse develops cloud-based infusion center management software that includes patient scheduling, insurance pre-authorization, and medication inventory and delivery capabilities.
Casamba adds MedBridge's patient engagement technology, including home therapy programs, to its TherapySource EHR and PM solution for post-acute therapy providers.
---
People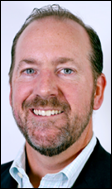 CareCloud brings on Greg Shorten (Validic) as chief revenue officer.

Meghan Hendricks (SSM Health) joins prescription drug pricing software company Doc and I as CIO.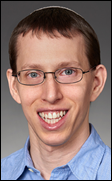 Mordechai Raskas, MD (Children's National Medical Center) joins specialized pediatric urgent care provider PM Pediatrics as director of telemedicine and clinical informatics.
---
Telemedicine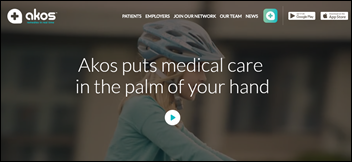 Akos launches its virtual consult business for consumers and employers in Arizona, with plans to expand to 10 more locations within the next few months. The company, formed last year by InstaMed Health Center Chairman Kishlay Anand, MD and neurologist Swaraj Singh, MD has raised $1 million in seed funding thus far. Its preferred brick-and-mortar provider network for patients that need in-person care seems to be the only thing setting it apart from the many other telemedicine companies popping up with increasing frequency.
Greenway Health software reseller and consulting company MDS Medical will add Otto Health's telemedicine platform to its service line.
---
Government and Politics

Athenahealth CEO Jonathan Bush makes the media rounds this week to weigh in on the release of the GOP's American Health Care Act, which he admits offers a "glimmer of hope" when it comes to prompting consumers to shop around for their care. He believes three things need to happen to make healthcare "shoppable:"
1. Arm patients and providers with cost/quality information to make better decisions, and reward them financially for doing so.

2. Connect our various care settings so when people do go in and out of certain settings, their health information will follow them.

3. Put all of health care on a national network. The industry can build all the software it wants, but without the connected tissue of a network innovation and knowledge-sharing can only happen in silos. One of many missed opportunities in healthcare that could be resolved with a national network is around scheduling; today only 16% of providers have at least some of their appointments available for web scheduling. A two-sided national network would allow patients to book appointments more conveniently, as well as for providers to fill appointments more conveniently. On the clinical side, with a national network doctors could share and access like-clinical scenarios and outcomes in real-time vs. once a year at an annual conference.
---
Contacts
More news: HIStalk, HIStalk Connect.
Get HIStalk Practice updates.
Contact us online.
Become a sponsor.