Jon Challen is director of IT at Atlanta Gastroenterology Associates. Seven hundred staff members care for 1,300 patients on a daily basis across the practice's 40 locations in the metro Atlanta area and North Georgia. The practice, which uses Greenway's EHR and MyHealthRecord.com's patient portal, has attested for Meaningful Use for each of its physicians for the last four years and plans on participating in MIPS. "We feel we are well-positioned to submit 90 days of data," Challen says, adding that automating data flow for such initiatives has been an ongoing initiative. AGA signed on to GaHIN – Georgia's statewide HIE – earlier this year in an effort to connect the organization to a wider network of providers.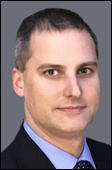 What was the impetus for connecting to GaHIN? What value/benefits do you hope to realize from plugging into the HIE?
Our physicians have long desired better integration of data with hospital systems. However, given the large number of hospitals we work with, setting up individual interfaces with each hospital was unwieldy. GaHIN provided an opportunity to share data with multiple hospitals and other healthcare providers with a single connection. We hope that our participation in GaHIN will simplify data sharing between providers, reduce unnecessary duplication of testing, and allow us to provide better and more cost-effective patient care.
Did you encounter any IT hiccups along the way? How did you overcome them?
Any kind of interfacing or data sharing comes with its share of challenges, but our integration with GaHIN was one of the smoothest I have experienced in my career. The team at GaHIN and Truven are complete professionals and have a great deal of expertise. Additionally, vendor support from Greenway was top-notch. The team at Greenway had recently completed a similar integration with Truven in another region of the country. This integration provided a template for both parties to follow, which greatly simplified the process of AGA integrating with GaHIN.
You added pediatric care several years ago. Did you have to alter your IT systems in any way to accommodate the needs of your younger patients? If so, did your EHR vendor assist, or did you go out to the market to look for new tools? What did you end up implementing?
Fortunately, Greenway has a great deal of experience in pediatrics, so beginning to care for infants, children, and adolescents went very smoothly, and no additional software was needed. Internally, we have deployed a number of pediatric-specific documentation templates for our pediatric physicians to use. Greenway was an ideal partner for this new venture.
As a large practice, what would you say your biggest challenges are right now – health IT or otherwise?
The consolidation in healthcare over the past few years has created a lot of IT challenges. The growth we've experienced here at AGA, both organically and through acquisition, has been astounding. Keeping up with that growth is always a challenge, and we have strived to bring new providers and practices into the AGA fold as quickly and seamlessly as possible. I feel we've been very successful at this, but each new provider and acquisition brings with it different challenges relating to IT systems, especially regarding data integration.
Aside from connecting to GaHIN, what health IT projects are underway?
We are constantly looking for ways to improve process efficiency and provide better patient care through the use of technology. We just launched a Direct Access Colonoscopy program, which includes a patient-facing informational website and questionnaire to determine if a screening colonoscopy is appropriate for the patient. It allows the patient to schedule a very important screening test for colon cancer, all from the convenience of any Internet-enabled device. It's available at www.screen4coloncancer.com. We're also currently testing a comprehensive, patient-focused self-scheduling portal that will allow patients to schedule an office visit with any of our physicians without requiring a phone call.
What advances in healthcare technology are you excited about right now? What's on your HIT shopping/wish list?
The current trend of wearables in technology has amazing promise for healthcare. Patients are now wearing devices that monitor vital signs and other data constantly. Tying this data into existing healthcare systems and having the capability to analyze the data for physicians in a meaningful way is very exciting. It is an opportunity to improve patient care in very big ways!
---
Contacts
More news: HIStalk, HIStalk Connect.
Get HIStalk Practice updates.
Contact us online.
Become a sponsor.