Top News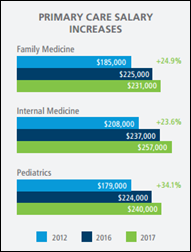 Recruiting firm Merritt Hawkins publishes its annual Physicians Incentive Review, a comprehensive look at the most requested search assignments and corresponding salary ranges amongst various healthcare facilities, and the underlying industry trends driving such demand. Family medicine and psychiatrists top the list of this year's most requested assignments, reflecting a nationwide dearth of practitioners in primary and mental health care. Given their rare commodity status, PCPs have seen an upswing in salary, reaching $240,000 so far this year. Placements in solo practice settings have understandably all but dried up (from 22 percent in 2001 to 1 percent in 2017) as burdensome regulatory programs, declining reimbursements, and physician burnout continue to propel MDs into retirement, direct or concierge care, or employment. The report suggests that over 90 percent of physicians looking for new gigs will go the employment route, versus 40 percent in 2001.
---
Webinars
June 22 (Thursday) 1:00 ET. "Social Determinants of Health." Sponsored by Philips Wellcentive. Presenter: David Nash, MD, MBA, dean, Jefferson College of Population Health. One of the nation's foremost experts on social determinants of health will explain the importance of these factors and how to make the best use of them.
June 29 (Thursday) 2:00 ET. "Be the First to See New Data on Why Patients Switch Healthcare Providers." Sponsored by Solutionreach. As patients pay more for their care and have access to more data about cost and quality, their expectations for healthcare are changing. And as their expectations change, they are more likely to switch providers to get them met. In this free webinar, we'll look at this new data on why patients switch and what makes them stay. Be one of the first to see the latest data on why patients leave and what you can do about it.
July 11 (Tuesday) 1:00 ET.  "Your Data Migration Questions Answered: Ask the Expert Q&A Panel." Sponsored by Galen Healthcare Solutions. Presenters: Julia Snapp, manager of professional services, Galen Healthcare Solutions; Tyler Suacci, principal technical consultant, Galen Healthcare Solutions. This webcast will give attendees who are considering or in the process of replacing and/or transitioning EHRs the ability to ask questions of our experts. Our moderators have extensive experience in data migration efforts, having supported over 250+ projects, and migration of 40MM+ patient records and 7K+ providers. They will be available to answer questions surrounding changes in workflows, items to consider when migrating data, knowing what to migrate vs. archive, etc.
Previous webinars are on our YouTube channel. Contact Lorre for information on webinar services.
---
Announcements and Implementations

Meridian Medical Management adds robotic process automation to its Revenue Acceleration Program to speed up billing processes and eliminate human error.
Georgia Health Connect and Matthews, NC-based Tangible Solutions will work together to help physicians in rural areas of "The Peach State" connect to regional HIEs and adopt health IT, including billing and patient scheduling software.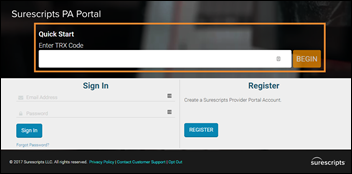 Surescripts offers complimentary Web-based access to its CompletEPA electronic prior authorization tool to physicians who have not yet incorporated it into their EHR.
---
People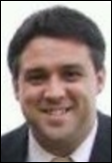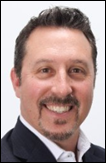 Stratus Video hires Ryan Barry (CareCloud) and Jim Brown (Eliza Corp.) as vice presidents of sales for its Telehealth Division.
---
Telemedicine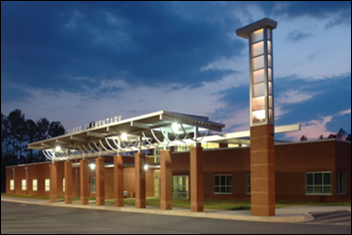 The Clarke County School District in Athens, GA will install its first telemedicine clinic at a local elementary school in August. Medicaid payer Amerigroup has agreed to donate the necessary equipment, while nearby Athens Regional Medical Center will help to recruit pediatricians. The state of Georgia has several similar clinics in more rural parts of the state where there is a lack of physicians. While Clarke County doesn't technically fit into that category, many children within the school district are from low-income families who face the same healthcare access issues as their more southern peers.
---
Government and Politics

Based on historical Medicare Part B claims data, CMS predicts that nearly 100 percent of eligible clinicians in Advanced APMs with data currently available will achieve Qualifying APM Participant status this performance year.
---
Research and Innovation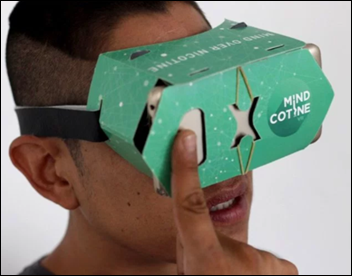 California-based startup Mindcotine launches a Kickstarter campaign to fund development of a virtual reality app that will help smokers kick the habit. The app offers users guided mediation and calming images before putting them into a simulated smoking experience. The app will also a virtual support group.
---
Other

Family physician and incoming AMA President David Barbe, MD outlines several key focus areas of his upcoming tenure, including advocating for more affordable healthcare and the sustainability of Medicaid; combatting opioid abuse via a three-pronged approach that includes physician education, reducing patient stigma, and devoting more money to medication assistance treatment programs; and helping physicians prevent or cope with burnout. He will take the helm from outgoing president Andrew Gurman, MD at the association's annual meeting next week in Chicago.
---
Sponsor Updates
Inc. Magazine includes Nordic in its list of "Best Workplaces 2017."
Versus Technology will host an open house at its new Bayside Education & Visitor Center June 7 in Traverse City, MI.
Blog Posts
---
Contacts
More news: HIStalk, HIStalk Connect.
Get HIStalk Practice updates.
Contact us online.
Become a sponsor.