Top News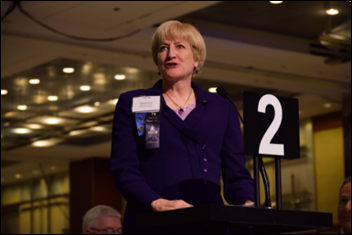 The American Medical Association names Barbara McAneny, MD president-elect at its annual meeting in Chicago. She is the co-founder and CEO of New Mexico Oncology Hematology Consultants, and founder and manager of the New Mexico Cancer Center. She also helped to create the Come Home program, which uses health IT like NantHealth's clinical operating system to improve outcomes and reduce costs as part of a community oncology medical home model. ‎

Missouri native David Barbe, MD will be sworn in as president tonight. Barbe spent 15 years in independent family medicine practice before merging with local Mercy Clinic, where he now serves as VP of regional operations. He plans to focus on "advancing the AMA's strategy to improve health outcomes for Americans living with pre-diabetes and hypertension, accelerate change in medical education and prepare students for today's health care system, and enhance physician satisfaction and practice sustainability."
---
Webinars
June 22 (Thursday) 1:00 ET. "Social Determinants of Health." Sponsored by Philips Wellcentive. Presenter: David Nash, MD, MBA, dean, Jefferson College of Population Health. One of the nation's foremost experts on social determinants of health will explain the importance of these factors and how to make the best use of them.
June 29 (Thursday) 2:00 ET. "Be the First to See New Data on Why Patients Switch Healthcare Providers." Sponsored by Solutionreach. As patients pay more for their care and have access to more data about cost and quality, their expectations for healthcare are changing. And as their expectations change, they are more likely to switch providers to get them met. In this free webinar, we'll look at this new data on why patients switch and what makes them stay. Be one of the first to see the latest data on why patients leave and what you can do about it.
July 11 (Tuesday) 1:00 ET.  "Your Data Migration Questions Answered: Ask the Expert Q&A Panel." Sponsored by Galen Healthcare Solutions. Presenters: Julia Snapp, manager of professional services, Galen Healthcare Solutions; Tyler Suacci, principal technical consultant, Galen Healthcare Solutions. This webcast will give attendees who are considering or in the process of replacing and/or transitioning EHRs the ability to ask questions of our experts. Our moderators have extensive experience in data migration efforts, having supported over 250+ projects, and migration of 40MM+ patient records and 7K+ providers. They will be available to answer questions surrounding changes in workflows, items to consider when migrating data, knowing what to migrate vs. archive, etc.
Previous webinars are on our YouTube channel. Contact Lorre for information on webinar services.
---
Announcements and Implementations
Physician's Computer Company adds FDB's MedsTracker e-prescribing tool to its EHR for pediatricians.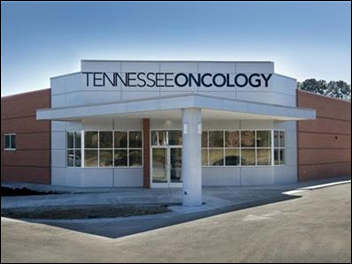 Florida Cancer Specialists and Tennessee Oncology select Flatiron Health's OncoEMR and related technologies and support to assist them with their Oncology Care Model program efforts.
The Arizona Board of Pharmacy selects Appriss Health's PMP Gateway software to help providers and pharmacists integrate controlled substance prescription data into EHRs and pharmacy management systems.
---
Telemedicine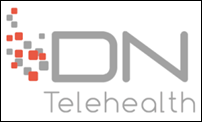 Brooklyn, NY-based Digital Noema Telehealth adds e-prescribing software from EazyScripts to its virtual consult platform for providers and pharmacists.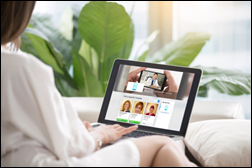 University Health Alliance Health Insurance will offer DocNow's virtual consult service to its 56,000 members in Hawaii.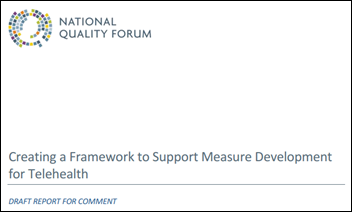 The National Quality Forum seeks feedback on a report outlining proposed measurement development for telehealth. The 53-page document focuses on existing and potential metrics, ways to prioritize those metrics, and guidance for future measurement. Comments are due June 30.
---
Acquisitions, Funding, Business, and Stock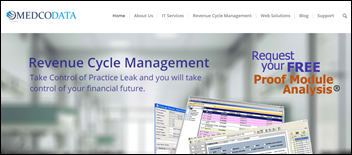 Medical billing company Encoda acquires the specialty-specific RCM services division of Tampa, FL-based MedCo Data for an undisclosed sum. As a result, Encoda will move its headquarters to Tampa and take on MedCo Data CEO Dan Rodgers as president. Its software development office in Blue Bell, PA and RCM services office in Carrollton, GA will remain in operation.
---
Research and Innovation

InstaMed's annual report on healthcare payment trends finds that physicians are concerned about the increasing responsibility/burden patients bear when it comes time for payment. Nearly 75 percent of those surveyed report that it takes over a month to collect balances. Exacerbating this statistic is the fact that only a third of patients claim to understand their responsibility when a co-pay or deductible is part of the payment mix, and that 74 percent of patients are confused by EOBs from payers and bills from providers.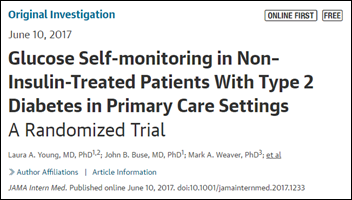 A year-long study of 450 diabetic patients at 15 primary care clinics in North Carolina finds that at-home monitoring of blood glucose levels, even with tailored messaging sent via a Telcare meter, did not result in better outcomes. Such monitoring, the authors suggest, should be at the discretion of physicians and patients, who "should engage in dialogue regarding self-monitoring of blood glucose with the current evidence suggesting that SMBG should not be routine for most patients with non–insulin-treated type 2 diabetes mellitus."
---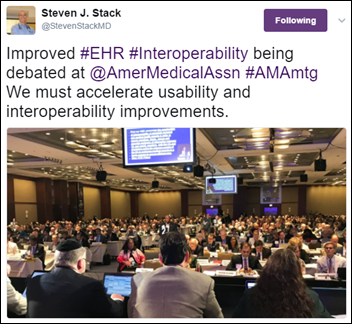 Former AMA President Steven Stack, MD sends out the first tweet I've been able to find mentioning health IT during the association's annual meeting. I suppose other, more pressing regulatory matters are on the minds of our nation's physicians.

I take that back. Health IT (and its role in personal health and wellness) is on the minds of some.
---
Contacts
More news: HIStalk, HIStalk Connect.
Get HIStalk Practice updates.
Contact us online.
Become a sponsor.