Top News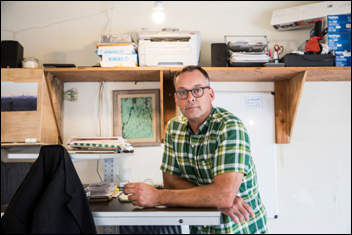 ESPN college football analyst and former NFL player Ed Cunningham quits his six-figure job in light of the game's impact on the health of players. "In its current state," he told the New York Times, "there are some real dangers: broken limbs, wear and tear. But the real crux of this is that I just don't think the game is safe for the brain. To me, it's unacceptable." Cunningham's decision, which he admits was a long time coming, was surely spurred on by a recent study that found a debilitating brain disease caused by hits to the head to be in 110 of 111 former NFL players. Three of his friends – all former players – committed suicide and were posthumously found to have the disease. "This is as personal as it gets," he added.
---
Webinars
September 13 (Wednesday) 1:30 ET. "How Data Democratization Drives Enterprise-wide Clinical Process Improvement." Sponsored by: LogicStream Health. Presenter: Katy Jones, program director of clinical support, Providence Health & Services. Providence is demonstrating positive measurable results in quality, outcomes, and efficiency by implementing clinical process improvement solutions in arming operational and clinical stakeholders with unlocked EHR data. Providence's army of process engineers use their self-service access to answer questions immediately instead of waiting for reports to be written and double checked for possibly inaccurate information. The presenter will describe practical applications that include antibiotic stewardship, hospital-acquired infections, and comprehensive knowledge management.
Previous webinars are on our YouTube channel. Contact Lorre for information on webinar services.
---
Acquisitions, Funding, Business, and Stock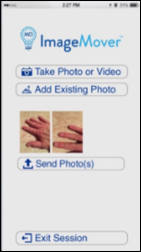 Middleton, WI-based ImageMoverMD raises $1.2 million, bringing its total funding raised to $2.7 million since opening for business in 2013. The company has developed an app that lets physicians and patients send images and videos from their smartphones to EHRs. ImageMoverMD co-founder and President Gary Wendt, MD is also enterprise director of medical imaging at UW Health (WI).
---
Telemedicine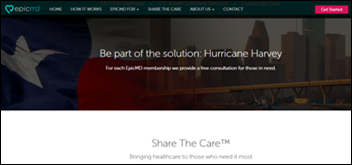 EpicMD offers those affected by Hurricane Harvey free virtual consultants as part of its Share the Care program. Launched over a year ago, the program offers free consults to those in need for every annual membership purchased.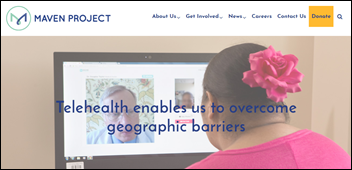 The nonprofit Medical Alumni Volunteer Expert Network Project will use $40,000 in grants to connect community health centers in south Florida with telemedicine services. The organization will partner with its team of physician volunteers, the United Way and the University of Miami – both grant funders – and the Florida Association of Free and Charitable Clinics to launch the Miami-Dade Telehealth Program.
---
Government and Politics

The Texas Health and Human Services Commission announces that physicians affiliated with an out-of-state hospital can help out with Harvey-related healthcare efforts without a Texas license until the federal disaster declaration is lifted or expires. Non-hospital affiliated physicians may apply for fast-track licensing. 
---
Research and Innovation

A ProPublica analysis of Medicare data finds that people in Hawaii tend to be much less likely than us mainlanders to overuse opioids and antibiotics. The findings coincide with an update to ProPublica's Prescriber Checkup tool, which lets users look at the prescribing patterns of physicians who accept Medicare. While Hawaii does have lower rates of obesity, uninsured patients, and preventable hospitalizations, it still struggles with its own methamphetamine epidemic and high rates of homelessness. "I wish I could say that I thought it was because we had this magic formula for educating our doctors or educating our public," says family physician Scott Miscovich, MD. "It really isn't the case …. If you roll the statistics back, it's not all rosy."
---
Other
Bloomberg takes a brief look at the ways in which EHRs will likely help Houston-area physicians get back to business as usual once the flood waters recede. J. Stefan Walker, MD of Corpus Christi Medical Associates is confident his cloud-based EHR will help the practice resume normal operations once power is restored. "Even in the unfortunate case of a total loss of our physical facility, which thankfully didn't happen, we could plug in to any location with remote backup and resume normal operations fairly quickly," he explains.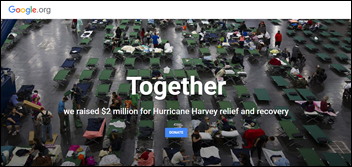 Google and Facebook successfully complete their Harvey-related multi-million dollar-matching charity campaigns, and continue to urge users to donate to organizations like the Red Cross.

Closer to home, Twitter's #hcldr community is asking healthcare folks to collectively donate $5,000 to various charities.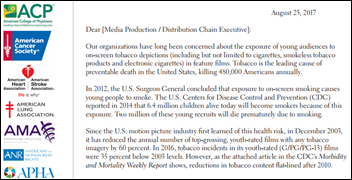 The AAFP and 16 other healthcare industry groups call on the film industry to give movies featuring smoking an "R" rating. The demand stems from a CDC report published earlier this summer that cites a spike in PG-13 movies that depict smoking, and predictions that exposure to such behavior will lead to over 6 million children picking up the habit and 2 million dying from tobacco-induced ailments.
---
Contacts
More news: HIStalk, HIStalk Connect.
Get HIStalk Practice updates.
Contact us online.
Become a sponsor.