Top News
Recode reports that tech companies have spent more money on research and development than any other vertical in the US. It's interesting to note that top spot-takers Amazon and Apple have made the news recently for their rumored interests in healthcare IT. At just over $16 billion, Amazon and its "secret" 1492 lab may very well have the resources to successfully infiltrate the world of healthcare IT. It beat out Volkswagen late last year to become the biggest corporate R&D spender in the world.
---
HIStalk Practice Announcements and Requests

It's that time again: If you're a HIStalk Sponsor exhibiting at or attending MGMA next month, submit your pertinent details for inclusion in HIStalk Practice's list of must-see vendors. The guide will publish the week before the conference, which will take place October 8-11 in Anaheim, CA.


Conference organizers have arranged for award-winning actress Viola Davis to keynote Sunday afternoon. I'll be keeping an eye on the tweet stream to see if she makes any sort of healthcare connection to her "journey to self-love and success." Zubin Damania, MD will headline on that Wednesday. He'll no doubt dive into his experiences at the now defunct Turntable Health. No word yet on whether or not his alter ego, ZDoggMD, will make a cameo appearance.
Stay tuned for a HIStalk Practice interview with MGMA President and CEO Halee Fischer-Wright, MD later this month.
---
Webinars
September 13 (Wednesday) 1:30 ET. "How Data Democratization Drives Enterprise-wide Clinical Process Improvement." Sponsored by: LogicStream Health. Presenter: Katy Jones, program director of clinical support, Providence Health & Services. Providence is demonstrating positive measurable results in quality, outcomes, and efficiency by implementing clinical process improvement solutions in arming operational and clinical stakeholders with unlocked EHR data. Providence's army of process engineers use their self-service access to answer questions immediately and gain an understanding of how their clinical care delivery is impacting outcomes. The presenter will describe practical applications that include antibiotic stewardship, hospital-acquired infections, and comprehensive knowledge management.
Previous webinars are on our YouTube channel. Contact Lorre for information on webinar services.
---
Announcements and Implementations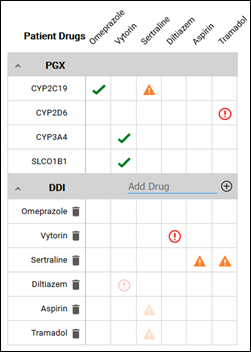 Translational Software adds a drug-to-drug and drug-to-gene interaction clinical decision support app to its provider portal and pharmacogenomics API.
---
Acquisitions, Funding, Business, and Stock
A jury orders Nintendo to pay $10 million to iLife Technologies to settle a patent infringement lawsuit that contended the video game company used iLife's technology in the development of its Wii motion-sensing remote. iLife originally sought $144 million when it filed the lawsuit in 2013. Its technology was originally developed to detect falls and to monitor babies for SIDS. The company filed similar lawsuits against FitBit and Under Armour, all of which seem to have been settled out of court.
---
People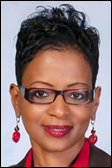 LaTrice Snodgrass (Summa Health Medical Group) joins five-facility AxessPointe Community Health Centers (OH) as COO.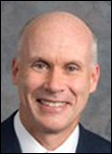 Brian McKeon (IDEXX Laboratories) joins Athenahealth's Board of Directors.
---
Telemedicine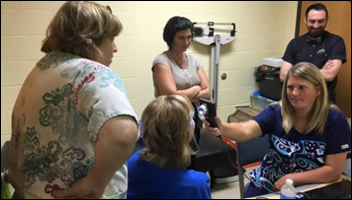 The Indiana Rural Health Association receives a $1 million grant that it will use to fund development of the Upper Midwest Telehealth Resource Center, which provides telemedicine training and services in Indiana, Illinois, Michigan, and Ohio.

Michigan-based telemedicine startup Care Convene joins a growing list of companies in offering free virtual consults to people impacted by Hurricane Harvey. The company, which has already signed on 15 Houston-area physicians to provide their services free of charge, will offer complimentary access through September and possibly into October, depending on demand.
---
Government and Politics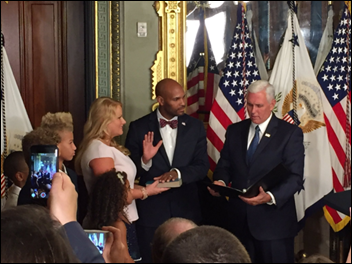 Vice President Mike Pence swears in Jerome Adams, MD as the 20th US Surgeon General.
---
Other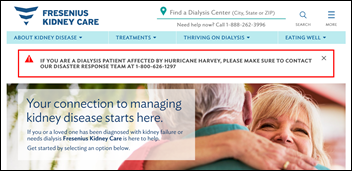 The local news looks at the struggles and triumphs of Houston's dialysis clinics before, during, and after Harvey. The Monday after the hurricane struck, Fresenius Kidney Care not only prepared to care for patients in need of their usual dialysis treatment, but employees displaced by flooding; neighboring clinics in need of help; a lack of basic supplies like electricity, running water, and food; and issues with transportation for all concerned. Sarah Shearer, MD and her FKC colleagues partnered with other local businesses, neighbors, and handy patients to see that no one suffered from a lack of care. "To hear patients laughing and encouraging each other, it is something you would have to be here to believe," Shearer said.
---
Sponsor Updates
Healthwise adds enhanced visual design to its Patient Instructions.
McLaren Flint (MI) avoids a $1 million capital expense for new IV pumps by tracking its pump inventory using Versus Advantages Asset Management.
Blog Posts
---
Contacts
More news: HIStalk, HIStalk Connect.
Get HIStalk Practice updates.
Contact us online.
Become a sponsor.