Top News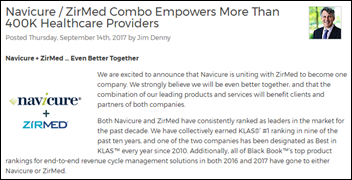 RCM technology and services companies Navicure and ZirMed announce plans to merge. The combined company, which will operate under both brands in the near-term, will maintain their current offices in Georgia, Illinois, and Kentucky.
---
HIStalk Practice Announcements and Requests

HIStalk sponsors, submit your MGMA details for inclusion in our annual must-see vendor's guide. Companies that are walking the show floor instead of exhibiting are also welcome to submit their information. The online guide will publish a few days before the conference kicks off at the Anaheim Convention Center in California on October 8.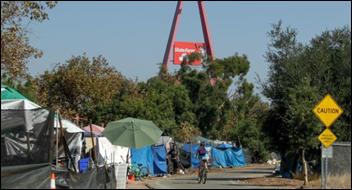 The City of Anaheim is unfortunately experiencing what appears to be record levels of homeless, particularly in encampments along the Santa Ana River (a portion of which runs near the Anaheim Convention Center), and is subsequently grappling with how to compassionately and safely deal with the problem. City councilors declared a state of emergency earlier this week, giving them the ability to place additional law enforcement in the area, which houses over 400 homeless people. They hope the police presence will encourage those folks to clear out of the area. Where they will go is anyone's guess.
---
Webinars
September 28 (Thursday) 2:00 ET. "Leverage the Psychology of Waiting to Boost Patient Satisfaction." Sponsored by: DocuTap. Presenter: Mike Burke, founder and CEO, Clockwise.MD. Did you know that the experience of waiting is determined less by the overall length of the wait and more by the patient's perception of the wait? In the world of on-demand healthcare where waiting is generally expected, giving patients more ways to control their wait time can be an effective way to attract new customers—and keep them. In this webinar, attendees will learn how to increase patient satisfaction by giving patients control over their own waiting process. (Hint: it's not as scary as it sounds!)
October 19 (Thursday) 12:00 ET. "Understanding Enterprise Health Clouds with Forrester: What can they do for you, and how do you choose the right one?" Sponsored by: Salesforce. Presenters: Joshua Newman, MD CMO, Salesforce; and Kate McCarthy, senior analyst, Forrester. McCarthy will demystify industry solutions while offering insights from her recent Forrester report on enterprise health clouds. Newman and customers from leading healthcare organizations will share insights on how they drive efficiencies, manage patient and member journeys, and connect the entire healthcare ecosystem on the Salesforce platform.
Previous webinars are on our YouTube channel. Contact Lorre for information on webinar services.
---
Acquisitions, Funding, Business, and Stock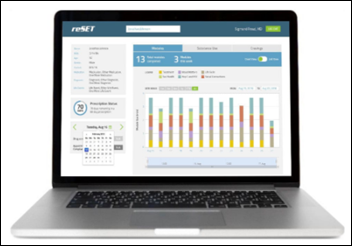 Pear Therapeutics receives FDA clearance for its Reset app for the outpatient treatment of substance use disorder. The agency's approval marks the first time such an app, which includes patient- and provider-facing technology, has been cleared for SUD. The company is working on similar technology for other behavioral health issues related to post-surgical pain, anxiety, depression, and opioid use.
---
Announcements and Implementations

Electronic prior authorization software vendor CoverMyMeds will develop e-referral technology for specialty medications.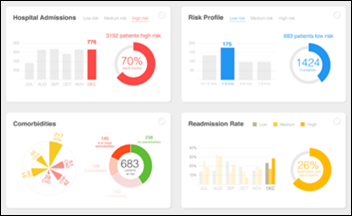 Respiratory healthcare management IT vendor Somnocare develops a chronic care management module for pulmonologists and sleep specialists.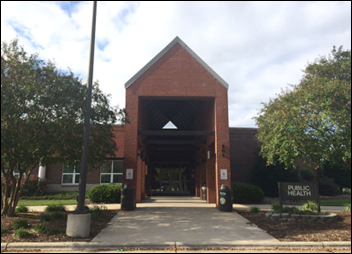 The Pitt County Health Dept. in North Carolina allocates $238,000 to implement Epic later this year. Director John Morrow, MD is especially excited about the benefits that will come from being able to exchange health data with other Epic customers in the area. "We can look at UNC-Chapel Hill, Wake Forest and even in hospitals in California," he said. "It really gives us a huge advantage in accessing information. The agency walked through and looked at our work flow, patient flow, how patients are registered and all of our equipment. We know we will have to replace some of our computers."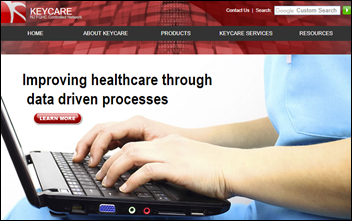 KeyCare, an offshoot of the New Jersey Primary Care Association, will implement I2I Population Health's population health management technology and services across its network of 16 community health centers.
---
People

Dan Watanapongse (Sterigenics International) joins Intelligent Medical Objects as EVP and CFO.
---
Telemedicine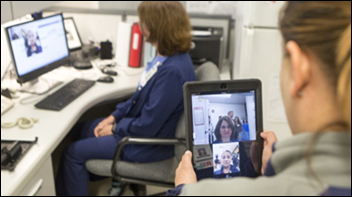 Parents of students in the Austin Independent School District in Texas push back after the school system attempts to make up for a lack of school nurses with telemedicine services and additional health assistants. Seton Healthcare Family, which provides healthcare staff to the school system, will bring in 33 additional RNS to alleviate parental concerns over a lack of qualified, in-person caregiving. 
---
Other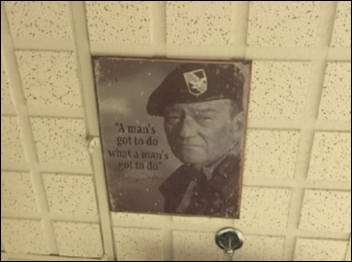 The local paper profiles Canadian physician Errol Billinkoff, MD a family physician turned full-time vasectomy specialist who has made a name for himself through his use of humor to ensure patients are completely at ease during their 10-minute procedures. From wacky sculptures in the waiting room, to episodes of Home Improvement and Seinfeld airing in the exam room, Billinkoff has found a good laugh to be part of a successful outcome. "It's always much easier to do when a patient is relaxed," Billinkoff says, "but when there's some anxiety there, it's my job to help relax them, so distraction and humor are as effective as an anesthetic."
Breachin' it old school: Fernando Rios steals over 1,000 paper medical records from a New Jersey medical practice's storage facility in an attempt to sell the patient information. Rios was ultimately apprehended and charged with burglary, identify theft, and trafficking in personally identifying information.
---
Contacts
More news: HIStalk, HIStalk Connect.
Get HIStalk Practice updates.
Contact us online.
Become a sponsor.