Top News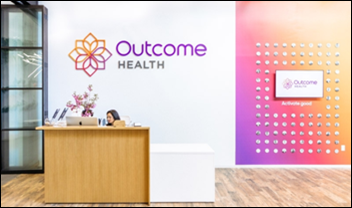 Waiting-room messaging company Outcome Health offers employees voluntary buyouts as it continues to face media scrutiny over investor lawsuits related to overpromised and under-delivered advertisement metrics, layoffs, and a pending move to a new multi-million dollar headquarters in downtown Chicago that seems risky in light of its ongoing troubles. In a statement to employees over the weekend, the company stressed its leadership understands "these are challenging times and that the ongoing scrutiny in the media may not be the right fit for everyone …. Outcome Health's founders believe strongly in the long-term success of the business and that's why they are seeking to reinvest their own money into the company."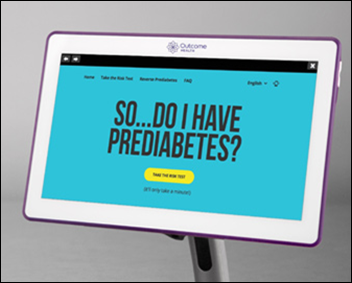 In addition, the AMA has pulled its pre-diabetes PSAs from Outcome Health's rotation, and Harvard Health Publishing has canceled its arrangement with the company. To top it all off (for now), the Chicago Tribune reports that misleading sales tactics have dogged the company (fka ContextMedia) for years. Between 2010 and 2016, Outcome Health found itself involved with several lawsuits brought by competitors like Healthy Advice and Accent Health (which it acquired in 2016) over unethical practices that included lying about competitors, misleading potential customers, and gaining competitive intelligence in a highly suspect fashion.
---
Webinars


November 30 (Thursday) 1:00 ET. "Making Clinical Communications Work in Your Complex Environment." Sponsored by: PatientSafe Solutions. Presenters: Steve Shirley, VP/CIO, Parkview Medical Center; Richard Cruthirds, CIO, Peterson Health. Selecting, implementing, and managing a mobile clinical communications platform is a complex and sometimes painful undertaking. With multiple technologies, stakeholders, and disciplines involved, a comprehensive approach is required to ensure success. Hear two hospital CIOs share their first-hand experience, lessons learned, and demonstrated results from deploying an enterprise-wide mobile clinical communications solution.
December 5 (Tuesday) 2:00 ET. "Cornerstones of Order Set Optimization: Trusted Evidence." Sponsored by: Wolters Kluwer. Updating order sets with new medical evidence is crucial to improving outcomes, but coordinating maintenance for hundreds of order sets with dozens of stakeholders is a huge logistical challenge. For most hospitals, managing order set content is labor intensive and the internal processes supporting it are far too inefficient. Evidence-based order sets are only as good as their content, which is why regular review and updates are essential. This webinar explores the relationship between clinical content and patient care with an eye toward building trust among the clinical staff. Plus, we will demonstrate a new evidence alignment tool that can easily incorporate the most current medical content into your order sets, regardless of format, including Cerner Power Plans and Epic SmartSets.
Previous webinars are on our YouTube channel. Contact Lorre for information.
---
Announcements and Implementations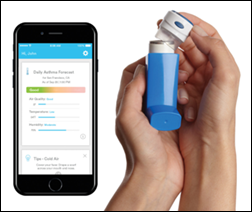 Express Scripts will supply patients enrolled in its Pulmonary Care Value Program with Propeller Health's smart inhaler and companion app to help manage their asthma or COPD. An earlier pilot program helped patients improve asthma medication adherence and decrease emergency situations.

Harris Healthcare subsidiary Amazing Charts incorporates OptimizeRx's digital prescription savings and pharmacy messaging into its EHR.
---
Acquisitions, Funding, Business, and Stock

Drchrono entices physicians to sign up for its subscription-based EHR services with new iPads.
---
Government and Politics



HHS Acting Secretary Eric Hargan appoints Leslie Lenert, MD (Medical University of South Carolina), Clem McDonald, MD (Lister Hill National Center for Biomedical Communications), and Robert Wah, MD (DXC Technology) to the Health IT Advisory Committee.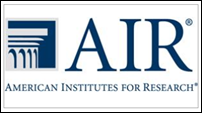 The American Institutes for Research will help CMS identify, test, and deploy patient-reported outcomes measures for practices participating in the Comprehensive Primary Care Plus program. It will also assist practices with patient experience survey implementation, analytics, and results reporting.
---
Telemedicine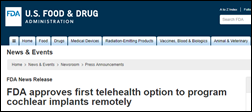 The FDA approves telemedicine visits for Nucleus Cochlear Implant System patients who need adjustments made to their implants. "Being able to have a qualified audiologist program the device via telemedicine from a remote location can greatly reduce the burden to patients and their families, especially those who must travel great distances or need frequent adjustments," says Malvina Eydelman, MD director of the Division of Ophthalmic, and Ear, Nose, and Throat Devices in the FDA's Center for Devices and Radiological Health.
---
Research and Innovation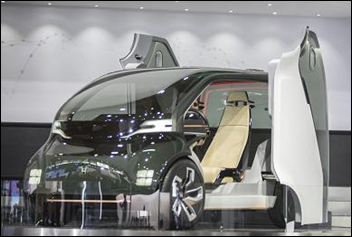 Auto manufacturers look into incorporating health sensors into vehicles to help prevent accidents related to heart attacks or diabetic conditions. Companies like Toyota, Ford, Honda, and GM are specifically looking at developing systems that can trigger cars to pull off the road and call for help in the event of an emergencies that drivers might at first be unaware of.
---
Other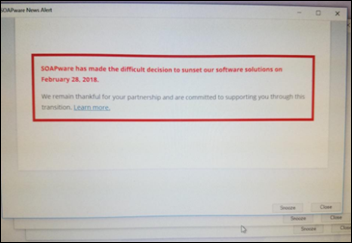 Texas-based physician Laurence Chu, MD laments the demise of SoapWare EHR, technology he has used at his small practice since 2004, and the arduous process he will have to undergo to find a replacement. (The company apparently announced it will discontinue service at the end of February via a two-sentence message within the user portal.) "By far, the greatest problem will be the transfer of patient data," he explains. "While basic information can be moved to the new database, much of the data will lose its original dynamic usefulness. I will lose the ability to retrieve historic analysis of patient care and past visits. I am surprised vendors have not overcome this critical need."
---
Sponsor Updates
Medicity publishes a new report, "HIE Preparedness: Learning from Recent Health Care Disasters."
Healthwise will exhibit at the Next Generation Patient Experience November 28 in San Diego.
Blog Posts
---
Contacts
More news: HIStalk, HIStalk Connect.
Get HIStalk Practice updates.
Contact us online.
Become a sponsor.